What THE AVENGERS Nearly Looked Like
If there's one thing that the comic-book industry loves, it's the idea of an alternate universe. Both Marvel and DC have run some of their most successfully storylines on the back of the idea that there are an infinite number of parallel universes that neighbor our own, where Earth's greatest and mightiest heroes are still in existence but differ slightly to their mainstream versions in a variety of intriguing and often somewhat controversial ways.
Alongside this, Hollywood's own history is littered with the stories of films that 'might have been' and actors who 'nearly made it', but not for the stroke of a director's pen during those final auditions and casting calls.
What if Dougray Scott hadn't refused the role of Wolverine that had been offered to him? How might the X-Men franchise have looked without the charisma that Hugh Jackman subsequently bought to the part? Just where would DC be now if they'd been brave enough to run with a Nic Cage Superman? (Or more worryingly, a Nic Cage Batman?) And how would the Spider-Man franchise have panned out with Jake Gyllenhaal portraying Peter Parker?
These are all intriguing concepts, and each individual franchise offers the potential for a massively thought-provoking alternative hero roster, filled out with the actors who just missed out on the starring roles, but what we're going to do is look at the MCU Avengers and examine what they could look like in an alternate universe where it was each of the studio's second choices who ended up being cast instead of the eventual winners.
So, come walk with me through the available options, and we'll examine the alternate runners and riders who were in the frame for the six available roles, and which actors/actresses came closest to bagging the role of an Avenger:
1. Iron-Man
It's generally accepted that Robert Downey Jr is the perfect actor to play Tony Stark, and that it was the massively successful gamble that Marvel Studios took in casting him that led to the overall success they're currently experiencing. But RDJ wasn't the first choice to play the troubled industrialist by any means. Tom Cruise had actually been attached to the fledgling project for years prior to the appointment of Director Jon Favreau, and had also participated in the final talks right up until the casting call that went out for the role.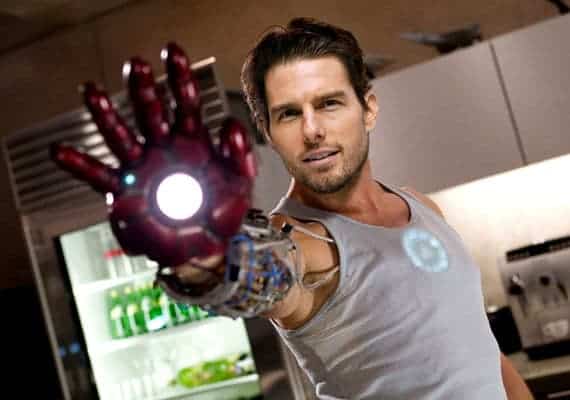 But Cruise didn't even end up screen testing as Iron Man, instead passing on the option due to his commitments at the time with his passion project 'Valkyrie' and a hilarious cameo in 'Tropic Thunder'. So who did make it to the final cut? Well, the choice came down to two players, RDJ and Sam Rockwell. In a somewhat recurring tradition of actors subsequently being re-cast in villain roles having missed out on hero roles, Rockwell would go in to feature as Justin Hammer in the Iron Man sequels. Whilst Rockwell's clearly got the acting chops to tackle the required combination of comedy and conflict need to play Tony Stark, this is the role that reformed bad-boy Downey Jr was born to play, so it's unlikely many people would argue with the final decision.
2. Captain America
To date, the character having enjoyed the strongest solo trilogy of the franchise is that of the Star-Spangled Sentinel himself, Steve Rogers. In some ways, Chris Evans was a surprise choice, having already appeared in the extended Marvel Universe as Johnny Storm. There was also some pressure being exerted on Director Joe Johnston at the time of the first movie by the studio to pick an unknown, with no real past works to draw on or compare to. Someone who could be slotted into the role and naturally grow along into it as the planned series naturally progressed.
It's for this reason that John Krasinski was the reported favorite for the part back in 2011. He had impressed execs with his TV work on 'The Office', and was largely seen to be clean-cut and sufficiently 'All American' enough to carry off the part. Alas, luck was not in his side, and other than Evans, the only other two names to emerge from the casting calls were Alexander Skarsgard and Ryan Phillipe.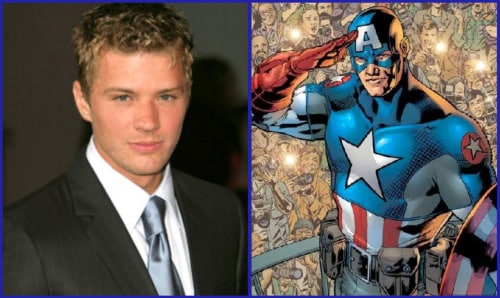 Now we'll see Skarsgard feature again a little further on down the list, so let's turn our attention instead to Phillipe., There's no denying he would have had the physicality to portray the legendary super soldier, but ultimately he'd failed to capitalize on the success of his earlier screen roles, and I'm doubtful he would have been able to bring the requisite light-hearted banter and humor that would go on to make Evans such a success.
3. The Hulk
The role of Bruce Banner has turned out to be somewhat of a poisoned chalice to those actors who have chosen to take it. It's a frustratingly complex character to play, and has done no favors to the careers of either Eric Bana or Ed Norton, with their irritatingly flawed movies having been quietly consigned to either the bin, or the extreme side-lines of the MCU. Even Mark Ruffalo has yet to be offered a prized solo project, though he's undeniably the best of the three actors to have filled the shoes so far, but who else was ever in the running to play the Gamma-Poisoned Professor?
Well it might surprise you to hear that none other than Joaquín Phoneix was in talks at the time to screen-test for the part of the Banner. Unfortunately, Phoenix also happened to be in the midst of going through what could probably best be described as the 'batshit crazy' phase of his career. You remember? The one where he put on a pile of weight, grew a beard, and tried to be a DJ for a fake documentary? With him out of the running, a number of other actors did try out for the role, including Billy Crudup (who would later find mo-cap success as Dr Manhattan), and none other than 'Spooky Mulder' himself, David Duchovny.
Now it has been argued that there isn't a great deal of depth or breadth to Duchovny's acting canon, but personally I reckon he would have been hauntingly perfect for the role. Instead, a series of TV projects beckoned, ultimately leading him in a full-circle return to The X-Files.
4. Black Widow
A fairly quick and easy one this, being as its already a subject of discussion that Emily Blunt had originally been offered the role of Natasha Romanov over Scarlett Johansson, but had been forced to drop out due to scheduling issues and filming commitments around the tepid comedy vehicle 'Gullivers Travels'. She's since gone on to be linked with pretty much every female role that Marvel have ever gone on to announce, and might yet still be in the running to play the role of Carol Danvers, which has yet to be cast.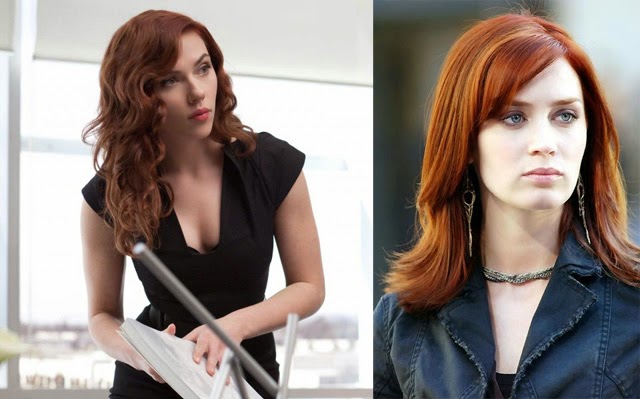 Aside from Blunt and Johansson, was anybody else in with a shout at the Avengers' main female character? Well, no. Not really. Star Trek actress Alice Eve auditioned for the role, but was unsuccessful and 'Buffy' actress Eliza Dushku publicly put herself out there for the part, but in reality, Scar-Jo had no substantial competition.
5. Hawkeye
It wasn't until last year's 'Age Of Ultron' that Jeremy Renner was really given a chance to breathe some life into his portrayal of Clint Barton. It's not massively surprising. In its early incarnations, the character hadn't managed to travel too far away from its circus-performing origins, and suffered from some seriously poor storylines and costuming choices. But Renner emerged from 'AoU' having managed to utilize the gentle humanity that the script had given him to claim the entire film as his own, even with an army of CGI robots jostling for screen time.

At the time of Renner's casting, the only other name in the frame was Joseph Gordon-Levitt, who would instead end up playing Robin (kind of) for Christopher Nolan. But Levitt didn't audition for the role, and the only other actor who emerged as a contender to Renner was 'Supernatural' star Jensen Ackles. Ackles has proven to be somewhat of a comic book fan, having voiced the wonderfully demented Jason Todd in the animated version of 'Batman: Under The Red Hood', and his work on Supernatural has demonstrated that he would probably made a wonderfully entertaining Hawkeye. But, let's be fair, I think we're all a lot happier that Renner hit it off with Screenwriter Zak Penn, and ended up bagging the part.
6. Thor
Now, out of all the Avengers roles available, it's the Son Of Odin who had the most people queuing up to fight it out for the part. Arguably, the entire success of the franchise rested on Ken Branagh managing to fine the right Shakespeare-spouting beefcake for the role. Mess it up, and potentially mess up the tone of the entire ensemble. And whilst recent footage of Tom Hiddleston's animated audition for the part has raised a few eyebrows, it's hard to have seen him bagging the role.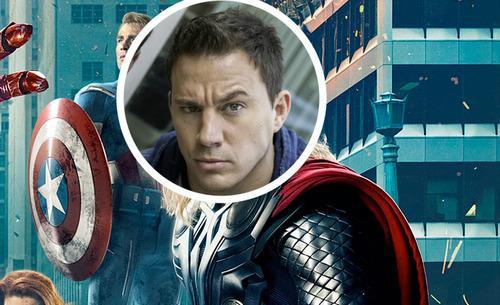 The hot favorite at the time was Channing Tatum. Whilst Tatum's recent critical successes and well-documented physicality demonstrate he might have made a good run at the role, it's unlikely that an American actor would have ended up playing Thor with Branagh at the helm. This is somewhat reflected in the other successful finalists.
Brit actor Charlie Hunnam tried out and failed. Perhaps surprisingly, Chris Hemwsorth's younger brother Liam also auditioned. But one his strongest rivals was again, Alexander Skarsgard. Skarsgard has worked steadily since the rejection, producing a solid base of good work, and landing himself lead roles, and so he may well have been a very good Thor. But again, it's hard to imagine an Avengers line-up without Chris Hemsworth grinning away in the background.
So somewhere in the midst of the countless parallel universes that border our own, imagine that there was an Avengers movie featuring Sam Rockwell and Ryan Phillipe as the heads of an Avengers team including Dave Duchovny, Jensen Ackles, Emily Blunt and Alex Skarsgard. Let's be fair, there are probably much worse line-ups out there than this, and aren't you just a little intrigued to see how that might have panned out?
I'd like to end with a quick reference to Nick Fury. There truly was nobody else in the running at all for the part, as the Ultimate incarnation of the character was drawn with Sam Jackson in mind. But then, on Earth-616, Nick's a grizzled old white man. And other than the Hoff, I've only ever seen one other name put forward for the part….
Would you have liked to see this Avengers film? Tell us in the comment section below!