There have been multiple great rivalries over the years, The Beatles vs Elvis, Coke vs Pepsi and even DX vs NWO. But of the biggest rivalries of current times is most definitely that between that of comic book companies, Marvel and DC fans. Often found in the comment section just below a news article, this feud has only heightened in recent years with the drastic increase in comic book movies. But are they all that different, geo-location app foursquare, has taken an in depth look at these fandoms in order to examine what makes them tick.
The data taken by foursquare was revealed on The Hollywood Reporter and recorded where the fans checked in each day as well as recording age and gender. For the most part it seems to be a pretty even split with Marvel having a 52% Male fanbase to DC's 53%, whilst more of Marvels fans are aged 25 – 34 with them having 34% to the 30% that DC has.
In terms of where each fanbase shops DC Fans are more likely 'to visit food and beverage stops such as Jamba Juice, Domino's, Jersey Mike's, Panda Express, Potbelly, Jimmy Johns and Chipotle. They were also 50 percent more likely to visit Barnes and Nobles compared to the rest of America.'
Whilst Marvel fans are more likely to 'to visit T-Mobile and 150 percent more likely to visit 24 Hour Fitness (who ever said geeks weren't into fitness?) than the average Foursquare user. Their favorite food stops were Jamba Juice, Yogurtland, Pinkberry and Coldstone.'
Foursquare also analysed the fans to attend both the San Diego Comic Con and the New York City Comic Con revealing that:
SDCC attendees are into fitness, with them two times more likely to check out CorePower Yoga, two times more likely to visit climbing gyms, and two times more likely to go to pilates studios than the average Foursquare user. When it comes to food, they are into Hawaiian restaurants, sake bars and bubble tea shops.' and that the fans who attend NYCC 'embrace an East Coast vibe, being 12 times more likely to visit a barcade and four times more likely to check out Retro Fitness than the average Foursquare user."
You can see their findings below.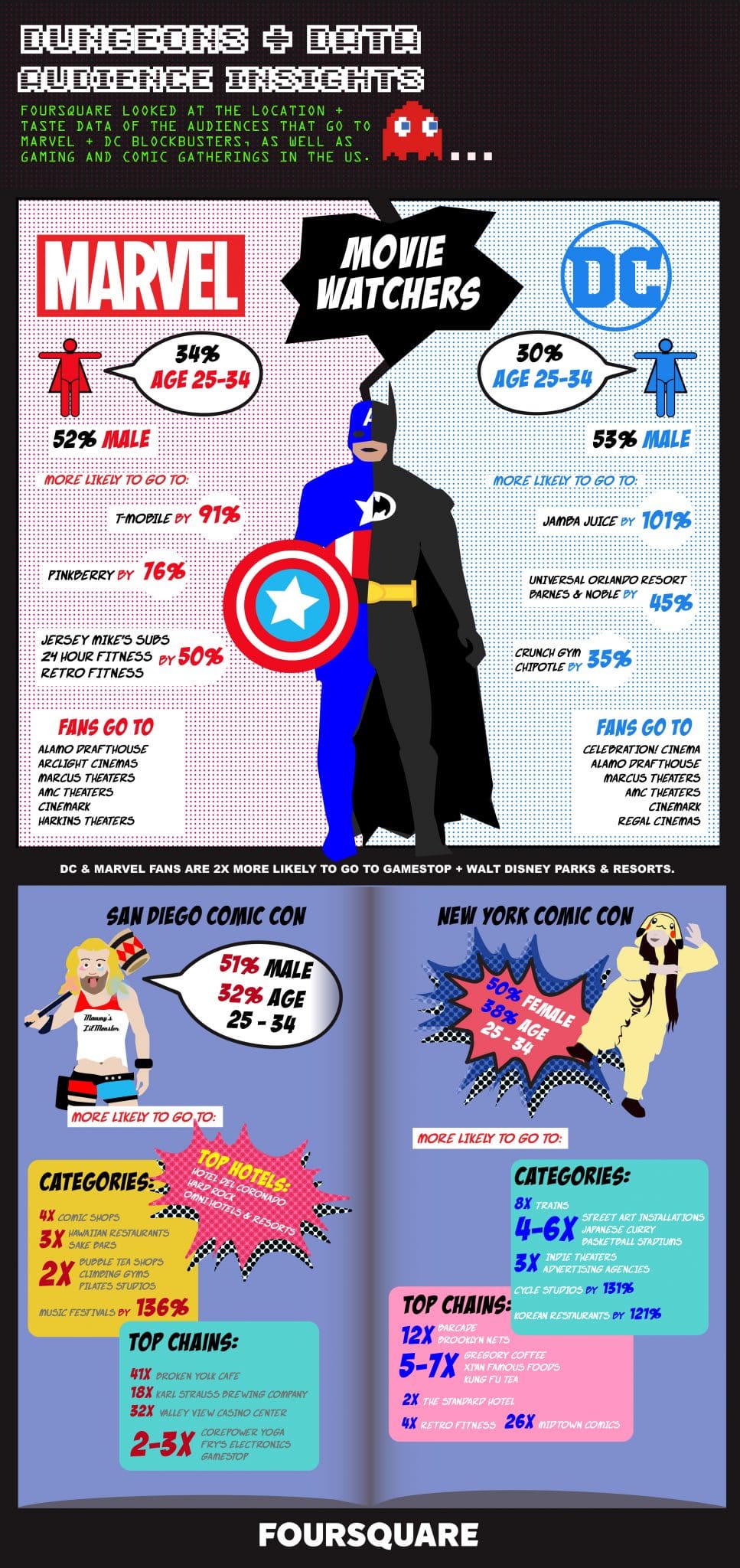 It certainly interesting to see just how different the two groups can be, of course that's not to say one is better. At the end of the day, they all love comics and their associated movies.
What do you think? Are you surprised by these findings? Which side are you on? Let us know below!
Source: Foursqurare (Via The Hollywood Reporter)