JUSTICE LEAGUE: New Look At Superman Revealed
So far, none of the promotional materials for the upcoming "Justice League" have featured Henry Cavill's Superman. Understandable, since (incredibly late spoiler alert) he died at the end of Batman v Superman. However, "Death of Superman" is a thing. And he's a core member of the League, so we know he'll be there, right?
The question is when, where, and how they'll bring him back; and how he'll be different after his death and resurrection.
If this new calendar is any indication, his costume has been noticeably brightened from the one he wore in his first two cinematic outings.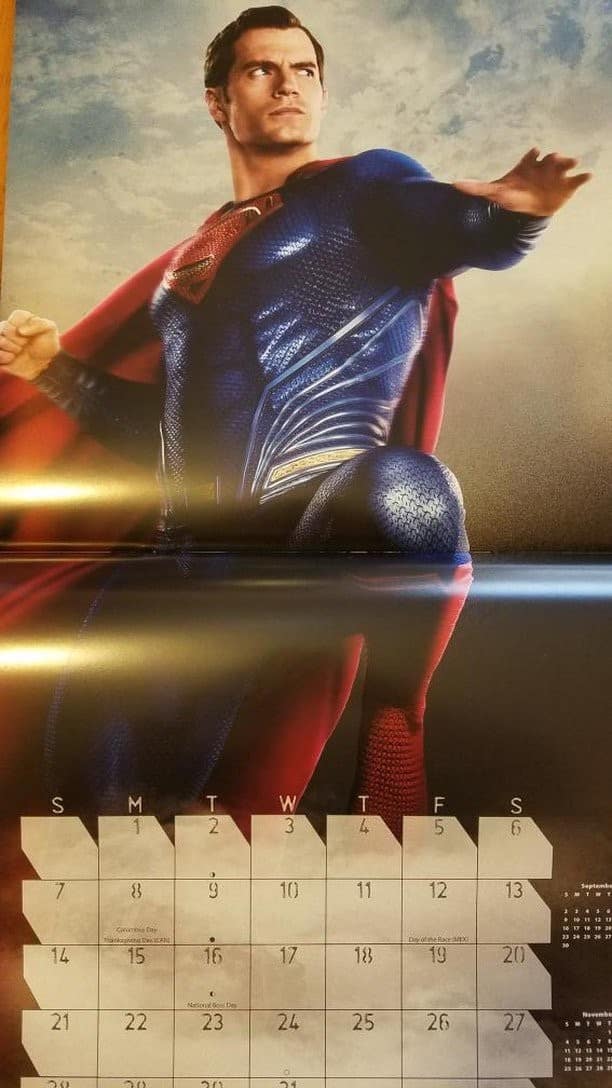 Perhaps it's a response to fan complaints that the previous films were "too dark." Or perhaps it was planned all along – to have Clark be more conflicted in the beginning, only to have him become the beacon of hope we expected later on.
Of course, the "Death of Superman" comic storyline featured a returned Supes sporting a scruffy beard and a black-and-silver costume, so there's a distinct possibility we'll see that as well, at some point in the film. (The speculation is backed by two tidbits: a planned action figure for the film is supposedly in the black costume; and Henry Cavill has been barred from shaving during reshoots.)
Justice League stars Ben Affleck as Batman, Henry Cavill as Superman, Gal Gadot as Wonder Woman, Jason Momoa as Aquaman, Ezra Miller as The Flash, Ray Fisher as Cyborg, Willem Dafoe as Nuidis Vulko, Jesse Eisenberg as Lex Luthor, Jeremy Irons as Alfred Pennyworth, Diane Lane as Martha Kent, Connie Nielsen as Queen Hippolyta, Amber Heard as Mera, Kiersey Clemons as Iris West, J.K. Simmons as Commissioner Gordon, with Ciarán Hinds as Steppenwolf,and Amy Adams as Lois Lane.
Does this make you more hopeful that you'll finally be getting the Superman you've hoped for all along? Or do you think caving to fan pressure is a mistake? Tell us your thoughts in the comments below!