DC Comics Just Gave Darkseid A Shocking Change
The iconic DC villain Darkseid was given an interesting and scary new form as a baby with the DC Rebirth, but Darkseid is already growing up to be quite the monster. Though, after giving Batman a gender change, we can't say we're not expecting surprises from DC.
With the latest issue of DC's Wonder Woman series, we get to find out that Darkseid is no longer a terrifying infant but a troublesome teenager. We also learn that he requires souls to grow, and so far he's doing a pretty good job at that.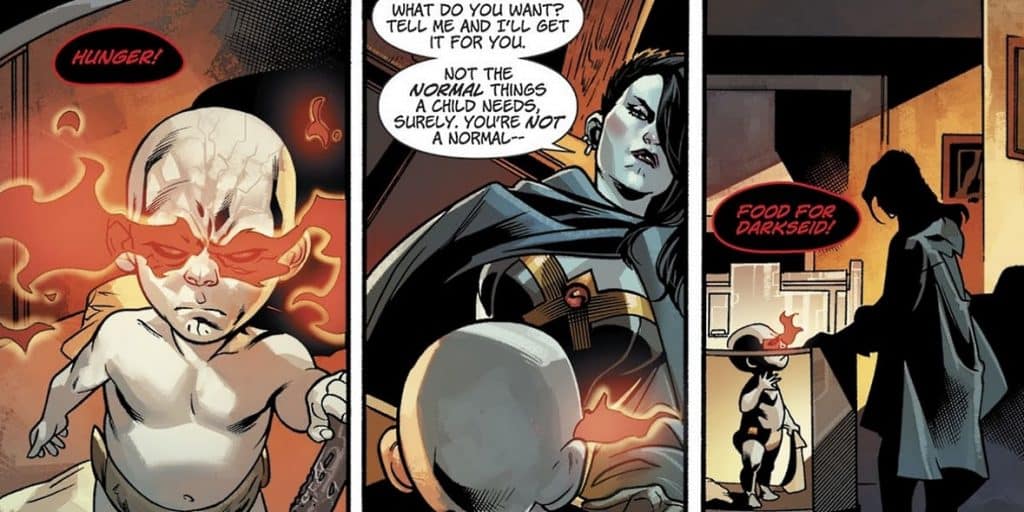 If you're interested in seeing the adolescent Darkseid and his mother/daughter Grail, be sure to pick up Wonder Woman issue #33!
As explained by DC Comics,
"Darkseid seeks to enslave all life in the universe, reshape existence in his image and exert ultimate control. His desire is to eliminate free will and control everyone so that they bow beneath his feet and do whatever he says, and he certainly has the means to do it. His extraordinary physical strength, intelligence, godlike powers and army of Parademons make him not only a threat to our world and its heroes, but to every world within reach. He's no less than the single most dangerous villain in the universe."
It really is interesting to see such an iconically powerful villain and how he functioned as an infant and teenager compared to his all-powerful adult form. Only time will tell how long it'll take for him to grow back into his usual self, however.
Source: Screen Rant
How do you feel about getting to see and understand Darkseid's childhood? And how are you enjoying DC's Rebirth? Let us know in the comments section below!