The First Reviews For 'Hellraiser: Judgment' Are Here
Hellraiser: Judgment is a film in an odd spot. Hellraiser obviously has a tremendous following, despite being a direct-to-DVD franchise for quite some time now. The new film, though, is a little different from others in that it won't feature Doug Bradley as Pinhead (though that isn't the first time) – something those fans have griped about. Still, trailers for the film have some interested, and it turns out the film isn't all bad, according to early reviews.
What People Are Saying About Hellraiser: Judgment
Bloody-Disgusting: Overall, the lack of resources soak the screen, but it adds to the film's grotesque charm. And even with budgetary limitations, the special effects never suffer. Solely for Hellraiser apologists, Judgment does just enough to warrant its existence.
Birth.Movies.Death: Hellraiser: Judgment does not entirely work as a movie. It's a mixed bag, with the stuff I enjoyed ultimately outweighed by the stuff I did not. But it comes so close to breaking even, I can't help but be curious to see what Tunnicliffe might do with a decent budget, or less meddling from the rights holders. We haven't come close to a good Hellraiser move in over a decade, but this one … this one comes fairly close to being alright. Give it a rental and see if you don't agree.
Forbes: …a must-rent for Hellraiser fans, and a reasonable maybe-rent for fans of the Saw series and more recent franchises in that vein, as well as anyone who is still awaiting the Spawn reboot.
Dread Central: At the end of the day, Hellraiser: Judgment, while not perfect nor as good as the classic Hellraiser films, delivers a rather striking vision that feels as new as it does familiar.
Nuke The Fridge: If you are a Hellraiser or Horror fan, you'll definitely check this Blu-ray out regardless. Give it a try. You may see something to it and really like it!
Cryptic Rock: For those looking for a new Horror film that is entertaining while equally disturbing at times, Hellraiser: Judgement is not a bad choice. Go into it with an open mind and remember what you are getting. Afterall, Hellraiser has been kept afloat for over 30 years. That is a hellish blessing within itself.
We Got This Covered: Hellraiser: Judgment is a stuffy police procedural masquerading as a torturous Pinhead franchise entry.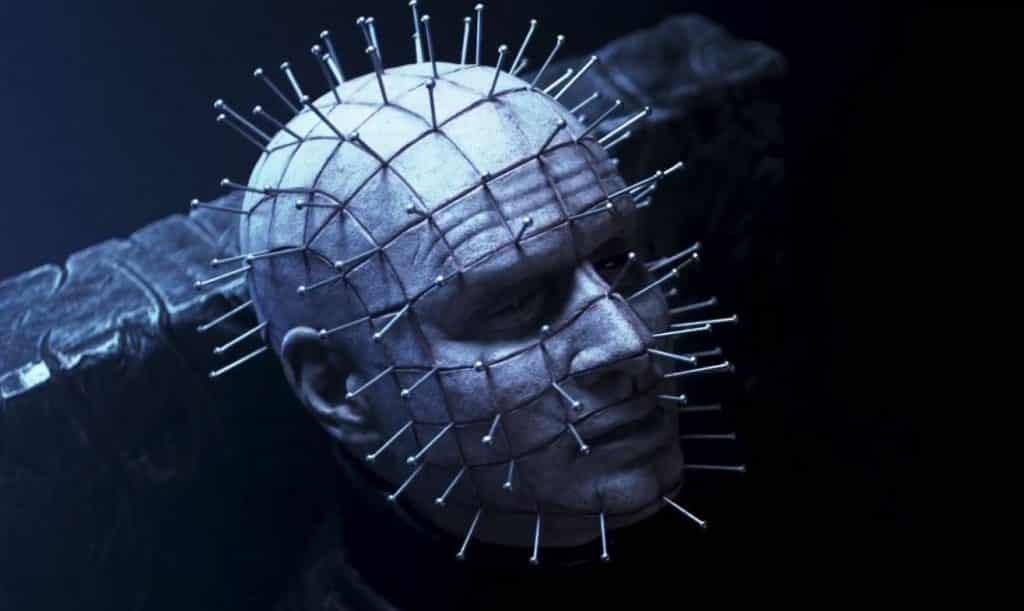 So there you have it. It turns out that overall, if you're a fan of the franchise, you'll probably enjoy the entry for the most part. Apparently, the movie was so extreme, that it made an actress pass out – according to director Gary J. Tunnicliffe:
"We did two sequences where… one, the actress almost passed out… a scene that you especially, Adam… you are going to freak the f*ck out," the director revealed to the podcast's host. "I'll tell you off air about it, and when I explain it to you, you're going to be like, 'Jesus Christ.' Involving a small dog. No, the dog doesn't get hurt. But it goes through some… trauma. And then we had three grips leave the set during a sequence when they said, 'This is utterly screwed up.'"
New Pinhead actor Paul T. Taylor had a lot to say about playing the iconic horror character:
"I think it kind of came from the script. It came from Gary's direction. In this script, it seems that Pinhead is in more of a sort of bored place, but the arrogance is all there. He has all the power. As he says unknowingly, he doesn't know what's going to happen, he says, 'I have nothing to fear.' He's just at a place in his life where he's jaded. I think he's possibly older than he's been before in other films, if you can age, a demon can age. In Clive Barker's world, a demon certainly can age. If you've read the Scarlet Gospels."
Here's hoping we can one day get Clive Barker's reboot with a decent budget, but Dimension seems hellbent (see what I did there?) on keeping the rights to the franchise, so at least they're not releasing horrible films. I think. 
The film's synopsis:
The dreaded Pinhead returns in the next terrifying chapter of the classic Hellraiser series. Three detectives trying to stop a diabolical serial killer are sucked into a maze of otherworldly horror, where hellish denizens including the Auditor, the Assessor, and the Jury await to pass judgment.
Hellraiser: Judgment hits Blu-ray and DVD tomorrow.
What do you think? Will you be watching the new Hellraiser movie? Be sure to tell us all of your thoughts in the comments!