When it comes to horror movies and mainstream audiences, they're normally hit or miss. The Strangers: Prey at Night is no different, as it's getting some pretty bad reviews over at Rotten Tomatoes. That's not to say that the film isn't going to satisfy fans of the genre, however. And personally, I believe it shouldn't really matter what someone else says about a movie. Just watch it yourselves.
Regardless, here are the reviews for the film:
The Good
IGN: While the film does posses its share of admittedly cheap jump scares – those masks! – Prey at Night gets far more traction from its mood, its pacing, and its overall skillful filmmaking than many other horror films of its ilk.
Los Angeles Times: Though it's as slim and poorly balanced as a cheap knife, "The Strangers: Prey at Night" is a stylish 1980s throwback that packs plenty of terror into its short running time.
Daily Dead: I think having Bertino return as a writer on the sequel (he penned this script alongside Ben Ketai), is a huge reason why Prey at Night feels like such a great follow-up.
Chicago Daily Herald: Roberts directs "Prey at Night" as a bloody valentine to old-school '70s and '80s movies…Like villains in vintage mad slasher movies, "The Strangers" franchise will not die easily. Roberts has seen to that.
TheFrightFile.com: Beautifully moody and evocatively sinister. A haunting, portentous and altogether electrifying dip into a maelstrom of raw-nerve terror and poignant humanity.
We Got This Covered: The Strangers: Prey At Night is a feature-length homage to Carpenter's best, and albeit familiar in structure, Johannes Roberts' execution strikes with brute ferocity.
Slant Magazine: The film is content to deliver a few jumpy thrills before slinking away into the night like one of its murderous marauders.
Uproxx: From the first notes of Adrian Johnston's John Carpenter-inspired score to the retro font used for the title card, Prey At Night sets itself up as an homage to classic slasher films, and mostly does right by its inspirations.
Bloody-Disgusting: The Strangers: Prey At Night really takes The Strangers to the next level, and serves as a perfect introduction to The Strangers for new horror fans.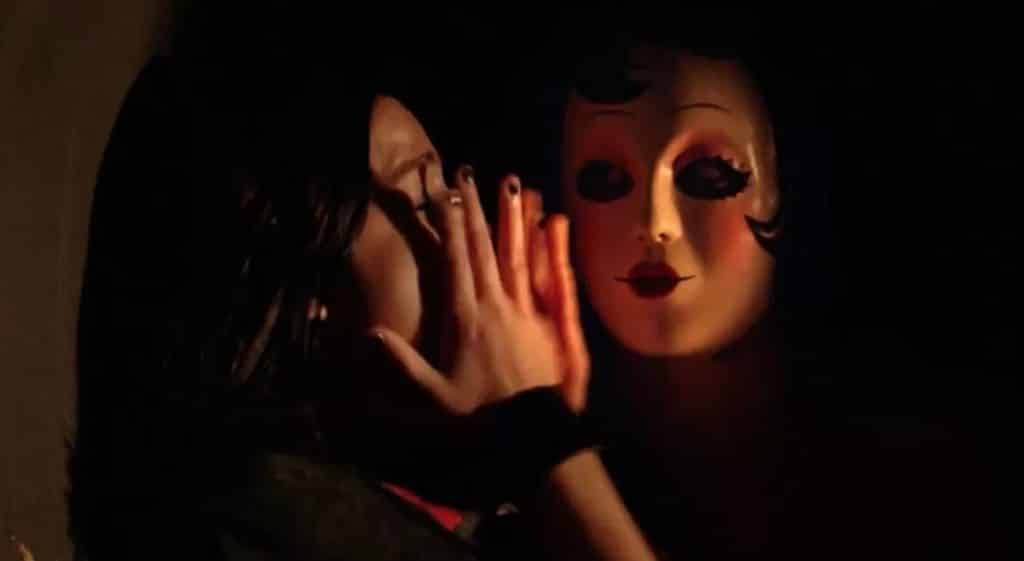 The Bad
The Hollywood Reporter: Replicating the tropes of its predecessor to a slavish degree, The Strangers: Prey at Night pretty much wastes all its inspiration on its punning title.
Variety: There's no real terror or dread in it, just the same old meat-puppet gore and cattle-prod scares served up with a kind of ritualized self-satisfaction.
Flickering Myth: Increasingly grows more over-the-top every passing minute; by the end it feels as if Burlap Sackman's depiction could be sued as plagiarism of Resident Evil 4 over how much damage he soaks up without dying (all he is missing is the trademark chainsaw).
The Wrap: The last third plays so much better than the first half that it suggests that Roberts should have abandoned all caution and really gone for a more consistently over-the-top film based in the emotion that he clearly wants to foster.
Slate: The movie's biggest mistake is indulging conventional horror-movie reality, where characters live or die according to their fortitude and our sense of the world's rightness is conservatively reaffirmed.
National Post: Who are the assailants? Doesn't matter; they have no backstories, few weapons (a pick-up truck and a few stabby things) and zero personality.
NOW Toronto: There's nothing original about the film, the performances are merely competent and the overall effect is as numbing and banal as the overuse of pop hits like Total Eclipse Of The Heart on the soundtrack.
Chicago Sun-Times: When, for the love of God, are these Horror Movie Families going to LEARN?
Den of Geek: The Strangers: Prey at Night completely abandons the idea of home invasion in favor of a fairly generic slasher scenario.
So as you can see, there are a lot of bad reviews. At the time of writing this article, the film sits at a 30% on the aggregator site. That could change, but if it doesn't, that shouldn't stop you from seeing it – if you're into this type of stuff.
The Strangers: Prey at Night hits theaters tomorrow.