What Critics Are Saying About 'Hereditary'
Hereditary hits theaters this weekend, and horror fans probably couldn't be more excited. Well, most are probably more excited about that new Halloween movie trailer that dropped today, but aside from that, horror fans couldn't be more excited. It's been hyped up as one of the best horror movies of late, and critics apparently agree.
According to Rotten Tomatoes, it has a 94% based on 150 reviews. The critics overall consensus reads:
Hereditary uses its classic setup as the framework for a harrowing, uncommonly unsettling horror film whose cold touch lingers long beyond the closing credits.
Here are what some of the biggest reviews are saying:
Entertainment Weekly: If you're the kind of horror nerd whose cage gets especially rattled by séances, shock scares, and the supernatural, you're in for a hell of a time.
The Wrap: With nary a jump scare in sight, Aster has created a moody piece with a delicate but devastating sense of dread.
San Diego Reader: Having announced itself, it works as a bravura technical exercise in the slow reveal. Cameras are forever following terrified gazes to the source of the terror, and revelation builds on revelation until an awful culmination begins to seem inevitable.
Globe and Mail: No shot seems wasted, the editing is a sturdy and linear rebuke to the quick-cut madness that's infected so many recent genre films, and the sound and set design are meticulous and spare.
National Post: Hereditary runs 127 minutes — some of the best recent horrors tend to clock in at between 90 and 100 — but there isn't an ounce of fat in the story.
IGN: The film's subtle shocks and realistic drama combine to create a dreamlike atmosphere, drenched in psychological horror, which builds and builds to a climax that you won't forget anytime soon…
amNewYork: Here is a film that evokes the ugliest and darkest corners of our most fundamental selves, viewing our genetic identity as a maximum-security prison of sorts.
Detroit News: [A] terrifying thriller that pins you to the back of your chair and leaves you paralyzed in fear.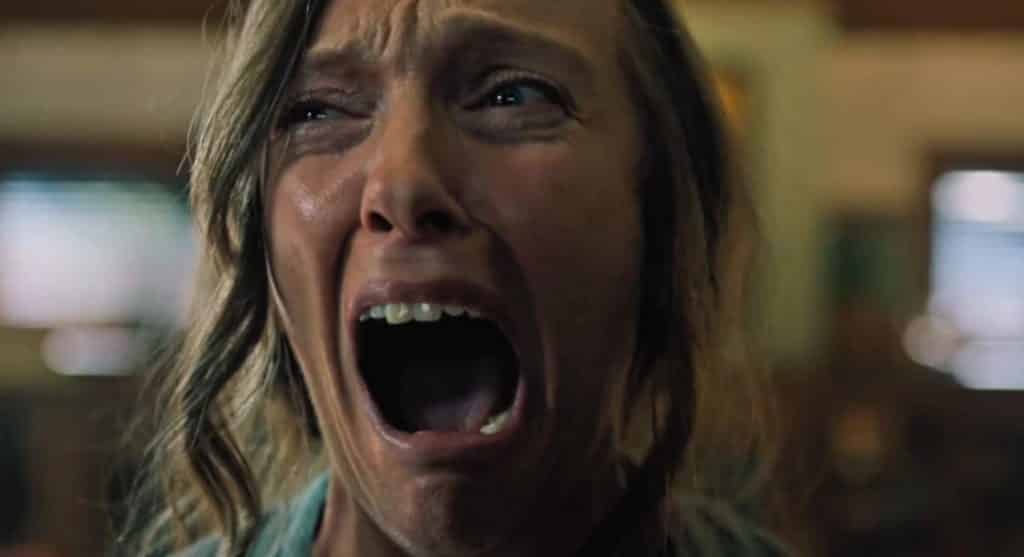 So there you have it. The trailers for the film were definitely unsettling, and it appears as though that if you like horror movies – you'll really enjoy this one. After all – it's said to be one of the scariest movies in years.
The synopsis reads:
When Ellen, the matriarch of the Graham family, passes away, her daughter's family begins to unravel cryptic and increasingly terrifying secrets about their ancestry. The more they discover, the more they find themselves trying to outrun the sinister fate they seem to have inherited. Making his feature debut, writer-director Ari Aster unleashes a nightmare vision of a domestic breakdown that exhibits the craft and precision of a nascent auteur, transforming a familial tragedy into something ominous and deeply disquieting, and pushing the horror movie into chilling new terrain with its shattering portrait of heritage gone to hell.
Hereditary hits theaters everywhere this weekend.
What do you think of the reviews for the movie? Are you looking forward to seeing it? Be sure to tell us all of your thoughts in the comments section down below!