Star Wars: The Last Jedi was easily the most complained about movie of 2017, but the complaining has softened over the last few months. That might be about to change, as director Rian Johnson deleted over 20,000 tweets – seemingly in response to James Gunn being fired by Disney last week over past tweets resurfaced. Gunn made jokes about pedophilia, rape and other things of that nature – though it's not certain if Johnson had any tweets like that on his account.
The tweets were first picked up on by John Talks Star Wars (video at bottom)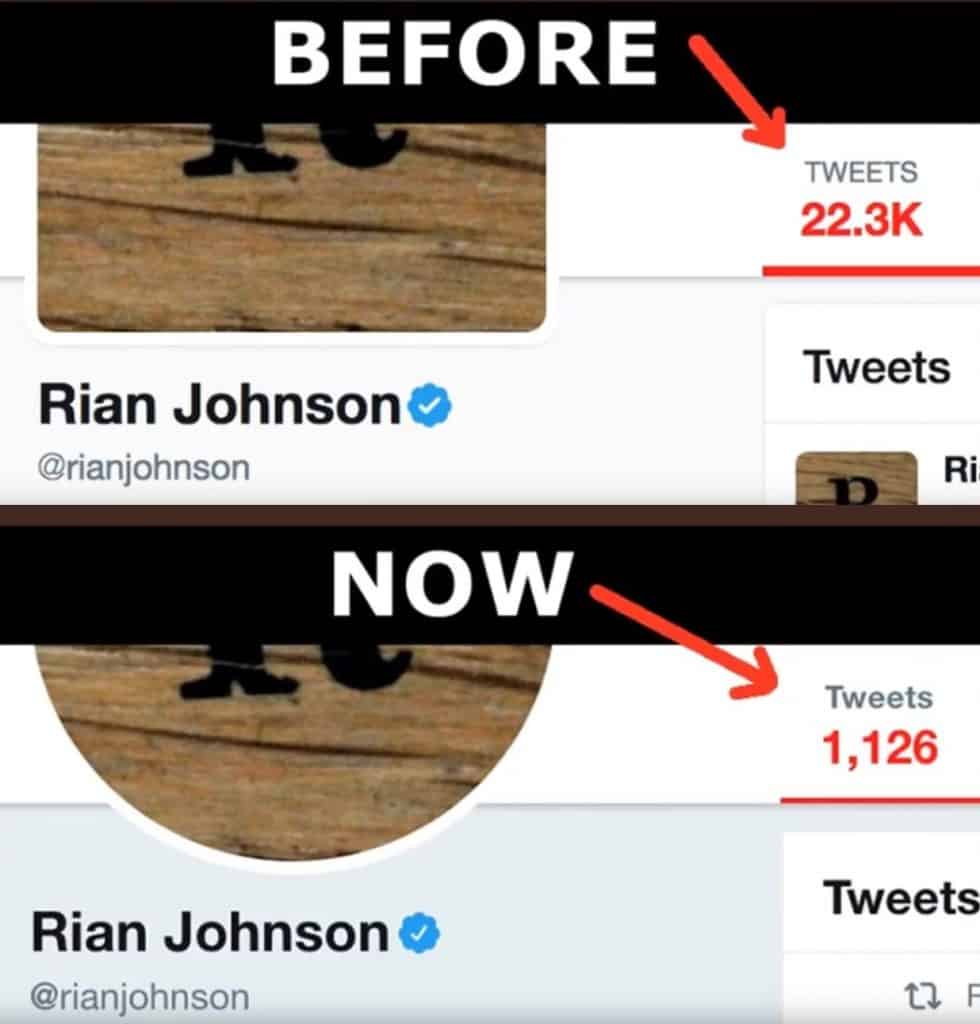 Twitter picked up on it as well:
After James Gunn was fired by Disney for an old tweet, Rian Johnson has deleted thousands of his tweets pic.twitter.com/zjgc3jlQte

— Florian (@Bonhoure) July 24, 2018
Rian Johnson has deleted >1,000 Tweets since Disney fired #JamesGunn on Friday. Anyone else think this looks suspicious? pic.twitter.com/n5HYH9g2Ac

— Dataracer 🦁 (@Dataracer117) July 23, 2018
@rianjohnson ELIMINA más de 1000 Tweets de su cuenta de Twitter, qué casualidad que sea el mismo día que se difundió lo del tema de James Gunn, cuánta hipocresía, ¿qué tiene que esconder para eliminar tal cantidad de tweets?
Lamentable.
Mirad la foto y las fechas..👇 pic.twitter.com/1Wns9sXCkv

— AAlex Kenet XØ (@AalexKenetXO) July 24, 2018
Why did you delete your tweets? I thought you where going to get revenge on the Star Wars fans? What are you scare of? Are you going to direct Guardians of the Galaxy?

— Brian Louderback (@ft1louderback) July 24, 2018
I think @rianjohnson deleted tweets where he is mocking and berating Disney's customers.

— DA Goritsas (@DAGoritsas) July 24, 2018
Disney is a hypocrite!! Now we see why Rian johnson and Hildalgo are deleting Tweets…lol! pic.twitter.com/cazwKdA41b

— Hawkins (@MsghawkinsC) July 24, 2018
It's been pointed out how some of the tweets were archived in the WayBackMachine, but nothing too graphic has been found yet. If anything, it will give fans that hated The Last Jedi even more stuff to work with while hating on the movie.