It appears that a new Thor comic has made an interesting throwback featuring DC characters Superman and Wonder Woman. And, as illustrated, it appears the two characters are actually considered among a group of others that happen to all be capable of holding Thor's magical hammer, Mjolnir.
The revelation was made in Rule for Reflection in Thor: The Worthy #1, by Kathryn Immonen, Tom Reilly, Chris O'Halloran and VC's Clayton Cowles. The story includes two trolls that are attempting to use shards from the Mirror of Finvarra to gaze into other worlds. It appears that the mirror has the ability to show the true reflection and faces of different worlds.
When Thor discovers the mirror, he ends up destroying it with Mjolnir. As the shard is thrown into the air, seven reflections are shown – each one representing another Thor capable of holding Mjolnir. And among the seven characters shown? Superman and Wonder Woman, a shocking addition to the group of otherwise Marvel characters.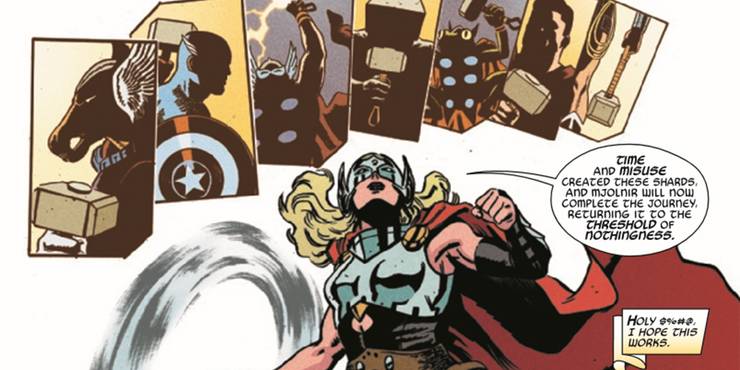 It does make some sense though. The two characters had previously appeared in and held Mjolnir in previous stories. For example, Wonder Woman held the hammer in an issue of the 1990's crossover DC versus Marvel. Meanwhile Superman got a chance to wield Mjolnir in JLA/Avengers.
Obviously this shouldn't be taken as much more than a fun nod to Thor's past, but the fact it was included at all is nice to see. It also more or less suggests that the previous crossover between DC and Marvel was at some point canon, so that's a little trippy to consider. And it's nice that they were able to make a nod to that classic event, even if another crossover will likely be out of the cards from now on.
How do you feel about the nod to both Superman and Wonder Woman? Let us know your thoughts in the comments section down below!
Source: ScreenRant