Reviews
'Color Out Of Space' Review: H.P Lovecraft's Story Gets A "Meh" Adaptation
Most of my knowledge of H.P Lovecraft is second hand from colleagues and certain memes that are of the Cthulhu variety. However, I do understand the influence that the weird and horror fiction writer has left upon this world. Many creative minds like John Carpenter, Stephen King, and Guillermo Del Toro have cited the author's work as inspiration into some of their most memorable creations. That's one reason that piqued my interest in checking out the movie, Color Out of Space. The other is writer/director Richard Stanley.
Color Out of Space is the second feature film from Stanley since his debut and firing on 1994's live-action adaptation of H.G. Wells' The Island of Dr. Moreau—check out the fiasco behind the filming of that movie when you have the chance. The premise follows a Nathan Garnder, played by a tamed Nicolas Cage, as he and his have family become an alien's plaything that's dead set on driving them mad through sound and color. It's like if you were to take a hit of acid and watch all of the intense musical dance numbers in some of the old Disney movies with synth music cranked to an 11.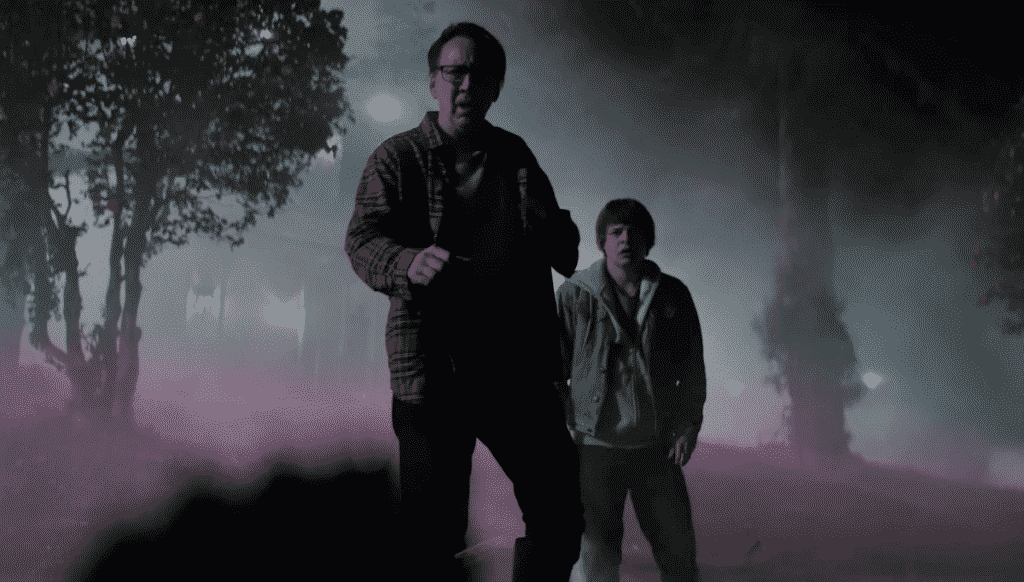 Richard Stanley has been known to have a labor of love for this type of material and more importantly, Lovecraft's work, which is odd that this story seems to lack life in it. Sure, many of the shots later on in the movie were pretty to watch, but it's used to cover up the film's plot and acting shortcomings.
From my understanding, Lovecraft's work is an examination of inherited guilt, fate, scientific risk, religion, and forbidden knowledge. I got none of that or any other of Lovecraft's themes within the narrative. There is a bit of time where Stanley explores the relationship between the Gardner family but all of that is pushed to the waist side when the intergalactic shit hits the fan.
The plot seems to run away screaming from the idea of studying the hardship and toll this nightmare is being put upon the Gardners. Instead, it's exchanged for something that is akin to Eli Roth's Cabin Fever, crossed with laughable CGI monsters, and splashed with bright vigorous colors all over the place. I even found myself falling asleep at times during the movie even though I had just finished a fresh cup of joe.
One expects a level of overacting and incoherent screaming from Oscar-winning actor—he got it back in 1995—Nicolas Cage but the expectation should be set on "low".  The movie has him dialed back a tad and sadly only gave the actor one opportunity to lose his shit. More of that would've justified given events of the plot. I did enjoy the performance of Madeleine Arthur, who plays the daughter, Lavinia. I felt more of a connection with this character whenever she would come into a scene and became the glue keeping this family together.
However, the rest of the cast was forgettable. Tommy Chong even makes an appearance but his character was pointless, to say the least.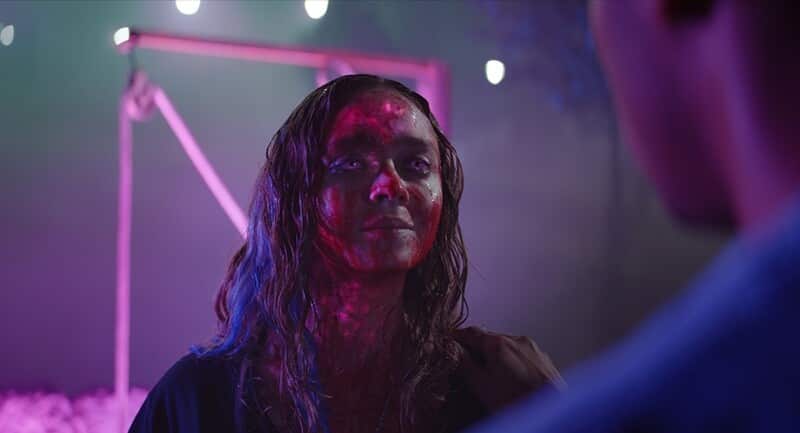 The one thing that has stuck with me long after the movie's ending is when two characters are merged into one in a horrifying mishmash of body parts that reminded me of 1982's The Thing. The way that Stanley takes time to let the tragic scene play out and the effect it leaves on the family is something that the movie needed more of. It's interesting that this part of the plot is lifted from the literary short story that would influence Carpenter's vision and it gave me some perspective on those moments when placed side by side.
I was really hoping for an intense story combined with great visuals but left the movie disappointed. The visuals are still a sight to see and you could probably place certain shots as a screensaver for your TV or computer if you're in need to spice up your devices. However, I am still curious to see what Richard Stanley has in store for us as the director has said in past interviews that the Color Out of Space is part one of a trilogy set of Lovecraft adaptations. I just hope he learns from his mistakes and tries to improve the next time around.
Grade: C