Comic Book fans and wrestling fans tend to go hand in hand. Both group love their products adamantly and fervently, on an almost biblical level. They are proud, vocal, and passionate about their brands. Many wrestlers even sport ring gear that are homages to their favorite superhero. Comic book fans are typically called 'nerds', with wrestling fans being called 'marks'. It's just two sides of the same coin. So, when we get a bit of a crossover, fans get all giddy and excited. And, Marvel Comics has just provided the latest one, making a certain dominant WWE superstar Marvel canon. Brock Lesnar.
In Avengers # 31 (you know, the issue where we find out that Tony Stark is the son of the Devil), Iron Man is back in the past, dealing with the Avengers of 1,000,000 BC. He is there to investigate why modern day archeologists found a million year old Iron Man helmet in a cave. Unfortunately, the Avengers of old, consisting of Odin, Agamotto, the first Black Panther, Ghost Rider (who rides a possessed Mastodon), Lady Phoenix, the first Iron Fist, and Starbrand, find Tony's arrival to be a threat and proceed to attack him. As Stark tries to explain he's not an enemy and escape, he name drops a couple people to describe who he is fighting. He calls Ghost Rider 'Snufflaluffagus' and 'Brock Lesnar' Starbrand!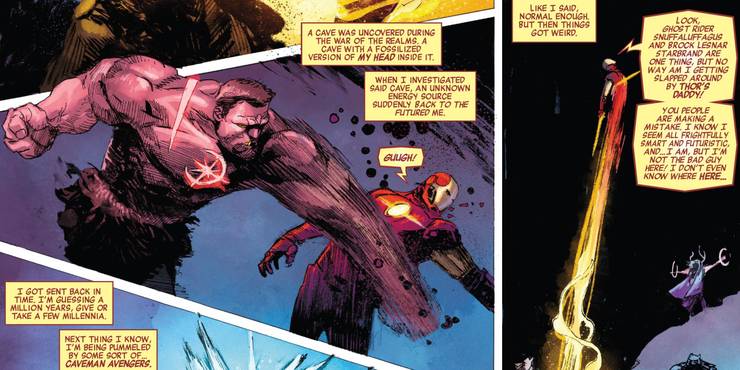 That's right, the Beast is now Marvel canon!
The most dominant combat fighter ever, Brock Lesnar has destroyed all comers in his path, most recently Ricochet at the Super Showdown PPV. While many fans do not like his part time status, it's hard to deny the power and presence of the former UFC Heavyweight Champ and multi time WWE champ. And, now that he has been mentioned, could we see more WWE superstars getting named dropped? Could this lead to a Marvel/WWE crossover? Get we see some WWE event in the comics? Who knows, but it would all be pretty damn cool.
What do you think of Brock Lensar being Marvel canon? Let us know in the comments below!