Helllloooooo!  On a list of classic films that shouldn't be remade, Mrs. Doubtfire should rank somewhere near the top just above classics such as Ghostbusters or The Princess Bride. Although, that hasn't stopped companies from trying to remake them anyway. 
But as is the case with anything that was remotely popular more than ten years ago, Mrs. Doubtfire is set for a remake, albeit a Broadway remake, but a remake none the less. Now to promote the upcoming show, Entertainment Weekly has the first look at Rob McClure, in the titular role, previously played to perfection by the late, great Robin Williams. Check it out below: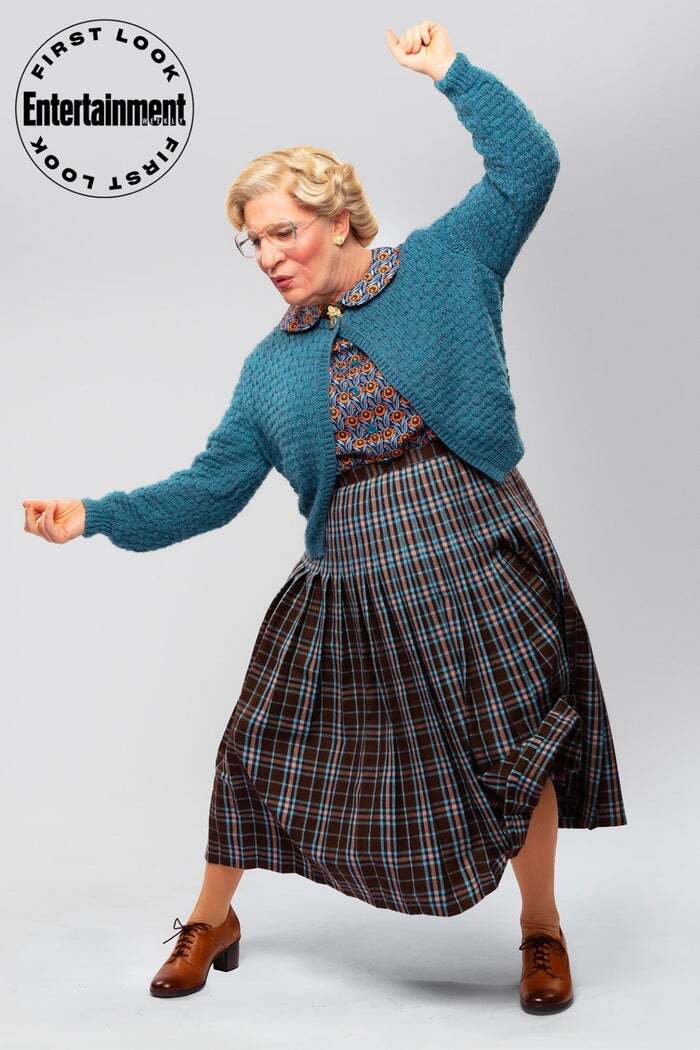 McClure previously played the Adam Maitland role in the musical adaptation of Beetlejuice, although it's safe to say the role of Mrs. Doubtfire will definitely be a big change from that. That being said, McClure certainly looks the part, with his look definitely taking a lot of cues from the Robin Williams version.
For those who haven't seen the original film (or read the book it's based on), Mrs. Doubtfire centers on follows recently divorced actor, Daniel Hillard, who poses as a Scottish Nanny named Euphegenia Doubtfire in order to be closer to his kids. Speaking on the struggles of getting in and out of the elaborate costume, McClure told Entertainment Weekly:
"Euphegenia Doubtfire takes a village. I've got an entire Indianapolis 500 pit crew back there. My dressers and make-up team are superheroes. One of the most thrilling differences between the movie and the Broadway show is that we are doing this in real time. When Daniel Hillard runs into the other room and emerges as everyone's favorite Scottish nanny 18 seconds later, our director can't yell cut and send me to a trailer for five hours. We've got 18 seconds. I can feel the audience sweating with me! 'IS HE GONNA MAKE IT?!?' The stakes are so high! It makes for electrifying theatre."
The musical version of Mrs. Doubtfire previously had performances in Seattle the back end of last year, but it's set for its Broadway debut on April 5th.
The full cast includes Jenn Gambatese as Miranda Hillard, Peter Bartlett as Mr. Jolly, Charity Angél Dawson as Wanda Sellner, Mark Evans as Stuart Dunmire, J. Harrison Ghee as Andre Mayem, Analise Scarpaci as Lydia Hillard, Jake Ryan Flynn as Christopher Hillard, Avery Sell as Natalie Hillard, and Brad Oscar as Frank Hillard.
The Music comes courtesy of Karey Kirkpatrick and John O'Farrell, with lyrics by Wayne Kirkpatrick and Karey Kirkpatrick.
What do you think? Are you excited for this? Will you be checking it out? Let us know below!