2020 has been a pretty terrible year when you take into account all that's happened. Coronavirus came and had the United States locked down – though it appeared to be headed in the right direction with things starting to open back up. This past week, however, saw protests and riots over the death of George Floyd and it's gotten so bad that it's been said the U.S. military is going to get involved. Today has been dubbed #BlackoutTuesday on social media – in support of standing against racism. Actor Seth Rogen posted the message on his Instagram account – and received quite a few comments on his post.
Some of the comments have been screenshot: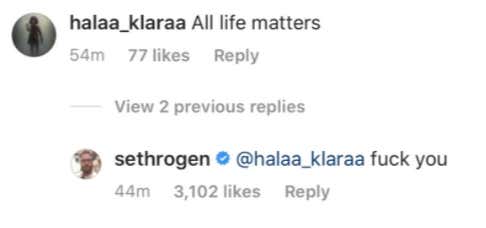 The comments seem to go on like this for a while.
Here's a collage I made of Seth Rogen's responses to a bunch of fucking nerds pic.twitter.com/zLH9WrCxky

— lauren mf (@laurenzilla) June 2, 2020
I'm sorry but I have to post a whole thread of Seth Rogen telling racists to fuck off pic.twitter.com/FVDVgjcmRV

— rhea (@hoeteldiablo) June 2, 2020
Seth rogen for president pic.twitter.com/pIA5Wdm96W

— Rhi (@RhianSimeon97) June 2, 2020
Here's some reaction:
Seth Rogen responding to every "all lives matter" or racist comment with a "fuck off" and/or "fuck you" on Instagram is beautiful. we love to see it.

— (@friesxo) June 2, 2020
Somebody tell Seth Rogen I'm his wife now & he better not be cheating.

— Princess (@curiouserly_) June 2, 2020
Seth Rogen is a washed up, spoiled, out of touch, creatively overrated POS.

— truthseeker (@Calloutfortruth) June 2, 2020
I get where Seth Rogen is coming from, but it's funny that he thinks "you don't get to watch Sausage Party anymore" is some kind of punishment pic.twitter.com/3eYVGshmku

— Billy (@Wannu001) June 2, 2020
if u have been absolutely silent about BLM / everything else going on rn and suddenly decide to log in once to post a black square with no relevant information attached, ur mom's a hoe, and as the great @Sethrogen once said, fuck u and ur dad.

— bea (@xoxbea) June 2, 2020
This is why I will always fucks with @Sethrogen https://t.co/LpzNWSf4qo

— (@batmanbiscuits) June 2, 2020
He's right, no one deserves to sit through his movies. https://t.co/zMXhm7VjEU

— Ben Kew (@ben_kew) June 2, 2020
Never going to watch a @Sethrogen movie again.
Man is a disgrace to this great country.

— OReilly (@OReilly) June 2, 2020
Those who follow Seth Rogen on his social media profiles know he's no stranger to speaking his mind on issues facing the country, as earlier this week, the actor (along with other celebrities) made donations to a fund that is said to combat the harms of incarceration by paying bail for low income individuals who cannot otherwise afford.