Ever since it was announced that Zack Snyder's original vision for Justice League was finally going to be released and available in 2021 on HBO Max, fans have been jumping for joy. What will be a 4-part series, broken into one hour episodes, looks to eliminate all of what Joss Whedon did and tell the story that Snyder originally meant for a two part film series. As Snyder reunites with the cast for reshoots and is finally crafting his vision for the Snyder Cut, he is letting fans in on the fun and giving us exclusive looks at what is to come. One of the biggest changes is of the villain of the film, Steppenwolf. The version we got in theaters was a disaster, to say the least.
Now, we've got an official look at the Snyder Cut version of the villain, and this is definitely an upgrade.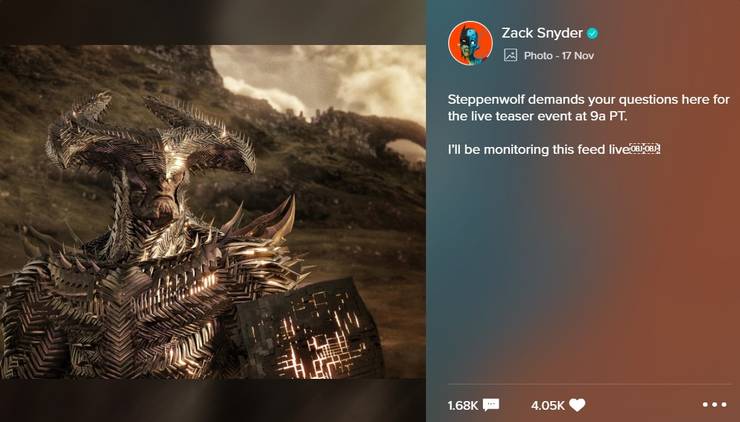 Best look at Steppenwolf from #ZackSnydersJusticeLeague #UsUnited pic.twitter.com/xO3z2wKB4W

— Zack Snyder's Justice League (@SnyderCutHBOMax) November 17, 2020
I tried to do a side by side comparison of Steppenwolf #UsUnited #JusticeLeague pic.twitter.com/840ph1r8cA

— Brainiac¹³ (@Brainiac_13) November 17, 2020
Snyder shared an official look at his Steppenwolf over on his Vero, where he was also holding a Q&A session to go along with a live teaser event today. The picture shows a much more detailed and menacing Steppenwolf, instead of the bland and muted version Whedon gave us.
This version has a much more complex armor system, seemingly a living armor that looks to be tied to the Mother Boxes. This makes sense that Steppenwolf and other in Darkseid's army would have armor made from the same technology that is the Mother Box, the core of everything on Apokolips. It seems more fluid and mobile, and in turn more menacing. He also has a more 'alien' face, looking much less like a tall human in a crappy suit than the first version.
Snyder has been so inspired by being able to finish his vision, and fan have been over the moon in anticipation, that the studio is already working with Snyder on a Justice League 2, and reportedly Ben Affleck is already on board. Top that with a Batfleck based series on HBO Max, The Flash film finally in the works, and the possibility of Man of Steel 2, and it looks like the DCEU might not be dead after all. And that is to the credit of the fans, using their voices to be heard.
What do you think of the Snyder Cut version of Steppenwolf? Let us know in the comments below!