The Marvel Cinematic Universe is moving forward at full speed with its Phase 4. WandaVision has kicked it off on Disney Plus and is killing it right now, with one more episode to go. This will lead into so many other projects, like Doctor Strange in the Multiverse of Madness, and has opened up the MCU to the magical realm even more. It has also laid the groundwork for the multiverse, which looks like it might be explored further in the Loki series. Based around 2012 Loki escaping and creating an alternate timeline during the Time Heist of Avengers: Endgame, Loki falls astray of the Time Variance Authority and has to amend for his sins. Now, some new merch for the upcoming series may point directly to that plot point.
A new shirt at Zazzle for the series that will debut this summer has a quote on it that is quite interesting. "The Timeline wants to break free".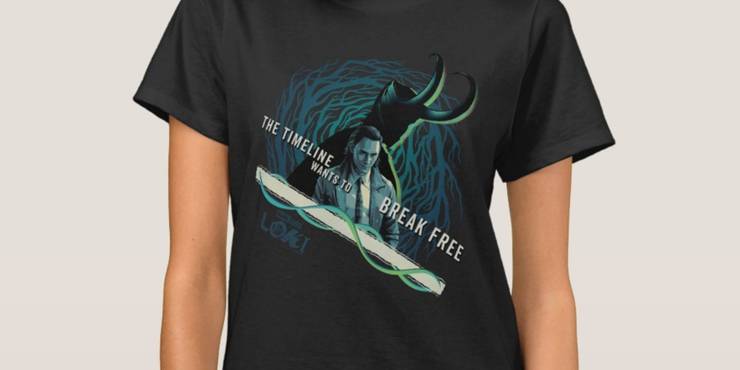 While it's unclear exactly who says this line, this could be what leads to the multiverse, as the TVA will no longer be able to keep 'time' in line and thus branches of time create new worlds. We also know that the 'multiverse'; was already introduced a bit in the first Doctor Strange, thanks to the Ancient One explaining it to Strange when he first arrives to be 'fixed'.
With this time jumping series, and the trailer we got, it does look like this Loki, an unredeemed and still angry Loki, may be jumping through time and alternate versions of time at the behest of the TVA as penance for his crimes. The biggest crime is, of course, creating this branch timeline when he escaped with the Tesseract. But, Loki could be plotting to let the timeline 'break free' to create more chaos, which he is want to do.
As we approach the end of WandaVision and prepare for The Falcon and The Winter Soldier to kick off two weeks later, we will start getting more about Loki as it will come directly after the wrap up of The Falcon and The Winter Soldier. Hopefully, we will get some kind of new trailer or more merchandise that lets us in, at least somewhat, into what to expect from this series as well as the ramifications as to what Loki gets up to in this show.
What do you think of this quote from Loki? Let us know in the comments below!