The latest entry in both the Godzilla and King Kong film franchises, Godzilla vs Kong, is only the latest in a long line of appearances for both monsters. In fact, Godzilla and Kong have each had massive changes in appearance over the decades, and this most popularly includes their heights. Kong in particular has grown quite a bit in size, not just from the events of Kong: Skull Island, but also when compared to past interpretations of the character. Now new posters have been released for Godzilla vs Kong, which shows the new official heights for each monster.
As you can see below, the posters shared by Kaiju News Outlet give exact heights for both Godzilla and Kong in the new crossover film. Godzilla is standing at 120 meters (394 feet) while Kong is at a lesser 102 meters (335 feet). It seems even though Kong has grown up quite a bit in size, Godzilla is still the bigger monster. Although as we've seen in promotional material for the new movie, Kong relies on a lot more than just size to fight Godzilla. He's very clever, and uses his intelligence and speed to try and outwit the current King of the Monsters.
New official #GodzillaVsKong promo images have confirmed that Godzilla will be 120 meters (394 feet) tall and Kong 102 meters (335 feet) tall in the upcoming film. pic.twitter.com/mQ9wUYkyFx

— Kaiju News Outlet (@KaijuNewsOutlet) March 11, 2021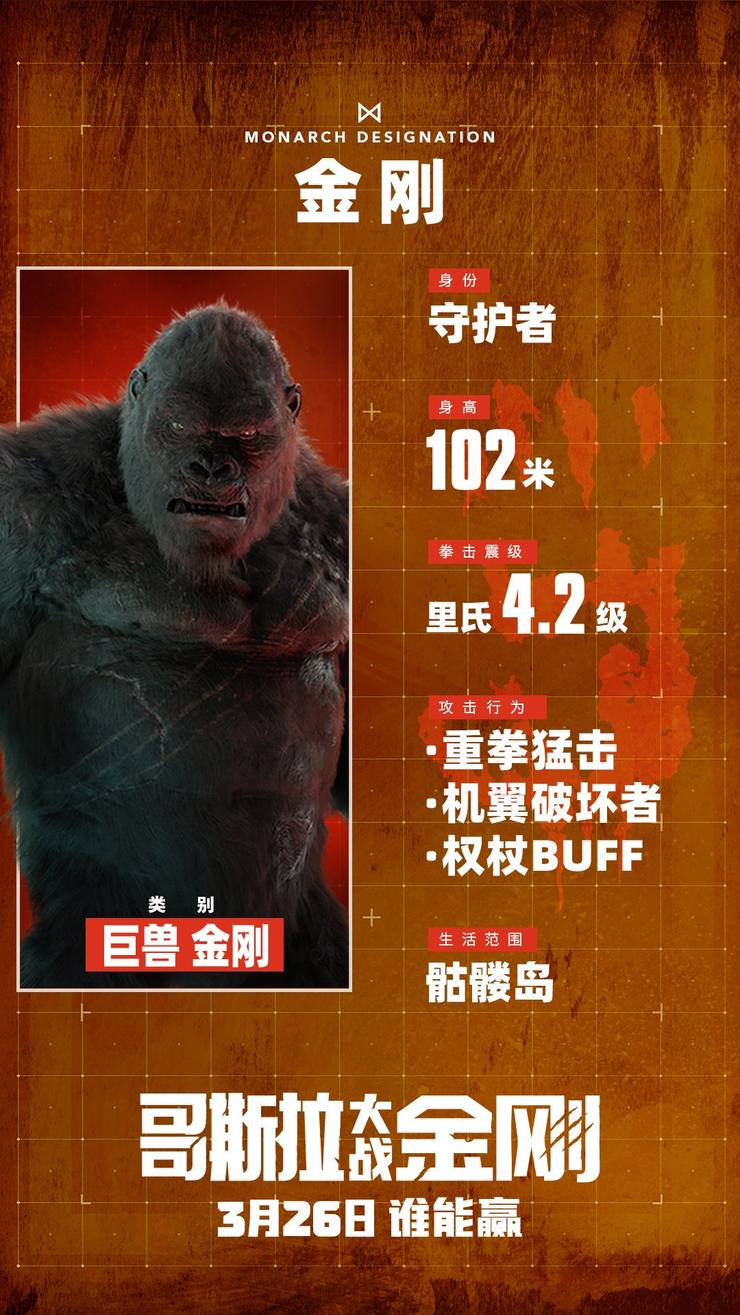 It looks like we'll just have to wait for the release of the film before we find out just which monster is strong enough and smart enough to beat the other. Here's the plot for the latest installment in the MonsterVerse film series…
"In a time when monsters walk the Earth, humanity's fight for its future sets Godzilla and Kong on a collision course that will see the two most powerful forces of nature on the planet collide in a spectacular battle for the ages. As Monarch embarks on a perilous mission into uncharted terrain and unearths clues to the Titans' origins, a human conspiracy threatens to wipe the creatures, both good and bad, from the face of the earth forever."
The movie was directed by Adam Wingard from a script written by Terry Rossio, Patrick McKay, J.D. Payne, Lindsey Beer, Cat Vasko, T.S. Nowlin, J. Michael Straczynski. The cast includes Julian Dennison, Brian Tyree Henry, Danai Gurira, Kyle Chandler, Ziyi Zhang, Millie Bobby Brown, Demian Bichir, Rebecca Hall, Jessica Henwick, Shun Oguri, Alexander Skarsgård, Lance Reddick.
Fans will be able to finally see Godzilla vs. Kong when it hits theaters and HBO Max on March 26 simultaneously.