Venom: Let There Be Carnage is currently in its opening weekend and is steadily becoming a fan favorite film. But its popularity isn't necessarily from the movie itself, which has been polarizing to say the least, but its excitement is really coming from that insane post-credits scene. The proverbial 'Forbidden Door' has been busted wide open and the multiverse has been thrusted into the stratosphere. And the once Prince of Spoilers, Tom Holland, somehow didn't exactly ruin the surprise! But that is to say, not without trying…
*SPOILERS AHEAD FOR VENOM: LET THERE BE CARNAGE!*
Tom Holland took to Instagram to acknowledge and congratulate director Andy Serkis and star Tom Hardy on the release of their sequel. But, the most noteworthy part is the little final line of the post that says "are the rumors true" with a smirking emoji. Now, in hindsight, this is obviously a spoiler. Venom has crossed over to the Marvel Cinematic Universe, thanks most likely to both the broken multiverse from Loki as well as Doctor Strange's tampered spell we saw in the trailer for Spider-Man: No Way Home.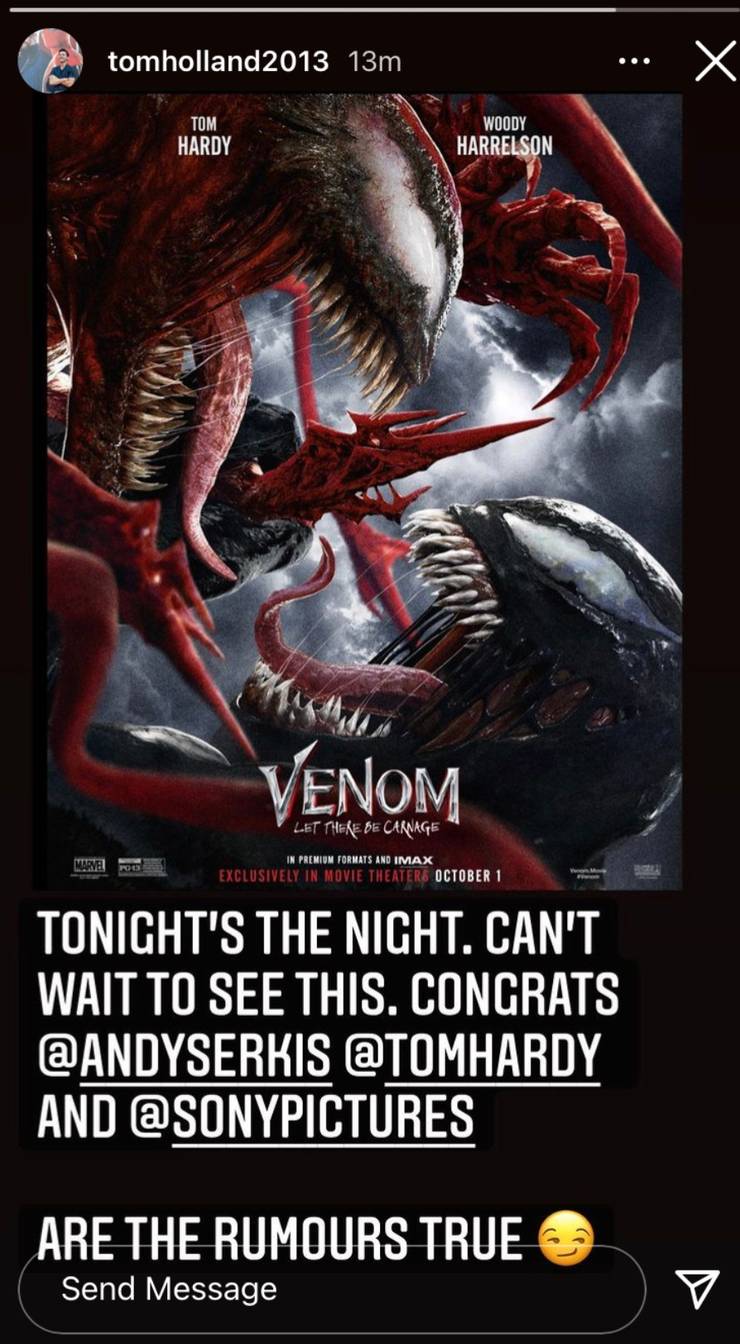 For what seems like forever, rumors of some kind of crossover with MCU Spider-Man and the rest of the Sony Marvel properties have been permeating the internet. We saw Micheal Keaton's Vulture in the Morbius trailer, as well as that Spidey poster spray painted with the word 'Murderer', which was seemingly a nod to the ending of Far From Home. Now, we know these rumors are true as the multiversal shift has brought the Sony Pictures Universe of Marvel Characters fully into the MCU.
It's unclear whether Venom will be an adversary or an ally to Spider-Man, but fans can be excited either way as we are finally getting the much anticipated interaction between the Wall Crawler and the Lethal Protector- and Holland knew about it all along.
Are you surprised that Holland kept this Venom 2 secret? Let us know in the comments below!