It appears that the latest issue of Superman: Son of Kal-El, the series which introduces Jon Kent as the newest take on the iconic superhero, has now confirmed he is bisexual. While it was previously expected by some fans to be the case, it was officially confirmed in Superman: Son of Kal-El #5 that Jon Kent is indeed bisexual. As such, you can expect spoilers for Superman: Son of Kal-El #5 down below.
As fans who've been keeping up with the comic book series already know, Jon Kent takes up the Superman name while his father Clark Kent leaves Earth. While Jon Kent has been busy taking his father's place, he's also been busy getting to know his new friend Jay Nakamura. And, as it turns out, the two will begin an entire relationship beginning with Superman: Son of Kal-El #5.
The new story in which this bisexual romance takes place was penned by Tom Taylor, John Timms, Gabe Eltaeb, and Dave Sharpe. The group have written the basis for this relationship for quite some time now. After all, Jay Nakamura has played a pivotal role in Jon Kent's interest in The Truth – a news organization that tackles underreported stories from across the globe. Their shared interests in The Truth have brought them both closer together as friends, and soon to be more.
This is evident in some of the covers for the new comic book issue which you can see below. They were drawn by Travis Moore, Tamra Bonvillain, and Inhyuk Lee: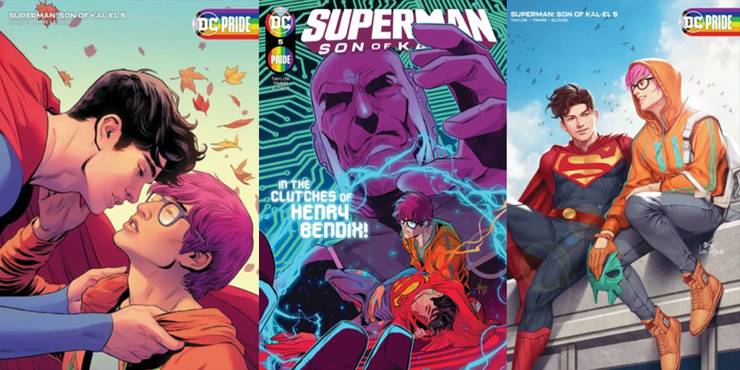 The following was stated by Tom Taylor in a press release via ScreenRant:
"Superman's symbol has always stood for hope, for truth and for justice. Today, that symbol represents something more. Today, more people can see themselves in the most powerful superhero in comics."
Everyone involved is excited to further explore the DC multiverse and the many infinite combinations of storytelling that it allows for. Superman: Son of Kal-El #5 will be available on November 9.