Many fans have long suspected that iconic villain Kingpin could be making an appearance in the Disney Plus series Hawkeye. After all, Vincent D'Onofrio's portrayal of the character in Daredevil has become one of the most well-received villain performances throughout the Marvel brand. Nevertheless, it's been unclear if Vincent D'Onofrio would ever be brought back to play the character within the mainstream MCU. And while it's still yet to be confirmed, there are some interesting clues in the Disney Plus series Hawkeye that suggest Vincent D'Onofrio could be showing up – or that he already has.
The first clue to this is within the original Marvel comics. In these comics, there's a character named Echo whose adoptive father is actually Kingpin. This already indicates that there is a connection in the source material. While Marvel doesn't have to follow these connections for their adaptations, however, it looks like they actually have.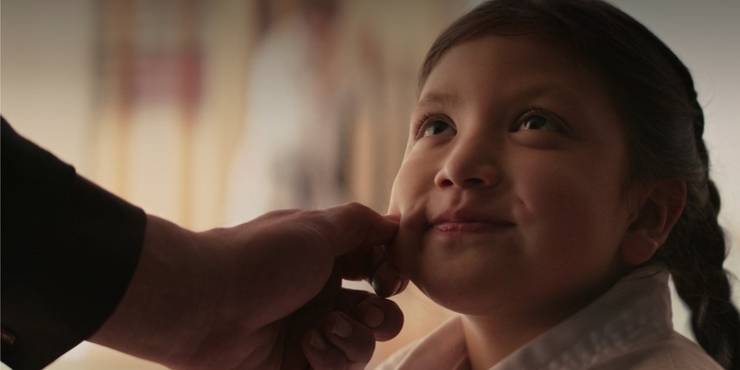 With the newest episode of the series we actually get to see a flashback with character Maya Lopez, who becomes the Echo we know from the comics. In this flashback she is approached by her uncle, who grabs her softly by the cheek. It's clear that he's wearing a suit and has a large hand, not unlike the kind Vincent D'Onofrio is known for in his performance as Kingpin.
Obviously, it seems more than likely that Kingpin is going to be revealed as Maya Lopez's uncle. It also seems like Vincent D'Onofrio is teasing this, as you can see on his below social media post. The actor shared a picture of himself at Disneyland of all places, which was interpreted by some fans as a sign that he's now going to appear in the Disney Plus series.
— Vincent D'Onofrio (@vincentdonofrio) December 1, 2021
While it's still unconfirmed if Vincent D'Onofrio will reprise his role as Kingpin for Hawkeye, it's certainly beginning to look that way. As such, this will be a series worth paying attention to for its next few episodes. If this turns out to be the case, then the Marvel Cinematic Universe proper will have just landed one of its biggest villains yet.
The cast for Hawkeye stars Jeremy Renner as the titular superhero and Hailee Steinfeld as Kate Bishop. Vera Farmiga, Fra Fee, Tony Dalton, Zahn McClarnon, Brian d'Arcy James and newcomer Alaqua Cox as Maya Lopez also star.
Fans can expect new episodes of Hawkeye to be added weekly every Wednesday.