When it comes to 2021 and the year we had, it has been one wild ride. Still reeling from the global pandemic, the world has tried to get back to some semblance of normal, including in the entertainment industry. Hollywood has continued to make movies to try and give us a form of escapism to ease our otherwise stressful lives. However, not every movie in 2021 was a 'banger'. Some films were down right unwatchable.
Thanks to Metacritic, a review aggregation website that tracks all movie reviews, we now can look at the ten worst films of the year.
Diana: The Musical
While this one did not get a cinematic release, and is actually not a movie, it did get a Hamilton–esque streaming release of a filmed production of the musical, so it made the list. The musical is supposed to be a tribute and to the unfortunate death of Princess Diana. However, instead of honoring the icon, the musical plays more like a cheap cash grab on the expense of a tragedy.
Infinite
Mark Wahlberg is at it again. Wahlberg has a strange, polarizing tenacity to make either a great film or a terrible one, no in between. Infinite falls in the latter. In what feels like nothing more than a cheap knock off of Old Guard, Infinite is a tough watch, even for those who enjoy bad movies ironically.
Blithe Spirit
Based on a 1941 Noel Coward play, Blithe Spirit has a promising ensemble cast that unfortunately just aren't enough to save this shell of a remake. The movie doesn't live up to the play at all and instead disappoints on every level, even if you're unfamiliar with the source material.
The Misfits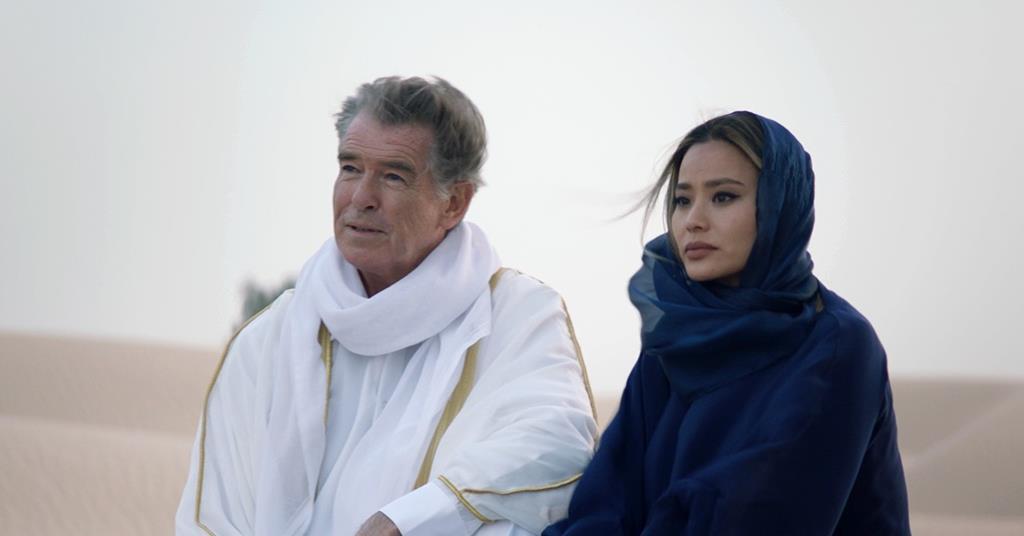 You would think a heist movie led by Bond alum Pierce Brosnan would be good fun. However, The Misfits is not, plain and simple. Besides Brosnan, the cast doesn't exactly have a stellar line up of films behind them, and it shows. Heist films seem like easy wins, but this movie falls short in every way.
Breaking News In Yuba County
Allison Janney is an amazing actress with an incredible career. Mila Kunis is still a fan favorite. Yet the two of them couldn't help this comedic crime drama from flopping hard. One critic even went as far as to say the film 'sucks out your soul'. Not a good look at all.
American Skin
Now, not every movie on this list is actually bad, but as this list is based on critiques, critics can damn a good film. American Skin actually has a solid IMDb rating and a 95% "audience score" on Rotten Tomatoes, which means that general moviegoers did enjoy the movie.
Midnight In The Switchgrass
Midnight in the Switchgrass had a ton of promise. The cast, led by Megan Fox and Bruce Willis, were to lead this serial killer drama based on true event to success. Instead, first time director Randall Emmett delivered an uninteresting film with with poor writing and bland characters.
The Virtuoso
Sometimes even the greatest of actors cannot stop a movie from mediocrity. Anthony Hopkins is one of the most iconic actors of all time, but no matter how good he is, he couldn't help the pile of crap surrounding him in this film.
Music
I honestly don't even know what to say about this one. Singer Sia made her directorial debut here, but her lack of awareness with the subject matter of Autism shines so brightly offensive here that it is astounding this film is still able to be purchased.
Vanquish
With Morgan Freeman and Ruby Rose leading this film, the hope for success is apparent to all. Unfortunately, nothing in this movie delivers, with one critic even saying that this movie makes a modern Steven Seagal film look like a masterpiece.
Every year there will be successes and failures in Hollywood. It is inevitable. And even the critics don't always get it right and these poorly received films could actually be great – but-  lists like these could help keep you from forever losing a few hours of your life to the movies.
Is there a terrible film that didn't make the list? Or is one of these films wrongfully on here? Let us know in the comments below!