Marvel has introduced a wide variety of its many famous superheroes, and that it includes its famous Avengers superhero team. But Marvel has surprised fans with its latest introduction, which includes an entire Avengers team made up of Man-Thing and his many different variants. Indeed, Marvel's upcoming issue of Avengers Forever #5 will see Man-Thing lead his own team of Avengers made up of himself. It's a strange direction and one that's both interesting and perfectly appropriate for the horror-adjacent superhero character.
What's interesting with these Man-Thing variants, however, is that they appear to be inspired directly by other Marvel superheroes. As such, fans should still expect to see plenty of unique characterizations even if they are all versions of Man-Thing. For example, as shown in the below cover art, there appears to be variants of Man-Thing inspired by Doctor Strange, Phoenix, and possibly even Iron Fist. There's also one with the Starbrand logo.
Here's the image as illustrated by artist Jim Towe: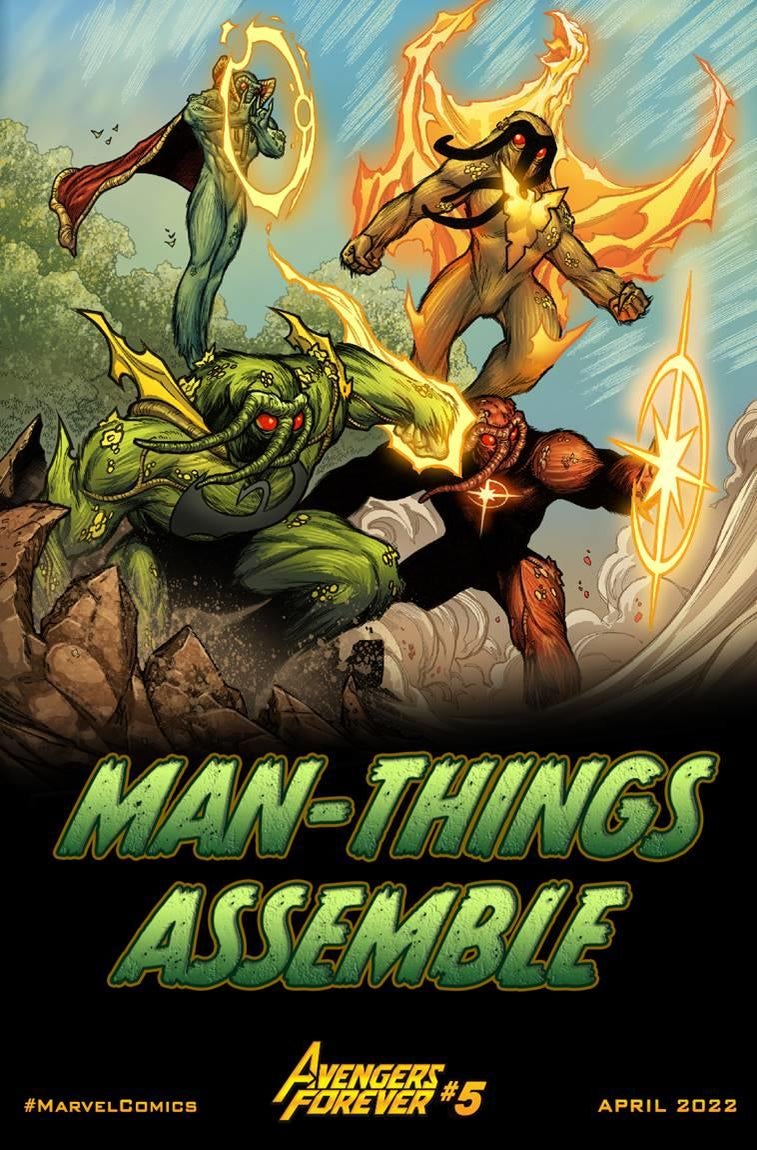 As revealed via ComicBook, Avengers Forever artist Aaron Kuder teased the following nature for the new comic series:
"Completely stoked to be working on Avengers Forever… In space no one can hear you scream. In alternate realities, no one can tell you 'that doesn't fit with continuity,'" he said. "It is a huge blast to work together on this with Jason. The over-the-top nature of this, the craziness of the scope… that is, in my opinion, one of Jason's strongest storytelling flexes. This is going to be a blast for anyone on this ride."
With Marvel apparently working on expanding their Multiverse and also developing a Man-Thing special for Disney Plus, it certainly makes sense that they'd take such a crazy route in this new issue. Fans should certainly be excited at this rate to see what else Marvel has up their sleeve.
Fans will be able to read the new Man-Thing-focused issue of Avengers Forever, Avengers Forever #5, next month on April 27.