It's become common knowledge know that Marvel Comics have been gradually reinventing The Punisher. The character has been an occasional subject of controversy over the years, and it looks like Marvel is gradually taking steps to rectify that. As such, their latest Punisher comic book series is quite different from how fans have previously seen the character portrayed. Aside from a new logo, and an affiliation with a criminal organization known as The Hand, The Punisher is apparently now being gifted with superpowers.
In the second issue of this comic book series, it's been revealed that The Punisher, aka Frank Castle, has been given the first of five superpowers. The superpowers, known as the "Five Gifts of the Fist," were given to him as part of a ritual called the "Awakening." His first power happens to be known as "The Eyes of the Beast."
As you can see below, via CBR, it's given Frank Castle the ability to see the people that have suffered by the hands of a particular criminal. He's also able to see a bomb wired to his heart that will explode when the criminal dies: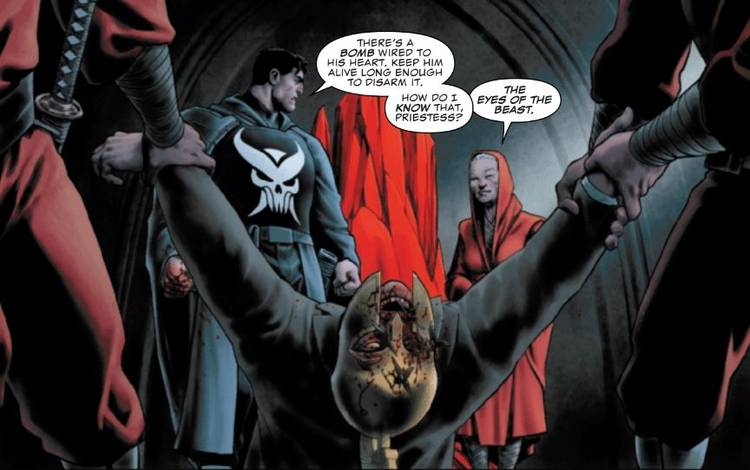 If you're unfamiliar with The Hand, they're eagerly trying to summon a demonic entity known as The Beast. Frank Castle will be a core part of their ritual to do so, and as a result, he's been given the aforementioned "Five Gifts of the Fist." Now that he has "The Eyes of the Beast," it's only a matter of time before Frank Castle is given even more superpowers.

At this point, with the ongoing Daredevil comics teasing a new faction that will go up against The Hand, it seems like Frank Castle and Daredevil will soon be battling yet again. This time, however, the two will be leading their own respective factions against one another. It's definitely going to be an exciting turn of events for fans of the two characters.