Copyright law is an interesting thing, and it's now allowed the iconic character Winnie the Pooh to enter the public domain. While Disney still retains most of the character's most notable trademarks, it was still enough for an independent horror film to get off the ground. Winnie the Pooh: Blood and Honey is the name of that very film.
As one can imagine, it reinvents the titular character as a horror villain. Now, as you can see in the below images via Dread Central, Winnie the Pooh has been turned into a slasher icon. Furthermore, fans can see an equally shocking version of Piglet as well.
Here are the images: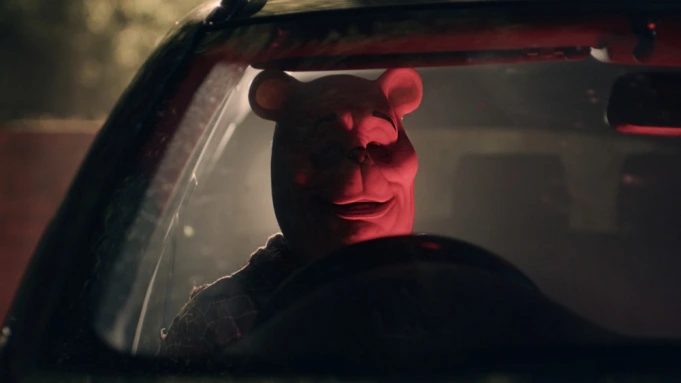 Now director Rhys Frake-Waterfield has spoken with Variety about the new movie.
"Christopher Robin is pulled away from them, and he's not [given] them food, it's made Pooh and Piglet's life quite difficult," the director explained.

"Because they've had to fend for themselves so much, they've essentially become feral," he continued. "So they've gone back to their animal roots. They're no longer tame: they're like a vicious bear and pig who want to go around and try and find prey."
The cast of Winnie the Pooh: Blood and Honey includes Amber Doig-Thorne, Maria Taylor, and Danielle Scott.
While there have been horror films which reinvented characters in the past, such as The Banana Splits Movie, Winnie the Pooh is a much more iconic character. His official appearances have always portrayed him as a friendly and silly stuffed bear. With that said, this new film looks like an extremely different take on the character to fit the horror narrative, so it'll be interesting to see how the project is received by genre fans. It's an interesting time for copyright laws.
It's unknown what release date the film is being scheduled for, but given that these official screenshots have hit the web, it hopefully isn't too far off. As such, it's possible that we could see an official teaser trailer for the horror film in the near future. Fans can thus stay tuned to ScreenGeek for any additional updates on Winnie the Pooh: Bloody and Honey as we have them.