Johnny Depp has been returning to the public eye in a positive way. Unfortunately, it looks like scammers are taking advantage of this. Although Johnny Depp has only recently been becoming more active on social media, scammers are already trying to trick his fans. Now Depp has warned his fans of these many scam attempts.
It's unclear what exactly these scam accounts are doing, but more than likely they're trying to get peoples' money. As such, it's definitely a good thing that people remain cautious, and understand which accounts of Johnny Depp's are official or not. Luckily, he verified which accounts are safe on his Instagram Story.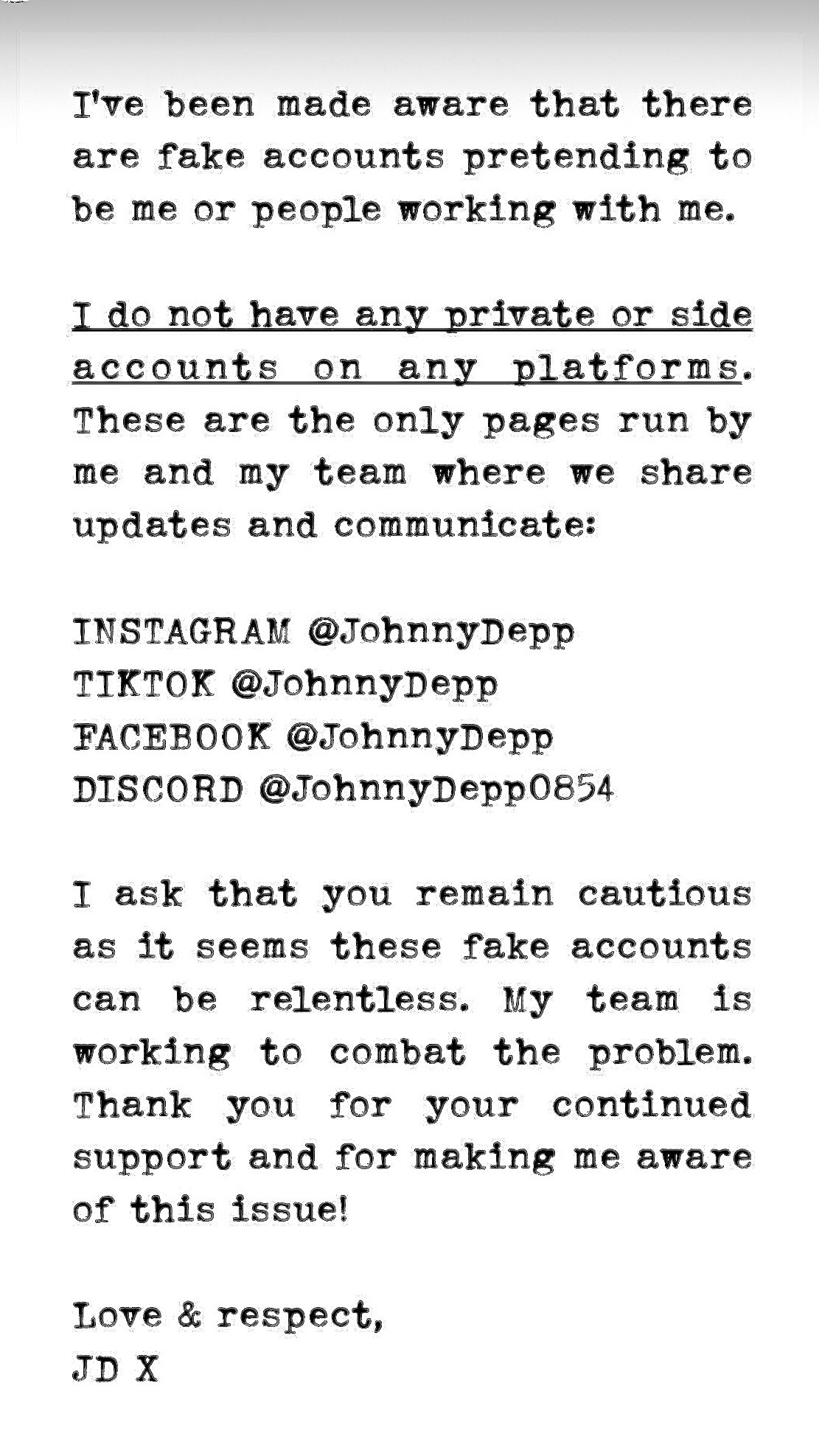 "I've been made aware that there are fake accounts pretending to be me or people working with me."
He further warned his fans that he doesn't have any private or side accounts. He only has the official public pages that he shared the usernames for below:
"I do not have any private or side accounts on any platforms. These are the only pages run by me and my team where we share updates and communicate:

INSTAGRAM @JohnnyDepp

TIKTOK @JohnnyDepp

FACEBOOK @JohnnyDepp

DISCORD @JohnnyDepp0854″
Finally, he thanked fans for making him aware of the scammers.
"I ask that you remain cautious as it seems these fake accounts can be relentless. My team is working to combat the problem. Thank you for your continued support and for making me aware of this issue!

Love & respect,

JD X"
Hopefully fans will see this message and be aware of the scam that Johnny Depp has warned us all about. While many internet users are accustomed to dealing with fraud, there are always those who might not be as savvy, and it's good to be cautious. Especially now that Depp has been gradually building his social media presence.