DC has spiced up Batman lore with some interesting additions and twists over the years. This time, however, they made an interesting addition regarding the Joker, and more specifically, the Joker's son. This addition comes during a brief moment in DC's The New Golden Age #1. The new comic book issue takes a moment to hint at a timeline where the Joker's son would have actually become a Robin to Batman.
This storyline begins after the conclusion of Flashpoint Beyond #16. During this issue, as shared via CBR, a whopping thirteen characters are sent from time capsules back into the DC Universe. This creates a new timeline beginning with The New Golden Age #1. And, as a result, it seems that the Joker's son actually fought as a Robin alongside Batman in this universe.
During this storyline, Helena Wayne discovers her father Bruce's secret: he's Batman. She's soon taken to the Batcave as a result. He also takes the time to show her all of the different Robin costumes on display. While Bruce says, "You understand why I do this now," she's quick to ask, "Yes, but… Why did they?" At this point, Selina Kyle interrupts Bruce for exposing her to his secret life.
"How could you do this?" Selina begins, "Expose her to all of it! After what happened to Tim…Stephanie…Damian…Even the Joker's son?"
While Bruce tries to defend himself by saying he doesn't want Helena to be his next Robin, Selina doesn't buy it. "But it happens," she says.
"You bring these kids in, convince them they have a greater destiny at hand, and then you turn your back on them when they break."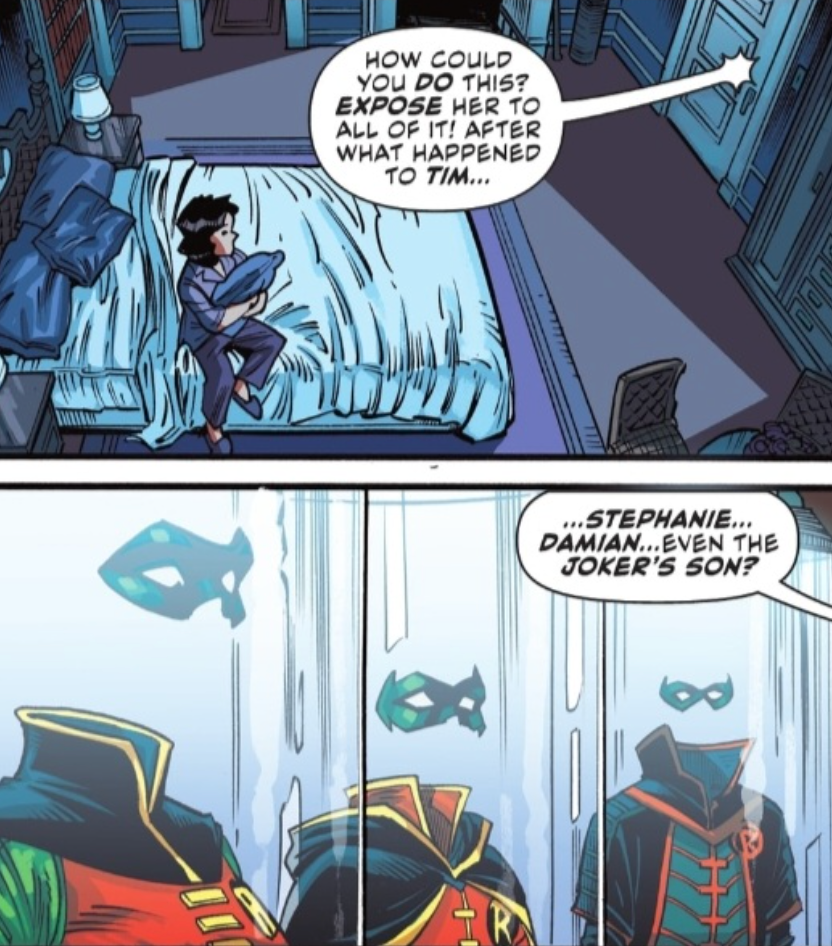 It is definitely a very interesting take on the iconic material. Of course, given the stand-alone nature of this story, it's unknown whether or not we'll know more about the iconic clown villain's son and how he became a Robin. We'll just have to wait and see what happens.
The New Golden Age #1 was written by Geoff Johns, with the addition of artists Diego Olortegui, JP Mayer, Scott Hanna, Jerry Ordway, Steve Lieber, Todd Nauck, Scott Kolins, Viktor Bogdanovic, Brandon Peterson and Gary Frank, colorists Nick Filardi, John Kalisz, Matt Herms, Jordan Boyd and Brad Anderson, letterer Rob Leigh, cover artist Mikel Janín and variant cover artists Nauck, Herms, Jay Hero, Michael Allred, Laura Allred and David Talaski.
Fans can now purchase the one-shot comic book from DC.