The streaming market has become increasingly competitive as more companies jump into the game. With so many platforms to choose from, including Netflix, HBO Max, Disney Plus, Hulu, Peacock, and Paramount Plus, it becomes unclear which service will ultimately remain on top. Interestingly, however, a new study shows that one streaming service has already become very unpopular with men.
A new report from Parrot Analytics essentially shows the difference regarding the interest of men and women for each streaming service. As you can see below, based on what would be an ideal 50/50 gender split for subscribers, Peacock subscribers skews 10.4% female. This means that the streaming service essentially has a 60/40 split in favor of women.
As you can see in the chart below, Peacock is the lowest ranking streaming service for what they call "Gender Skew by Content Catalog."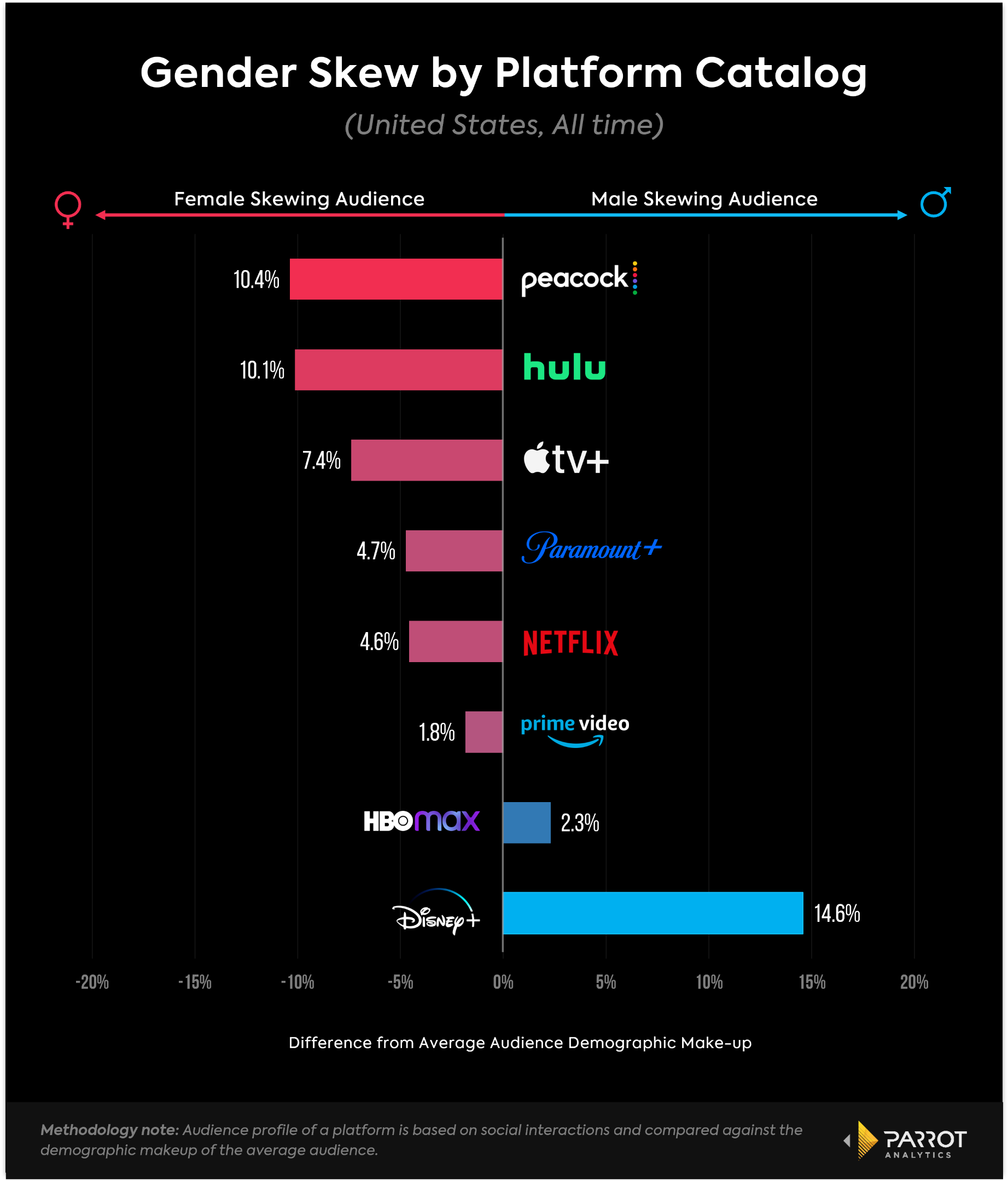 The numbers indicated in the chart are decided by social interactions compared to the average audience demographic. As such, this means that more women tend to talk about the content available on Peacock and Hulu online. Meanwhile, men tend to discuss about content from Disney Plus and HBO Max more while online. Unfortunately, it's unclear what specific forms of content these demographics are gravitating towards. But given that Disney Plus is popular for its Marvel and Star Wars projects, that seems to be a likely reason why. Meanwhile, HBO Max contains DC and Game of Thrones content.
Because Peacock has a free tier with ads, it only has 13 million paying subscribers out of 28 million active accounts. This is an incredibly small number when compared to Netflix, which happens to have 225 million subscribers and Disney Plus with 130 million subscribers. Of course, even with only 28 million active accounts, it seems as though the lack of men subscribing is bringing their numbers down.