David Cronenberg's work has been synonymous with the body horror genre for decades. Cinephiles and even typical moviegoers know the director/writer/sometimes actor. You know what you're getting with one of his movies, and sometimes you should bring a barf bag if you have a weak stomach. Finally, Brandon Cronenberg—David's son—has begun carving his place in cinema. After his 2012 film, Antiviral and 2020's Possessor, he's back with Infinity Pool, and the movie states that Brandon is here and has some twisted shit to share.
Infinity Pool stars Alexander Skarsgård (James Foster), Mia Goth (Gabi), Cleopatra Coleman (Em Foster), and Jalil Lespert (Alban). The story circles around married couple James and Em, as they encounter another married couple, Gabi and Alban, at a lavish resort that might make The White Lotus blush. From there, an accidental death occurs between the couple. That moment leads the film's events to spiral and ramp-up to balls-to-wall madness that includes psychedelics, orgies, murder, and plenty of WTF moments.
There are several things that Infinity Pool does that range from good to great in terms of the film as a whole.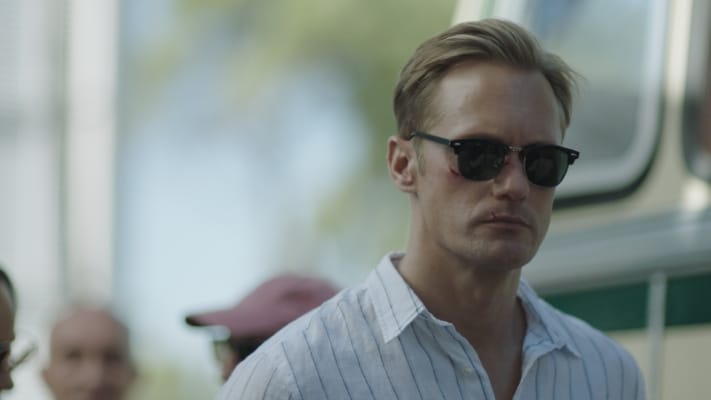 The acting from Skarsgård and Goth is something that deserves recognition. Skarsgård has been on this journey as an actor to expand his horizon and acting and that he's not "all muscle" with good looks. There are several scenes when he's the main focus and can show range that helps elevate the scene. He's a tremendous surgent for audiences because his character faces several WTF moments that had my jaw on the floor.
Goth, in Infinity Pool, can be a scene stealer at times but only when the film calls for it. Of course, plenty of actors want to dominate their movies, but Goth understands that making a film is a collaboration.
I fell in love with Goth's ability to bring 100% to her character in 2018's Susperia, and she continues to do so in whichever role she inhabits. I'm glad to say that she did not disappoint. Goth utilized her character's emotions in a skillful manner that was effortlessly and meshed well with Skarsgård's role. There were parts of Infinity Pool where the story began deep diving into acid-fueled insanity. That notion worked in sync with Goth's performance so well during the movie that I was in awe.
Brandon Cronenberg's talent as a director and writer has improved—a lot—since Possessor. There was a good amount of trepidation that Brandon would do a copy-and-paste job of his father's work. On the contrary, the director has shown that he can use some of his father's style and make it his own. Brandon Cronenberg employs his ability to go hard in chaos and gore. He doesn't pull back in certain scenes of violence but doesn't go too far to make them tedious or pointless.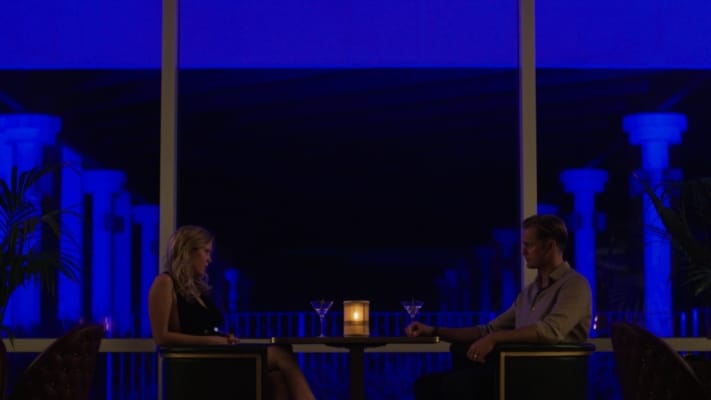 Yet, the most memorable part of the movie is the director's art in using surreal visuals.
There are scenes in Infinity Pool that hit a level of fierce surrealism. These parts are fueled by outside factors given to the characters that add a hidden savage and hedonistic atmosphere laced throughout the movie. James and Gabi go through several scenarios of character development that are aided by growing degrees of ROY G BIV laced with acid-filled colors and turn to an 11. I sat there and let the movie engulf me, and I didn't want it to stop.
What also makes Infinity Pool a significant advantage in cinema is the writing done by Brandon Cronenberg. The director/writer can weave an underlying message about depravity and the brutal nature of humanity. Infinity Pool showcases these themes in the movie by exploring the idea of dying and what kind of person comes out the other end. Not death in a literal way, but having a piece of your soul breaking bit by bit. James's story and character arc reach a point where he might not get the catharsis he's looking for, and his soul might be lost forever.
Brandon Cronenberg is quickly becoming one of my favorite directors. His styling of filmmaking elevates the Cronenberg name while creating the director's path. The movie lasted nearly two hours, but I didn't feel that time. The acting, setting, visuals, and message in Infinity Pool were done artistically and fulfilling. However, remember that the movie is not for the faint of the heart, and buyer, beware. This movie is messed up – but in a good way.
Grade: A