Zendaya is currently facing criticism on social media after having made what some have called "xenophobic" remarks. Specifically, Zendaya made some comments regarding her boyfriend Tom Holland's British accent.
The two have been dating one another for several years now. It's been a relationship followed closely on social media, not only because they're both celebrities, but that it mirrors their own fictional relationship in the Spider-Man franchise. Tom Holland plays Peter Parker while Zendaya plays his love interest, MJ.
As mentioned, however, some fans are now criticizing their relationship. It's all because of a recent interview Zendaya participated in with The Sun. Interestingly, Zendaya admits to loving Holland's accent, but that it's his use of slang that throws her off.
"I love the ­British accent, but as much as Tom tries to explain it to me, I will never understand rhyming slang" she begins. "Like I understand the concept — but what do apples and pears have to do with stairs? It's cute when he tells me all the different phrases — but I really don't get it!"
It's clear that Zendaya made these comments in jest. But some users are completely dissatisfied with how she answered. Here are the responses that fans have been sharing about Zendaya and her allegedly "xenophobic" remarks: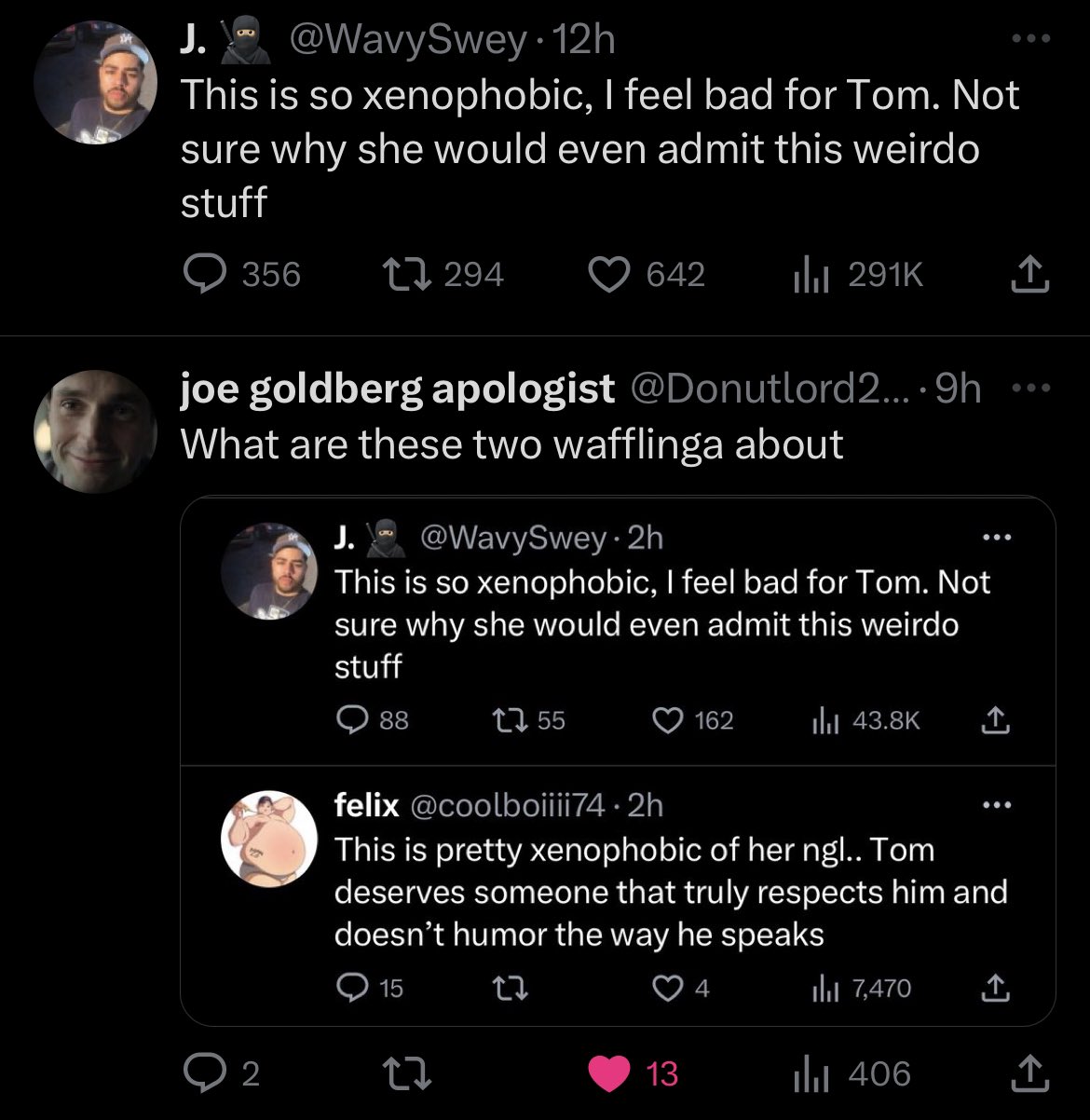 This is so xenophobic, I feel bad for Tom. Not sure why she would even admit this weirdo stuff

— J. 🥷🏼 (@WavySwey) April 10, 2023
She needs this book pic.twitter.com/0YuEp79fVw

— eros | SEEING LVJY🍓🍰 (@erosirisgrey) April 10, 2023
What is she on about

— Romi Chase (@romi_chase) April 10, 2023
Zendaya when Tom Holland tries to speak to herpic.twitter.com/5nzzS6APts

— Leandro (@Leandromon111) April 10, 2023
I'm not having it that Tom Holland bounces around using Cockney Rhyming Slang hahaha no he does not. He's never said "the apples n pairs" to you once Zendaya has he hun? Not once. https://t.co/3nPql2LjXe

— お前ら大嫌いだ (@pattoJPN1) April 11, 2023

As you can see, plenty came to Zendaya's defense:
I was laughing so hard when I saw the comments about Zendaya being xenophobic cause I thought y'all were joking… and then y'all weren't joking?? https://t.co/gOMJoBVTr8

— sistah (@sistahistarving) April 12, 2023

Zendaya: shares a funny moment

The obsessive part of internet: Doesn't that make you Xenophobic?

Me: why am I even on this app?

— Nancy K (@xdawnnex) April 11, 2023

People are calling zendaya xenophobic for this💀i hate the internet sometimes

— Myah🧜🏾‍♀️ (@MyahAvery) April 10, 2023

someone in the replies said that makes zendaya xenophobic i literally can't do this today https://t.co/S294GAZ2HJ

— caro 🕰️ TOMORROW!! (@zukkasukii) April 10, 2023
*literally* not understanding casual phrases/banter of a different country does not equate to being xenophobic. this is such a reach 🫣

— tyler iacona (@tyleriacona) April 10, 2023
Its not xenophobic to not understand slang from another country. Slang and idioms are just as regional as language and dialects are. As long as she's not making fun, which she isn't, then its not a problem.

— JaLeah G. (@survivalbymusic) April 10, 2023
y'all just saying whatever comes to your minds without thinking now

— Shay !! (@cloudybxnnie) April 10, 2023
did you pull a muscle with that stretch?

— mal 🥂 (@tidalwind) April 10, 2023
the whole point of slang is that its regional based. its not xenophobic if someone not from that specific place understands

— rue 🇨🇦🇺🇦 (@runaa_af) April 10, 2023
i thought this tweet was satire but the replies are starting to make me think otherwise and that's scary… https://t.co/WITku19vbe pic.twitter.com/NIHFpc13M4

— ʚ✟⃛ɞ (@cuntyjimi) April 11, 2023

Of course, what really matters is how Tom Holland feels about Zendaya's comments. And if he's still okay with her sense of humor and how she interprets his accent or use of slang – then that's what counts. Unfortunately, the two have such a massive following online, it's going to be difficult to avoid backlash or even rumors at any given time. But the two have certainly done their best so far to look like the perfect power couple.
As always, stay tuned to ScreenGeek for any additional updates as we have them.