Warner Bros. May Have Just Accidentally Spoiled A MAJOR Justice League Cameo
With a movie as big as Justice League, there are always going to be rumors and speculation up until the film comes out – and even after.
It was speculated a few weeks back that Supergirl was actually the character at the end of the most recent trailer, but that was recently debunked when a foreign trailer confirmed the person Alfred is talking to is a man.
The most obvious choice is Superman (that's who it will probably be) though some are speculating it could be Green Lantern.
A recent soundtrack listing was posted on Amazon and later taken down by Warner Bros., but We Got This Covered managed to get a screenshot of it: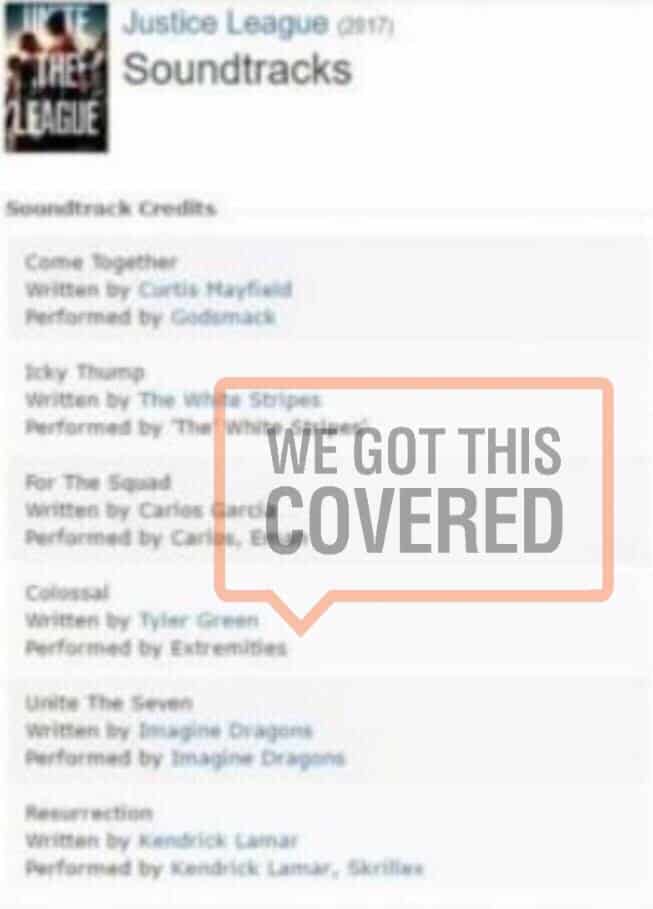 Per the site:
It may be small and blurry, but you can still make out the names of the various songs and one in particular stands out: "Unite the Seven" by Imagine Dragons. It's not too difficult to put two and two together here and if this listing is indeed accurate, then it would seem that Green Lantern, or some as yet unknown seventh member, will be making a surprise appearance to complete the titular team's roster.
Definitely some pretty interesting speculation, and it has been rumored that Green Lantern does in fact make an appearance during an "important sequence" in the film.
Whether or not that happens – we'll just have to wait in see when the film hits theaters in November.
Justice League stars Ben Affleck as Batman, Henry Cavill as Superman, Gal Gadot as Wonder Woman, Jason Momoa as Aquaman, Ezra Miller as The Flash, Ray Fisher as Cyborg, Willem Dafoe as Nuidis Vulko, Jesse Eisenberg as Lex Luthor, Jeremy Irons as Alfred Pennyworth, Diane Lane as Martha Kent, Connie Nielsen as Queen Hippolyta, Amber Heard as Mera, Kiersey Clemons as Iris West, J.K. Simmons as Commissioner Gordon, with Ciarán Hinds as Steppenwolf,and Amy Adams as Lois Lane.
What do you think this means? Be sure to tell us your thoughts in the comment section below!