While The Untitled Deadpool Sequel (Deadpool 2) surprise trailer today showed a lot of emphasis on painting, it may have showed something else entirely. It's quite possible that it confirmed the movie's antagonist will be Nathan Essex, otherwise known as Mister Sinister.
While the trailer's main focus is on parodying Bob Ross and giving glimpses at the film's actual storyline, some fans have dissected the main painting of the trailer well enough to recognize Mister Sinister.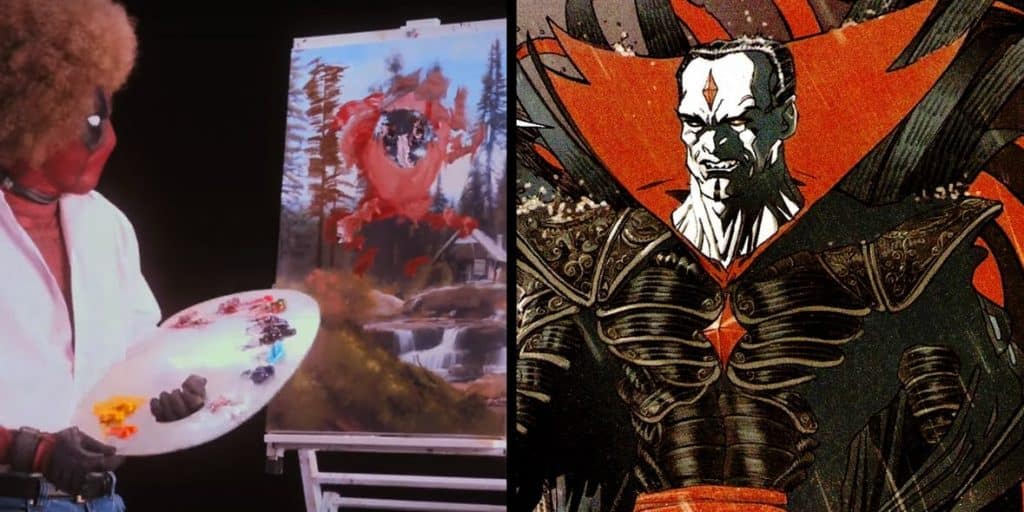 It definitely makes sense, considering Deadpool's iconic sidekick Cable will be featured and his original deals with time travel. Therefore including Mister Sinister is almost a given for this film.
While Mister Sinister was originally going to be included in Logan, his character was scrapped for being so outlandish. And so it definitely works out that his character will be put to use in the upcoming sequel. It's also been rumored that the character could appear in the upcoming Gambit movie starring Channing Tatum and be played by Daniel Craig.
Per the Marvel Universe Wiki:
During the 19th Century, Nathaniel Essex encountered Apocalypse who used his technology to transform Essex into "Sinister", the last word his dying wife ever spoke to him.

Soon after, a time displaced Gambit and Courier approached Sinister for help. Sinister agreed to help them, as long as he could have a DNA sample from Courier. This DNA sample allowed Sinister to replicate Courier shape shifting abilities, within Sinister's own body.

By the early 20th Century, Sinister had cracked the genetic genome and was willing to share the information with Herbert Edgar Wyndham, who would later become the High Evolutionary.
It could also be a sign that FOX plans on crossing over the Gambit movie (which just received a February 2019 release date) into the Deadpool universe, which would be pretty interesting as well. However, the X-Men spin-off solo movie has been promised for quite some time now, so we're not sure if it's ever actually going to happen.
Deadpool 2 synopsis: After surviving a near fatal bovine attack, a disfigured cafeteria chef (Wade Wilson) struggles to fulfill his dream of becoming Mayberry's hottest bartender while also learning to cope with his lost sense of taste. Searching to regain his spice for life, as well as a flux capacitor, Wade must battle ninjas, the yakuza, and a pack of sexually aggressive canines, as he journeys around the world to discover the importance of family, friendship, and flavor – finding a new taste for adventure and earning the coveted coffee mug title of World's Best Lover.
The Untitled Deadpool Sequel will hit theaters June 1, 2018.
How would you feel about Mister Sinister being Deadpool's newest enemy? Let us know in the comments section down below!