In a time where accusations of sexual misconduct are taking over Hollywood, it should come as no surprise that yet another A-List celebrity is yet again on the receiving end of them. Earlier this week, there were some accusations on Twitter about The Disaster Artist star and director James Franco from actress Ally Sheedy and Violet Paley that got everyone talking.
The time of the accusations were during The Golden Globes, of which you can see below: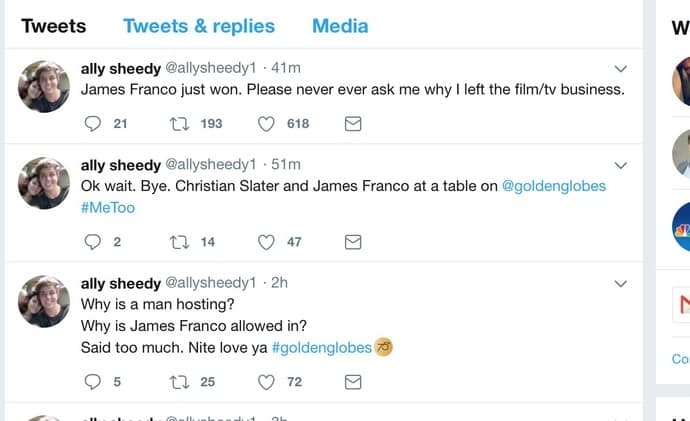 Cute #TIMESUP pin James Franco. Remember the time you pushed my head down in a car towards your exposed penis & that other time you told my friend to come to your hotel when she was 17? After you had already been caught doing that to a different 17 year old?

— Violet Paley (@VioletPaley) January 8, 2018
thank you for your support ❤️ just to be clear I wasn't 17, I was an adult. There are a lot more details that will be out soon. Working with people to do it in the best, safest way

— Violet Paley (@VioletPaley) January 8, 2018
another reason it's been hard to come forward about this. we did have a consensual relationship as well. unfortunately & fortunately, there are others who went through this same thing as me with him, and worse. I'm glad I am strong enough to speak up for all of us despite trolls

— Violet Paley (@VioletPaley) January 9, 2018
Twitter users also very recently dug up these interesting tweets from Paley:
I like planning ways to ruin someone's life the moment I meet them

— Violet Paley (@VioletPaley) September 2, 2017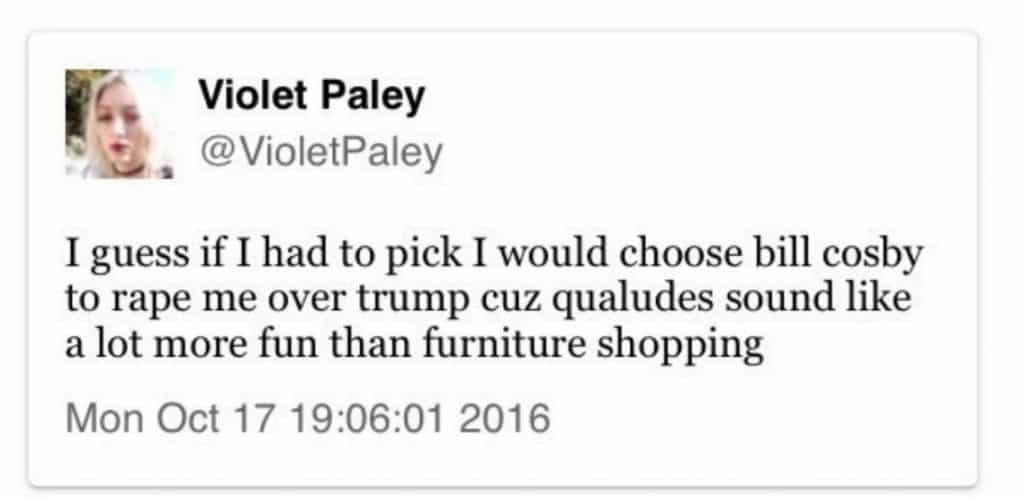 Last night, James Franco appeared on The Stephen Colbert Show, where Colbert asked him about the allegations. Franco responded by first saying he supports the movement:
"I do support [Time's Up]," he started. "I was so excited to win, but being in the room that night was powerful. I support change."
When pressed about the allegations, Franco said:
"I have no idea what I did to Ally Sheedy. I had nothing but a great time with her. I have total respect for her."
He continued:
"In my life, I pride myself in taking responsibility for things I've done. I have to do that to maintain my well-being. I do it whenever something needs to be changed," he said. "I completely support people coming out and being able to have a voice because they haven't had a voice for so long. I don't want to shut them down in any way. It's a good thing I support."
He concluded by saying:
"If I have done something wrong, I will fix it — I have to. That's how that works. I don't know what else to do. The point is to listen. I am here to listen and learn and change perspective where it's off. I'm completely willing and want to."
It's also interesting to point out that there was a 2014 exchange with Franco and a 17-year-old girl, of which the Instagram transcript read:
Franco: Hi
Clode: hi
Franco: Where do you live?
Franco: NYC?
Clode: Scotland
Clode: In a small town called Dollar
Franco: How long will you be in New York?
Clode: Oops sorry, um a few days it's my 18th birthday present
Franco: You're 18?
Franco: Who are you with?
Franco: Do you have a bf?
Clode: Nearly 18, my mum and not if you're around
Franco: When is your bday?
Franco: Where are you staying?
Franco: What's your #?
Clode: In May but I have exams then, just off of Times Square in Hilton, what do you mean #?
And the two apparently communicated via text as well:
Franco: Can I see you?
Clode: As long as you are james Franco
Franco: I am
Franco: You're single?
Franco: What's the hotel?
Franco: Should I rent a room?
Clode: April fools was an hour ago though…
The Your Highness star then shared what appears to be a selfie.
Franco: It's me
Franco: Yes or no?
Franco: Tomorrow or thurs?
Franco: Ok
Franco: Be well
Franco: X
Clode: I'll come back when I'm 18
Franco: X
Clode: Well this is a story my Scottish friends will never believe
Franco: Don't tell
Clode: I just want proper evidence that it's you and I won't
Franco: I gave it to you
Franco: If you don't want to meet, then text me when you do.
Franco: Bye
Clode: You sound so dodgy though
Franco: Bye
Clode: One second, I will meet you if you write my name on a piece of paper then send it to me with your face also in the picture, please
According to the same report, Franco responded on Instagram and Twitter (now deleted) by saying:
"I HOPE PARENTS KEEP THEIR TEENS AWAY FROM ME. Thank you." 
Some said it was a publicity stunt for an upcoming movie. He eventually followed up in an interview by saying:
"I'm embarrassed and I guess I'm just a model of how social media is tricky. It's the way that people meet each other today. But what I've learned, I guess because I'm new to it, is you don't know who's on the other end."
He added:
"You get a feel for them, you don't know who you're talking to. I used bad judgement and I learned my lesson. Unfortunately in my position, not only do I have to go through the embarrassing rituals of meeting someone, but if I do that, then it gets published for the world so it's doubly embarrassing." 
As far as what the truth actually is regarding the latest allegations, we'll never know. That's up to you to decide for yourselves.
What do you make of the accusations against James Franco? Be sure to tell us your thoughts in the comments.