Kevin Sorbo, an actor who had popular roles such as Hercules and on Andromeda, isn't one to back away from his beliefs in today's shaky political climate. As a matter of fact, no one really seems to be. Anywhere you look, there's an unwanted political opinion being shoved in your face. Apparently, though, if you disagree with the guy who runs one comic convention, your opinion just isn't right.
At this point in his career, Sorbo makes the rounds at comic conventions, as some seem to be doing lately, and he's pretty popular because of those roles we mentioned above. One convention he won't be appearing at, however, East Coast Comic Con. The reason? Because he's friends with Fox News' Sean Hannity: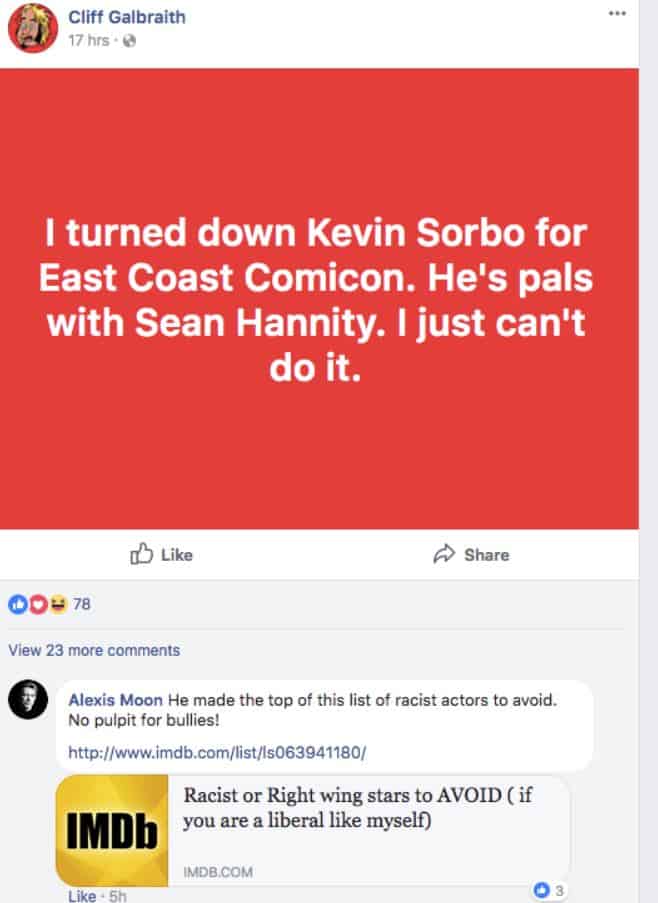 Sorbo has responded to the comments, saying he hasn't even heard of the event:
"I've never even heard of the East Coast Comicon. They don't have any A-Listers attending. I think they are looking for free publicity."
He added:
"The Left always screams about tolerance and freedom of speech, but it's a one-way street for them. I don't get upset with someone having a different point of view."
Sean Hannity also responded, saying:
"I'll pity the poor insecure guy who cannot escape his comic book world, and handle a little real world truth and reality and an opposing viewpoint. Take that Batman."
He also tweeted:
More left wing intolerance. You just cannot make this up! https://t.co/N7ScCwy7RG

— Sean Hannity (@seanhannity) January 15, 2018
As did a lot of other folks on Twitter:
Seems to be the theme of the day. Kevin Sorbo (Hercules) is banned from Comicon because he is friends with a conservative, Sean Hannity.

Can you ban-happy smugshits all see how nuts you've become and how poisoned your life is because of PC culture?

— Mark Kern (@Grummz) January 13, 2018
Wow! Big risk for Cliff Galbraith! Not all of the Comicon fans live in their mother's basement. Some are actually gainfully employed conservatives https://t.co/4tHvzdLT0c

— Debbie Hernandez (@dpouncer51) January 13, 2018
Cry-bullies like Cliff Galbraith need to GTFO of comics. https://t.co/rB5dfX7vFE

— Diversity & Comics (@DiversityAndCmx) January 13, 2018
No room for real heroes at nerd gatherings. Feelings must be spared at all costs. Ideas are kryptonite for an asshole named Cliff Galbraith.https://t.co/jKmiyDxrSo

— Twitorical (@twitorical) January 15, 2018
@CliffGalbraith @EastCoastConNJ ARE RACIST WHITE SUPREMACISTS
They DISCRIMINATE against others based on their WHITE SUPREMACIST mind set!#LockThemUp
I cant wait til @ksorbs SUES THEM FOR VIOLATING HIS CIVIL LIBERTIES & CONSTITUTIONAL PROTECTIONS https://t.co/umG2fOxTpx

— Beantown Massive (@BiglyMassive) January 13, 2018
#CliffGalbraith should be ashamed of himself..
Christians get sued for not baking a cake & Liberals ban you from comic con, with no repercussions!
This is craziness!
Total discrimination because ur friends with @seanhannity
I STAND WITH YOU KEVIN, & YOU TOO SEAN! https://t.co/KCod7pFgIF

— cat (@catbb33) January 16, 2018
So now it's Commie Con. Anti-Freedom and Anti-Tolerance. Who's surprised by this petty totalitarian act of impotent rage?https://t.co/36cvc9ezVl

— Wm. Michael Mott (@writerartistdad) January 15, 2018
Cliff Galbraith priding himself and getting pats on the back for excluding someone from a non-political event for political reasons. Bizarro World.

— Alphey (@Alphey) January 14, 2018
Huh. It looks like some on the right are freaking out that Kevin Sorbo was "banned" from a comic con, when what actually happened was the promoter declined to hire him to show up and sign autographs.

I guess this means he was also banned from appearing in THE POST and JUMANJI.

— Kurt Busiek Resists (@KurtBusiek) January 15, 2018
This is RIDICULOUS and WRONG. He's a member of the geek community just like the rest of us. All these years we wanted comics to go mainstream, and this is what we do because we disagree with him?https://t.co/TZIeKXW7cf

— Kevin Grevioux (@KevinGrevioux) January 16, 2018
The @EastCoastConNJ turned down @ksorbs solely because he's friends with @seanhannity . #ComicsGate people, return in kind: spend your entrance fee on a convention that doesn't discriminate based on political affiliation. @MeganFoxWriter @JackPosobiec @stillgray @DiversityAndCmx pic.twitter.com/o0DA5Iwu2x

— Donald J. Thump (@POTUSThump) January 13, 2018
According to the douchebag that runs East Coast Comic Con, if you're friends with people the titty baby doesn't like, you get denied. We love you Hercules, you're always welcome where I am. #boycott #eastcoastcomiccon #kevinsorbo

— Justin J Thompson (@JThompson8215) January 16, 2018
Kevin Sorbo tried to post this article, lauding the film for its "anti Islam message". Thank you for keeping this filth away from my convention!

— Ken fantry (@ken_fantry) January 15, 2018
Cliff Galbraith, the person responsible for all of this, had some interesting recent tweets, and people are responding saying they're boycotting the convention:
My question is: Who was stupid enough to buy a condo from Trump? You supported him years ago by buying a condo from him. His name should be branded on your forehead. https://t.co/5RjdLwOBFA

— Cliff Galbraith (@CitizenCliff) January 13, 2018
— Wolf Mom (@Lauriewashere) January 16, 2018
— Deplorable Batman (@MSGDWC) January 16, 2018
— SCNurse🇺🇸🇺🇸 (@_WVnurseSC) January 16, 2018
Congratulations your officially entering the boycott world hope it was worth it pic.twitter.com/l1PxlauaUb

— Deplorable Batman (@MSGDWC) January 16, 2018
You banned somebody from your event because they didn't vote for #HillaryClinton? You're evil, man. Just evil. https://t.co/PM6AzhnAc2

— ViveLaFrance (@vivelafra) January 16, 2018
Why alienate any customers by wearing politics, religious hatred and political bias on your sleeve? Does that help business? https://t.co/jvpPcHGYej

— JJJ Jr (@sinicalone) January 16, 2018
You demonstrate fascist tendencies. By barring Kevin Sarbo, for your little con, you go after freedom of association. Then with this statement you do realize, Jews were forced to be tattooed. Freedom escapes you, unless it agrees with your vision. So judgmental and intolerant.

— Sceri (@SheriCongerMC) January 16, 2018
This is America! You don't ban people who have different political views let alone be friendly with people you disagree with! You should be ashamed of yourself Nazi

— Justin Parker (@jp2m6) January 15, 2018
Wherever you are on the political spectrum, I think most of us can agree that it's silly to ban someone simply based on the fact that they're friends with someone, and even over political beliefs – especially a comic convention, something that shouldn't be politicized, as it's an escape for people trying to get away from the headache that that entails.
What do you think about the convention banning Kevin Sorbo? Be sure to tell us your thoughts in the comments!