New Trailer For 'Tomb Raider' Reboot Released
Despite the millions of dollars that film studios typically plow into the marketing of their blockbuster offerings, there's always a very real chance that somebody somewhere may have missed something really embarrassing, that fundamentally overshadows all of the hard work that has already gone into promoting the project. Such was the fate of September's advertising campaign for the forthcoming Tomb Raider reboot, which saw the launch of a poster depicting Alicia Vikander's new incarnation of Lara Croft looking like she'd sustained a catastrophic neck injury not entirely out of place from the movie Death Becomes Her.
Following a wave of social media ridicule, the film's marketing content dried up, but has recommenced this week with the eventual arrival of the movie's second trailer. The two and a half minutes worth of footage sees the level of spectacle and CGI ramped up, as well as a closer examination of Lara's relationship with her missing father, Lord Richard Croft (Dominic West). You can check it out below:
It's always a daunting prospect trying to adapt a video game for the big screen, and the fact that the franchise already has two underwhelming entries under it's belt raises a very real question about the chances of the reboot being a success. Having said that, this footage alone shows that the new movie is going to be a very different beast from the two in which Angelina Jolie starred.
Where her Lara was well established, fielding a whole support team and an needless number of wonderous gadgets, Vikander's incarnation is a far more practical one. Everything on show here is distinctly low-tech, covered in a thin layer of dirt and rust that echoes the environments found in the original computer games.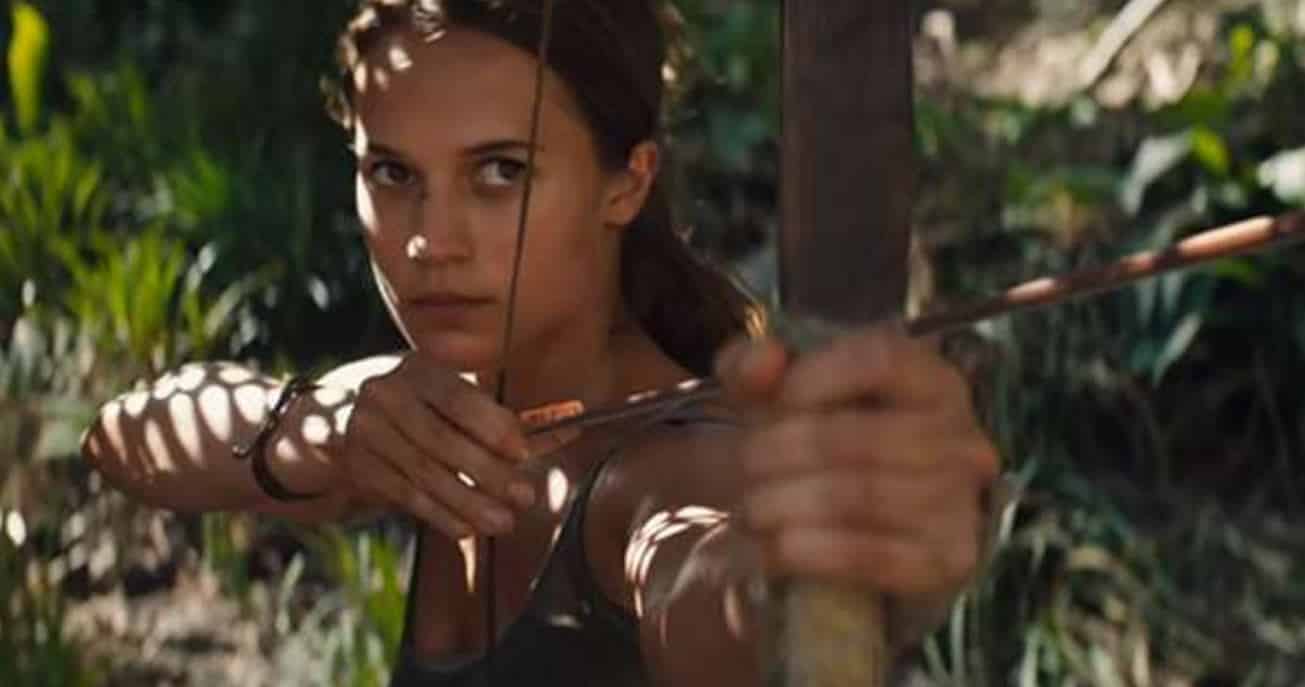 In addition to showcasing Lara's repertoire of leapy/runny/stabby movements, the new trailer also gives us a better look at the movie's big villain, Mathias Vogel. A brutal enforcer for sinister organisation Trinity, he is played with an appropriate level of menace by a gun-toting Walton Goggins, who goes to great pains to point out that he is no fan of the Croft family.
The story sees a young and restless Lara venturing into the Devil's Triangle in search of her missing father. Shipwrecked on an island where Vogel is searching for a missing treasure, she must use all of her skill set to survive the harsh environment, as well as him and his men.
The movie fields an impressive cast, including Kristin Scott Thomas (Only God Forgives) and Hannah John-Kamen (Black Mirror). It also sees both Nick Frost and Daniel Wu take some out from their TV show Into The Badlands to play supporting roles.
If you're impressed with the trailer, then you won't have to wait long for the movie to arrive, as it's scheduled for release on March 16.
What did you think of the new Tomb Raider trailer? Are you looking forward to the movie? Be sure to tell us all of your thoughts on the upcoming film in the comments below!