There aren't many publications that poke quite as much fun at the comic-book genre as The Boys. Of the ones that do, none manage to do it in such violent, gory or sexual detail, so trying to work such extreme source material into a successful TV version stands to be no easy task. Well, that hasn't stopped Executive Producers Seth Rogen and Evan Goldberg from rising to the challenge, and the first announcements about the show's cast list have now surfaced.
Having already successfully bought one Garth Ennis creation to the small screen with their critically acclaimed adaptation of Preacher, the screen-writing duo have picked up The Boys as their next project, working towards an early 2019 release date. They will be joined by Supernatural creator Eric Kripke, who will be acting as overall Producer for the series.
The original comic series ran for 72 issues between 2006 and 2012, and spent it's entire run aggressively parodying pretty much every major superhero team and iconic character that the likes of DC and Marvel have ever created. The overall story saw the CIA inoculating a small group of operators with super-soldier serum, and tasking them with trying to police a superhero community that was by now completely out of control.
There was literally no depth that the writers weren't prepared to sink to in their efforts to demonstrate how corrupting a superpower would be in the hands of the wrong individual. The utterly bonkers storylines the comic's protagonists faced included exploding dildoes, babies born from superhero rape killing their mothers during birth, and an anti-hero who had to breastfeed from his elderly mother before being able to go into battle.
Deadline is this week reporting that 'The Seven', who are the main bad guys that The Boys face off against in the series, have now been cast. Created and run by a sinister multinational corporation, this is the foremost superhero team on their Earth, and most resemble a corrupted parody of the Justice League…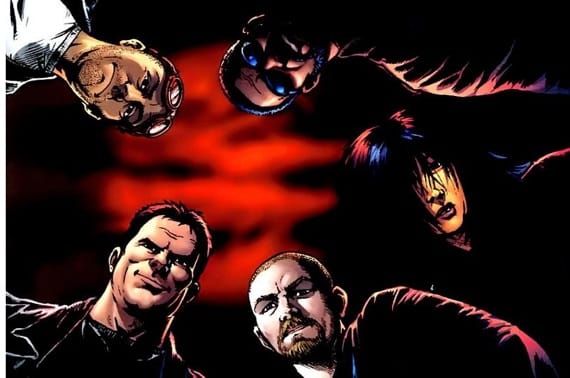 The announced characters who have been cast so far are as follows:
Homelander – Imagine if Superman had finally become bored and irritated by having to repeatedly save helpless people, to the extent where he had grown to loathe human society as a whole? Imagine if he decided to take time out from leading the Justice League, in order to down an airliner full of holidaymakers, just for giggles? Well, that's pretty much the Homelander in a nutshell, and he will be being played by Antony Starr (Banshee).
Queen Maeve – As addicted to hard liquor as she is a bit of hard loving, this world's version of Wonder Woman is every bit as cynical and weary as her leader. Never more than six feet away from a bottle of booze or a strapping stud, she's the only one of the team left with a shred of conscience. It's reported that she will be played by Dominique McElligott (House Of Cards, Moon).
The Deep – The team's undersea warrior, this alleged hero is rarely seen outside the confines of his vintage diving helmet. Other than augmented strength, he's of little use to the rest of his team, and is treated with a certain degree of contempt. He will be portrayed by Chace Crawford Gossip Girl).
A-Train – The first member of the team we meet, when he inadvertently slaughters the girlfriend on future Boys team member Wee Hughie, A-Train is an attention seeking speedster who chases the spotlight as much as the bad guys. Essentially a massive coward, he hides behind the rest of his colleagues during fights against any other powered foe. Jessie T. Usher (Independence Day: Resurgence) will be playing him.
Black Noir – A truly oddball addition to the team, Noir dresses in much the same vein as Black Panther, but never speaks. He proves difficult for Homelander and the others to control, constantly killing or sexually assaulting people whenever the mood takes him. He is being played by Nathan Mitchell (Arrow, Timeless)
Starlight – A junior superhero who is drafted into The Seven when The Boys incapacitate their version of Green Lantern, Starlight genuinely believes in helping people. Well, until she gets sexually humiliated as part of her hazing ritual. She ends up falling for Wee Hughie, which goes on to lead to all manner of complications. Erin Moriarty. (True Detective, Jessica Jones) is reported to be one paying her.
With all of the cast announced so far having a good grounding in both movies and high profile TV series, this is shaping up to be an unmissable project. Naturally, as soon as the rest of the cast is unveiled, we'll bring it straight to you.