If you happened to Google Stephen King at this very moment in time, you'd find out that the author actually died on May 16th, 2006. Obviously, this is not the case, as he's still very much alive, but a couple of simple Google searches will provide you with some pretty interesting information: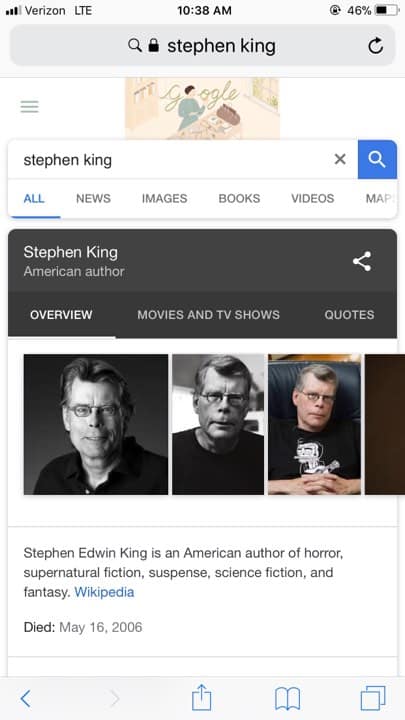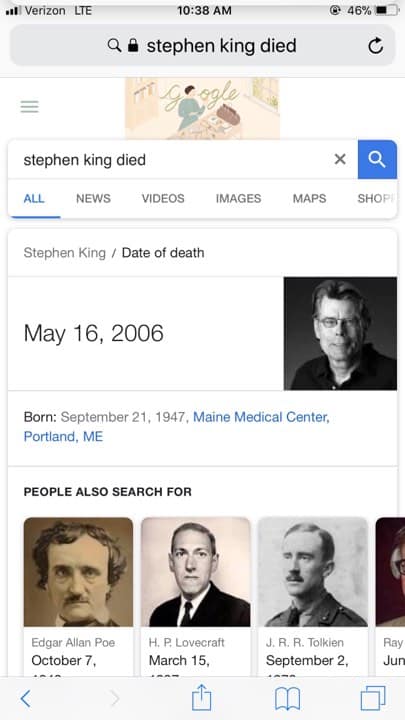 If you're looking to follow up on this, you'll likely find this other bit of information: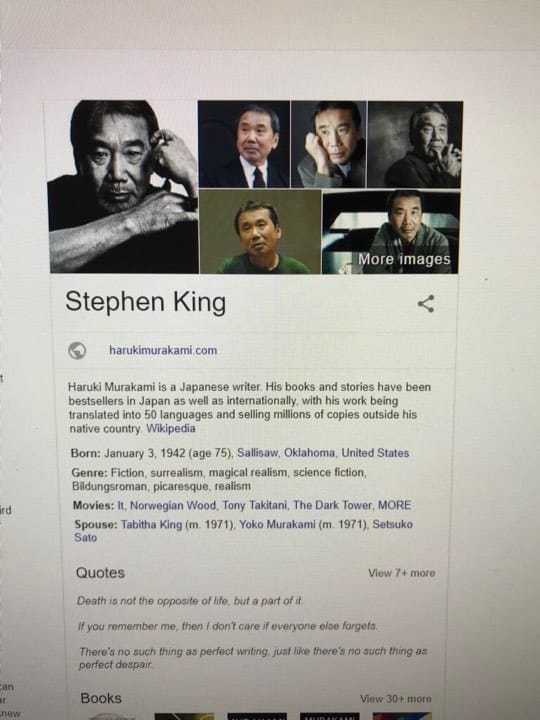 It's similar to when Rotten Tomatoes pronounced James Carpenter dead last week, though Rotten Tomatoes isn't the giant that Google is. Carpenter still managed to respond to it, though:
To Rotten Tomatoes, despite how it appears, I'm actually not dead.

— John Carpenter (@TheHorrorMaster) January 16, 2018
As for what's next for Stephen King, a man defying all odds by being alive in 2018 despite being dead since 2006, there are a few more live-action adaptations on the way – according to the author:
"There's talk about doing The Stand as an extended TV series, possibly for Showtime or CBS All Access, and there's been some interest in developing Salem's Lot as a feature. Probably because people are saying, 'Well, we took an old miniseries called It and turned it into a phenomenon, so maybe we can do it with something else.' Nothing succeeds like excess!"
The Castle Rock series is also on the way.
As for this ongoing conspiracy with horror icons apparently being dead when they're not actually dead, we'll be sure to keep you posted. In all seriousness, though, we would expect Google to change this before too many people notice it – unless Stephen King is actually dead and has been a ghost since 2006, which wouldn't surprise us at this point. Be ready for some pretty crazy theories to be conjured up.
What do you think of this? Is it some kind of massive conspiracy or just an error? Be sure to tell us all of your thoughts in the comments!