How David Tennant's Kilgrave Returns On Jessica Jones Season 2
Despite some recent very high-profile wobbles, Marvel's collaboration with Netflix has still managed to produce the grittiest and most engaging material of any project the company has yet to put its name to. And for a significant number of fans, away from the adrenaline-fueled action of Daredevil and the eye-watering torture of The Punisher, it's Jessica Jones that still stands out as the best show of the series to date.
Literally every single episode of the first season featured a moment where you found yourself screaming "What The Actual F-ck?" at your television. It was exciting, upsetting and bizarre in equal measure, leaving fans to wonder that once Jessica's little side/quest with the rest of the Defenders was out of the way, what did the future hold for her? Well, if this week's new trailer for season 2 is anything to go by, it's going to largely be a trip down memory lane.
Season One established that prior to her horrific brainwashing by Kilgrave, Jessica had already experienced a pretty shitty life. Barely surviving the car crash that killed her parents, she went on to be raised as a publicity stunt by the twisted Dorothy Walker. Struggling to come to terms with her powers, she fell into a world of alcohol and self-destruction. Oh, and there's that uncomfortable link to that mysterious company, IGH…
IGH are the sinister multi-national responsible for poor old Will Simpson. Trish Walker had already uncovered the uneasy fact that they had paid Jessica's medical bills after the accident, but the new trailer exposes a deeper and more worrying truth to the matter. Not only did the company pay Jessica's medical bills, they also gave her her powers.
The teaser's voiceover now makes it clear that Jessica didn't actually survive the crash, and it was experimental treatment from IGH that not only bought her back from the dead, but went on to make her virtually indestructible. It also becomes clear that she wasn't the only member of the programme, and that one of her fellow survivors is currently on a killing spree in and around New York.
From the looks of things, the bulk of the storyline for Season 2 is going to be Jessica hunting down the people responsible for her condition, primarily a shady unnamed doctor played by British actress Janet McTeer. At the same time, she will be forced to try and stave off a hostile takeover bid from rival investigator Pryce Chan (Terry Cheng). And then there's the small issue of a certain mind-controlling villain making an unwelcome comeback.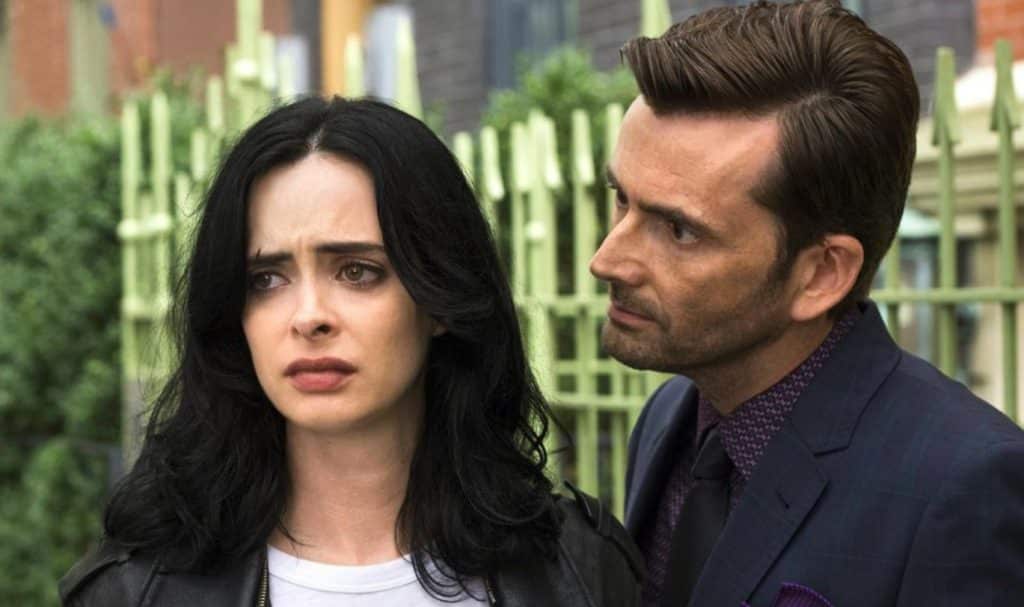 Set photos had already revealed that David Tennant would be reprising his role as Kilgrave, which was no mean feat considering he'd been comprehensively killed in the last episode of Season One. Rather than a miraculous/inexplicable recovery, the smart money was on him appearing in flashback form, but the trailer has clarified that the truth will in fact lie somewhere between the two alternatives.
As Jessica slowly uncovers the truth behind her past, one scene shows her distracted by a sudden purple filter that is cast on proceedings, before a nearby pair of hands start a familiar slow clap. It's clear now that Kilgrave will appear in this season as some form of temporary vision that Jessica experiences. Wether this was a subliminal personality implanted in her by Kilgrave prior to this death, or a side-product of the deep trauma she has experience remains to be seen.
All in all, it looks like the new season is picking up right where the first ended, setting up a whole series of mind-bending and brutal confrontations between Jessica and her past.
Season two lands on Netflix on the 8th of March.