Listen up, people, because we have some exciting news. We already knew that Amazon would be picking up Seth Rogen and Evan Goldberg's live action adaptation of iconic comic-book The Boys. We'd also already told you which actors had been signed up to play the storyline's villainous superhero team The Seven. What we didn't know until this week was who would had been cast as the show's ultra-violent protagonists. Well, now we do, and there's a HUGE A-List name attached.
Karl Urban is pretty much already the undisputed king of geek-culture. In addition to appearances in franchises such as Riddick, Star Trek and Lord Of The Rings, there's the small matter of him portraying Judge Dredd, as well as his hilarious recent appearance in the Marvel Cinematic Universe as Skurge. Now he's adding even more geek currency to those impeccable credentials by signing up to play the leader of The Boys, Billy Butcher – according to Deadline.
The Boys sees a team of severely damaged individuals given powers by the CIA in an attempt to try and police a superhero community gone wild. With all the members having been affected in some way by the antics of feral meta-humans, the methods and reprisals which are visited on some very familiar heroic stereotypes are savage and uncomfortable in the extreme. In Billy's case, the former Royal Marine was forced to throttle to death the newborn product of superhero rape that killed his wife in childbirth.
All of Billy's vengeful colleagues come equipped with similarly traumatic backstories, and have been cast as follows: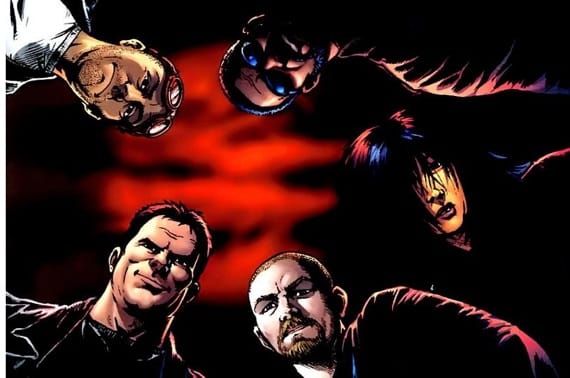 Wee Hughie – The original comic version was based heavily on fellow geek god Simon Pegg (who generously provided a foreword for the series). Having proposed to his fiancé, he was forced to watch as she was slaughtered during a frenzied clash between two careless superpowers speedsters. Actor Jack Quaid (son of Dennis Quaid and Meg Ryan), whose most recent appearances were in Vinyl and Logan Lucky, will be playing the new version of the character.
Mothers milk – 'MM', as he is more commonly known in the comics, was born with enhanced strength due to the fact his mother worked on the assembly line of a corrupt corporation engaged in superhuman research. Having lost both his brother and father to the cause of fighting against said company, MM enlisted in the army, until his powers lead to him accidentally decapitate an opponent during a military boxing match. He will be played by Lax Alonso, whose credits include Detroit, Avatar and the Fast & Furious franchise.
The Female – The daughter of another employee of the same corporate behemoth that employed MM's mother, The Female accidentally ingested dangerous chemicals when she was taken to work by her wayward mother. Employed by both the Yakuza and the Mafia from a young age given her explosive abilities, she has found redemption amongst the ranks of The Boys, but still retains a bitter hatred of men. Karen Fukuhara will be playing her, best known for playing Katana in DC's Suicide Squad.
The only member of the team as yet uncast is The Frenchman, a mentally ill former soldier, who speaks a hybrid language of Franco-English gobbledygook. Facing off against them will be a truly nefarious bunch of villains played by Antony Starr (Banshee), Jessie Usher (Independence Day: Resurgence), Nathan Mitchell (Supernatural), Dominique McElligott (House Of Cards) and Chace Crawford (Gossip Girl).
The Boys has been slated for release at some point in 2019, and as soon as we hear more about the project, we'll be sure to bring it right to you.