"Let me give you some advice. Assume everyone will betray you and you will never be disappointed"
The Star Wars train that Disney has purchased and upgraded keeps chugging along each year. With a new film in the in the ever-growing franchise, many audience members question if spinoffs are necessary. It can work surprisingly well like in Rogue One, or it can crash and burn before the film reaches pre-production, like Josh Trank's Bobba Fett. Thankfully, James Mangold is in the pilot seat for the latter and is set to write and direct the film. Lucas Films' next installment in the franchise, Solo: A Star Wars Story, hit a big snag during production in the form directors Chris Miller and Phil Lord.
Kathleen Kennedy and Lucas Films booted the two off the project with close to ninety percent of the film shot because what was completed was not in the spirit of Star Wars. Veteran director Ron Howard was chosen to save the film in the 11th hour because he's always been known as a "Journey Man" when it comes to filmmaking. While I can understand the thought behind this choice, Ron Howard's style of directing is considered too safe which is how this film was presented.
Solo: A Star Wars Story is what the title reads; the origin story of everyone's favorite galactic smuggler. The film follows Han Solo (Alden Ehrenreich) and his journey to becoming the space cowboy we all know and love. Along the way, he meets his seven-foot-tall furball best friend/widower and we see the events leading up to his possession of the Millennium Falcon.
The story is barely there, and it takes forty-five minutes to move the plot forward. Characters have to state their reasons for being involved in this story, which also causes weird hiccups in the plot development and is a consistent problem. After a few decent action set pieces, the film finally takes off after the full plot of the film is laid out and the audience can really get to picking which character they have the most enjoyable time watching.
I know you want to hear about the iconic characters that were played by a couple of the actors, but we'll get to them later.
Some of the acting is surprisingly well done. I say "surprisingly" because the original focus was to be on Han and Lando. Tobias Beckett (Woody Harrelson) and Qi'ra (Emilia Clarke) are good foils for the lead character and help carry the interest of the story when certain parts of the film seem to lack any real emotion. The two standouts for the movie come in the form of CGI characters.
L3-37 (Phoebe Waller-Bridge) and Rio Durant (Jon Favreau) are the much-needed funny bone in the film while also hitting you with those emotional gut punches.  I don't know how Lucas Films does it, but they have a real knack for making the audience care about droids and alien creatures that do not exist.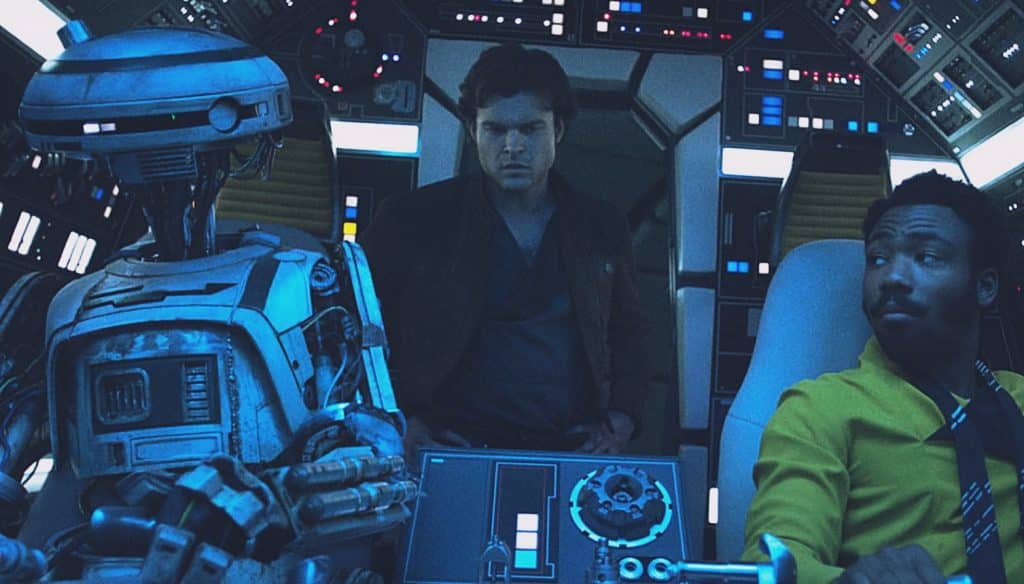 So, we've come to the question that many people are asking: How are Alden Ehrenreich's Han Solo and Donald Glover's Lando Calrissian? Ehrenreich's Han Solo is—for a lack of a better word— "alright". There are times when I got a sense that he might be trying too hard to play the legendary character like Harrison Ford did, which made the character slightly annoying and very "thirsty" (translation: desperate as f**k). However, there were scenes where I could see Ford's Solo through the actor which came off as natural.
I'll be honest about my fandom for Donald Glover. I have loved that man's talent for acting, rapping, writing, and direction since his early days in 'Derek Comedy'. Naturally, I was part of the large group of fans that were excited to hear the news of Glover playing Lando Calrissian. Sadly, I wasn't really feeling his portrayal of the character. There were times Glover played Lando in a smooth and suave way that really wasn't warranted in the scene. His chemistry with Ehrenreich was on point and in tune with the characters' history. Ehrenreich and Glover have real potential to grow into their characters and it would be a delight to see them return.
I felt like there could've been a scene or two allowing Glover show off his acting range. Don't get me wrong, there's one heartbreaking moment in the film where Glover's talent shines and another where he can be heroic, but I felt like it wasn't enough.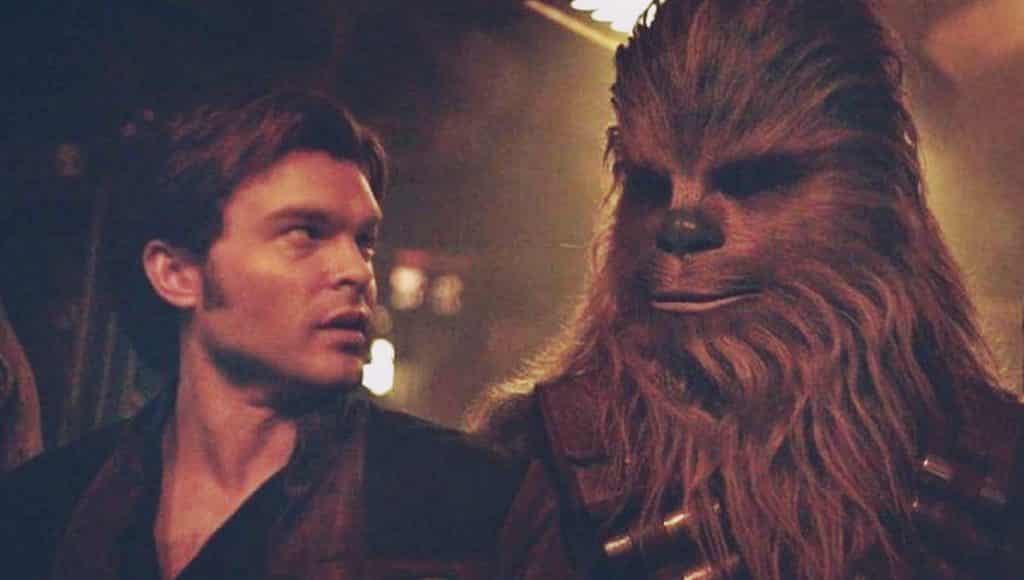 Howard takes the path of least resistance when it comes to directing Solo. The train heist was alright but most of it was already shown during the trailers with a couple of lackluster surprises. The last two actions set pieces were more enjoyable to watch than the rest. There is a mining heist scene in the film that really propels the movie forward in a cool way that shows the stakes this film has to offer.  It wasn't until I saw the legendary Kessel Run that I got that nice warm fuzzy Star Wars feeling.
One thing that must be mentioned about the film; there's a special cameo that no one would've expected and caught me by surprise.
The way the movie ends brings a level of intrigue that make me want to see where Solo and Chewie will go after this adventure. After the heartbreaking conclusion of The Last Jedi, Solo is more of a feel-good film for audience members of all ages. Solo: A Star Wars Story is the safest and second dullest Star Wars film—I'm looking at you Phantom Menace. The film ended in a way that allows for a sequel, and this seems more definite since Ehrenreich has signed up for more films in the franchise. Though this Star Wars film has many of the classical tropes that fans and non-fans love, ultimately, the movie is forgettable.
Grade: C+