Robert Kazinsky is an actor known by most for Pacific Rim and other big movies, and also stars in the upcoming Captain Marvel movie. What some may not know, however, is that he had a bit of trouble back in 2007 that has been brought back up. Kazinsky is currently dating Chloe Dykstra, whose recent story involving Chris Hardwick got a very big conversation going about the #MeToo movement, and has also seemingly erased Hardwick from the entertainment industry at the moment.
Kazinsky revealed his support of Dykstra in telling her story, as well as the MeToo movement, which made some bring up and incident of his past, in which he sent unwanted pictures of his penis to model Aimi Robinson (now Aimi Veness) while working on the popular British show, EastEnders:
No I did not. And one day I'll tell that story which I've never told. Though in life I am not beyond reproach by any means, that's part of learning from #metoo rather than burying your head in the sand. Whataboutisms detract from the reality of real truth. This is about @skydart https://t.co/sJITdwoDoW

— Robert Kazinsky (@RobertKazinsky) June 16, 2018
As you can see, he essentially denied it or brushed it aside, and that prompted Veness to come to us after the recent story we wrote on the tweet went largely uncovered. She also provided proof of what happened (some of the pictures below the quotes), along with a few things to say – including that Kazinsky did this to multiple women, something which was wasn't reported until now:
"It has been brought to my attention that Robert Kazinsky has recently denied his past actions towards me, and concerns me that he believes that #metoo moment didn't count. No woman should ever have to deal with sexual harassment in any form. Even though I have moved on with my life, it still upsets me he has never taken responsibility for his actions and even now doesn't have the decency to admit he was wrong and apologize."
Previous articles have featured an apology from Kazinsky, but only to fans of EastEnders, as Veness tells us:
"He never apologized to me! He only apologized to his EastEnders fans. Made me feel sick at the time."
She told us that the multiple women who were harassed by Kazinsky didn't want to come forward because of the backlash they'd presumably receive, and that she ultimately ended up receiving from going public with her story:
"I also had to go in hiding and move in with my parents and come off all social media as I got so much hate and abuse from his fan base, even though I was the victim."
The initial story was one that had some coverage in the UK in 2007, but went largely unnoticed in the United States. Veness provided us with pictures, some of which were too graphic for us to post.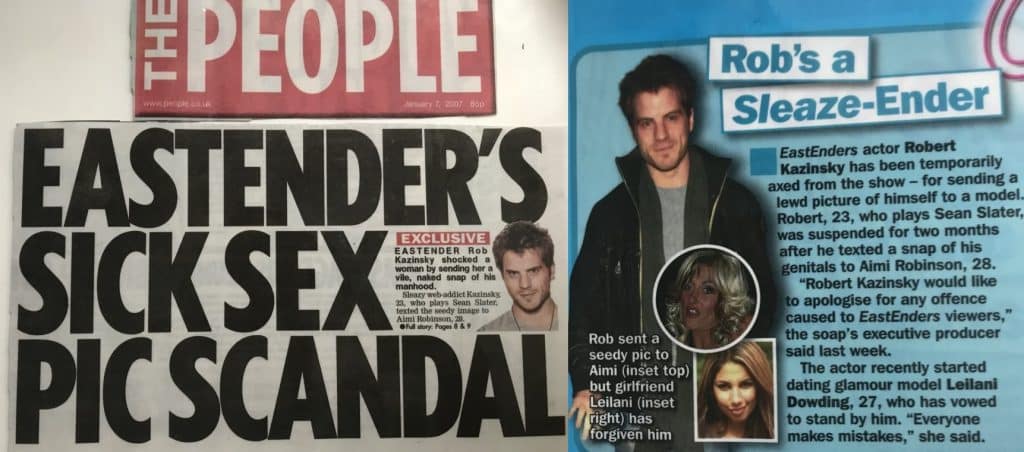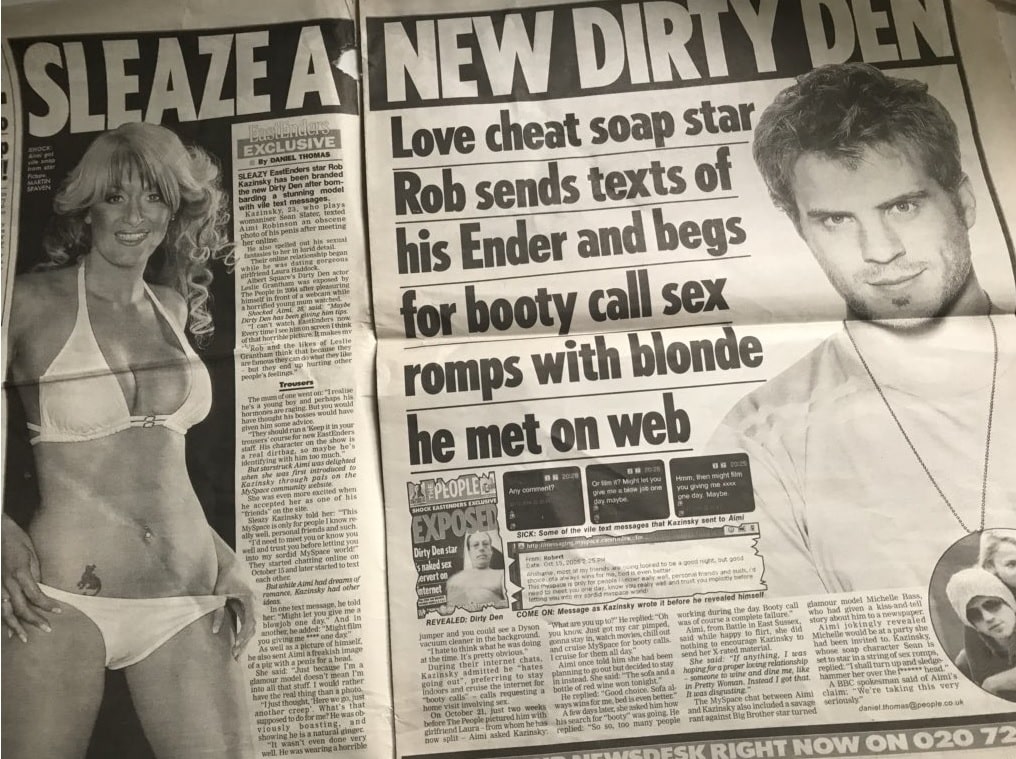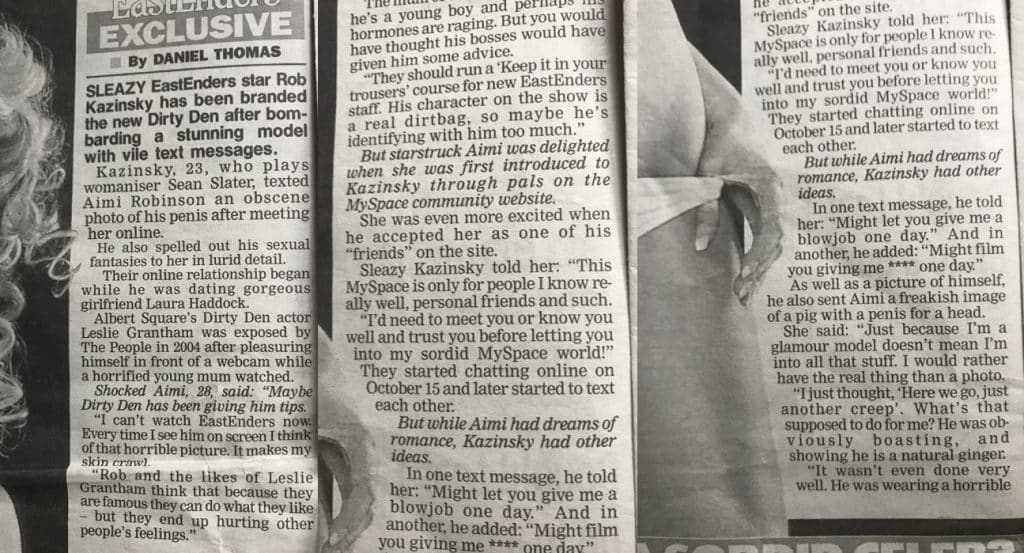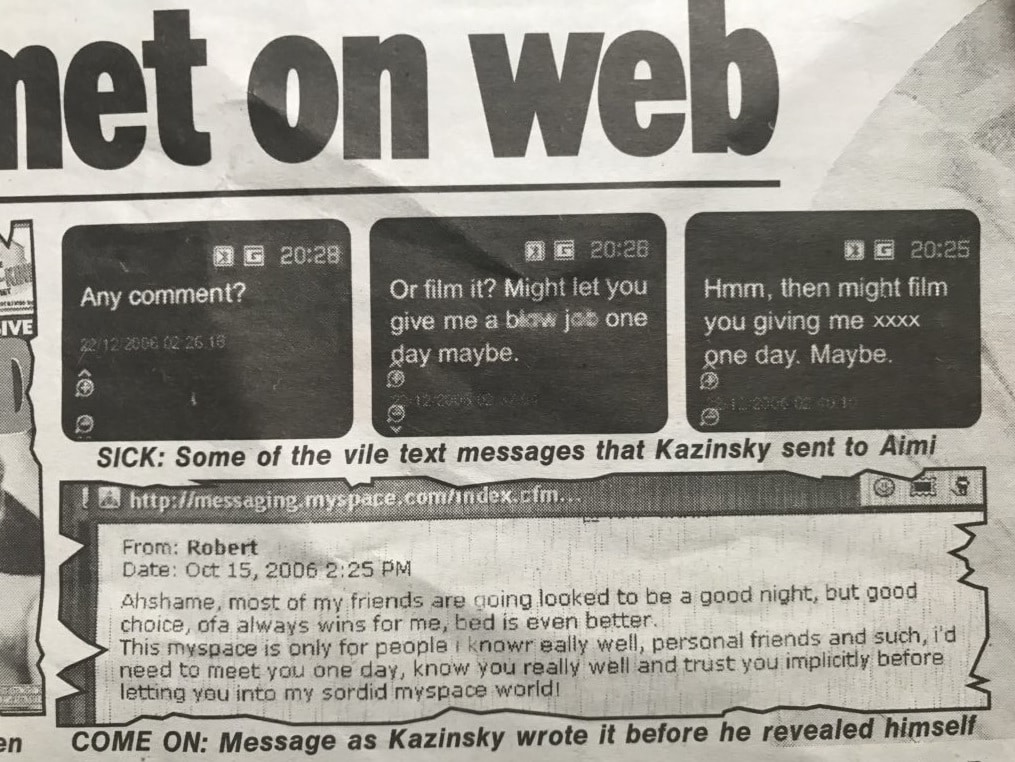 It turns out that in the end, she just wanted an apology – and didn't get one.
*Update*
Kazinsky has responded following this story, sending out this tweet:
This past week has taught me a lot about owning your mistakes, and about being part of the solution and not the problem. This is something I should have done eleven years ago. pic.twitter.com/XOkH5QQRC2

— Robert Kazinsky (@RobertKazinsky) June 24, 2018