'Assassination Nation' Review: Highly-Stlyized and Thoughtful Genre Flick
The Sundance Film Festival, despite its recognition, often produces a mixed bag of quality each year. For every successful and innovative indie like Sorry to Bother You or Mandy, there's about a dozen of other films that either fail to ever recieve a theatrical push or fall flat on their face (*cough* The Summer of 84).
The latest byproduct of the festival is Assassination Nation, which was received as one of the most divisive projects to hit the festival circuit. The film follows Lily (Odessa Young), Bex (Hari Nef), Sarah (Suki Waterhouse), and Em (Abra), four friends whose lives are turned upside down when half of their town's information is leaked, including some of their own.
A simple plot synopsis doesn't quite capture the spirit of Assassination Nation, as its a wild and aggressive genre-bending film that takes a lot of home run swings. While the film doesn't always make contact, its a passionate and well-stylized takedown of the dysfunction in American culture.
Writer/director Sam Levinson (the son of famed director Barry Levinson) certainly has a lot on his mind in his undertaking of the script. The story, which from a basic sense can be looked at as a Salem With Trial allegory, focuses its sights on tackling aggressive internet culture and various victims that its often senseless actions can effect. Levinson's greatest strength as a writer is balancing satire and real-world consequences, as the two juxtaposing concepts melded together skillfully. I also credit Levinson for his scope, as he creates an encompassing look at the internet's various trolling problems involving sexual orientation, slut shaming, and women's rights.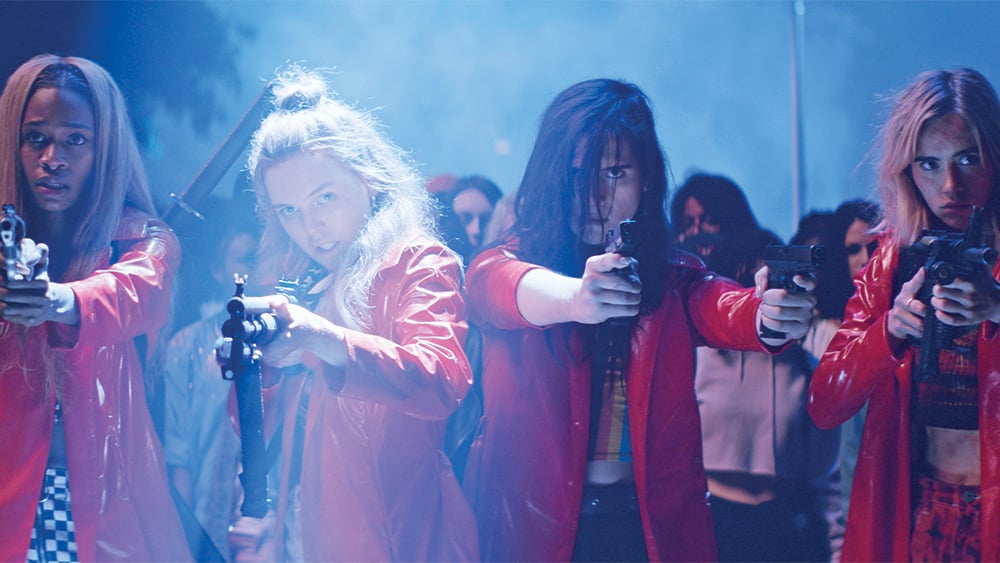 It's not what a movie says as much as how a movie says it, with Levinson stepping up in a big way as a director. Some have despised this film's uber-aggresive style, with each frame having a flashy boldness that makes an instant impression. From my perspective, that style choice was not only engaging, but also inspired, as Levinson harnesses the negative energy of what he is satirizing and throws it onto the screen. The synergy of the film both in story and visuals gives its message some much-needed layering and gravitas.  Visually, the film has numerous impressive moments (a one-take break-in shot from the perspective of windows is a notable highlight), with Levinson masking the film's minuscule budget throughout.
Perhaps Assassination Nation's greatest strength is how wildly entertaining it is. Many will be divided by the film' decidedly sharp halfway turn into The Purge-lite, but its a fitting visual representation of the chaos at hand. The sheer energy and style on display here is often times intoxicating, with the film melding satire, genre filmmaking, and its real-world setting with promising results. Its the type of wild film that leaves its audience often breathless wondering what exactly will happen next.
That being said, for all Levinson's ambition, there are some notable flaws. The core performances from the main girls of the film are all quiet good, with their chemistry being effortless and naturalistic. The great shame here is that Levinson's screenplay gives these talented actress very little characterization or depth, giving their heroism less impact than it should have (perhaps a female perspective would've been beneficial). Added depth would have allowed this film's narrative to stand on its own more rather than relying on its thematic connections. I also can't deny that some of Levinson's stylistic choices can come off as obnoxious or even pretentious, being more of cutesy effects rather than enhancing the narrative.
Assassination Nation shouts its message with confidence and conviction, with both traits more than making up for its somewhat messy execution. I am sure this won't be everyone's cup of tea, but I hope it receives a fair chance from audiences.
Grade: B+