Avengers: Endgame is the official title of Avengers 4, as we all learned in today's trailer reveal. It had been speculated for quite a while now, but the Russo Brothers said that it wasn't a line spoken in Avengers: Infinity War – and Doctor Strange obviously says "we're in the endgame, now". Well, the Russo Brothers are good at throwing a curve-ball to the fans, and is definitely the case with this trailer reveal. However, we should have taken one particular leak back in June more seriously.
Trent Opalach, Cinematographer of the film, posted this picture on his personal website, under his filmography: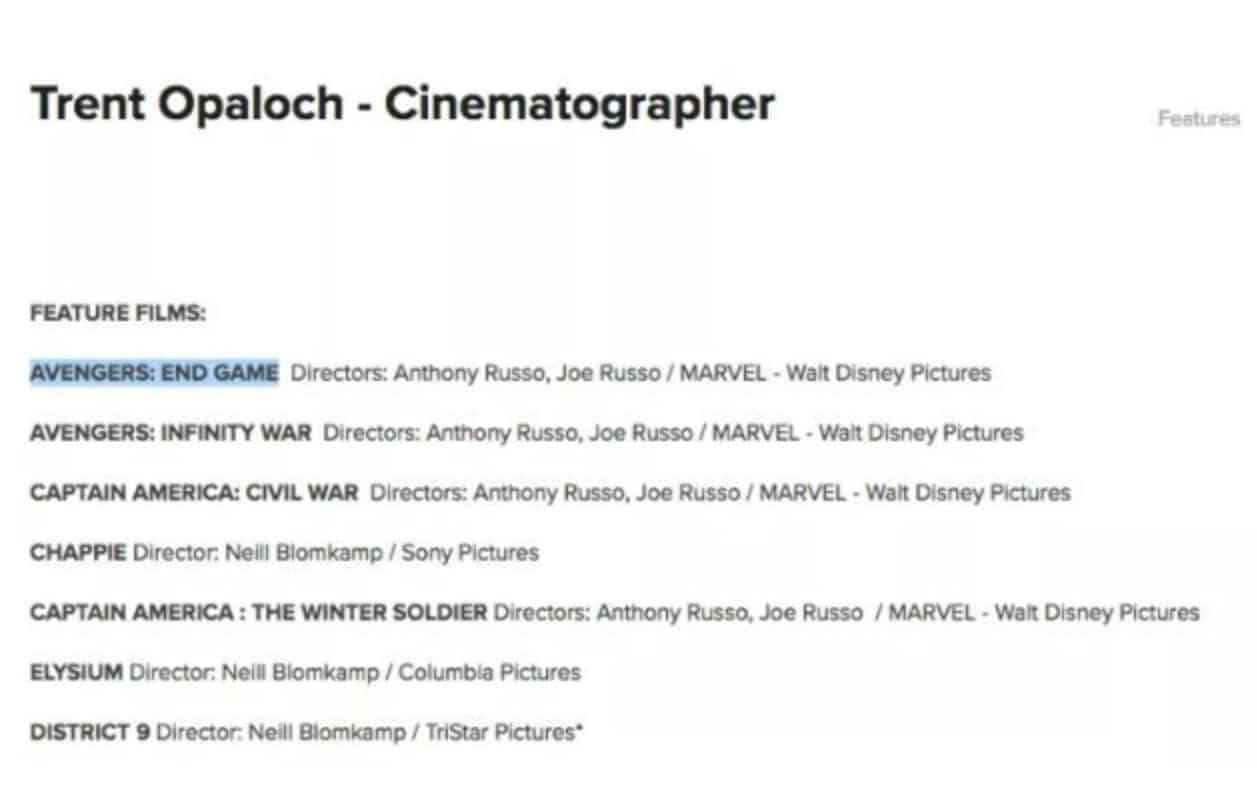 Marvel even had Opalach delete it from his filmography. There was also this one, staring at us right in the face:
— Patrick Smith (@Patrick83Smith) September 19, 2018
Still, one reporter placed heavy doubt on this being the title, and in fact said that the title was Avengers: Annihilation.
The Russo Brothers said that the real Avengers 4 title was never spoken in Infinity War.

"End Game" is dialog in the movie. pic.twitter.com/AzHTyClKtx

— Jeremy Conrad (@ManaByte) June 30, 2018
Twitter users were quick to call that out, but:
I got word about the title change a MINUTE before the trailer was out LOL. They went back and forward with three different titles as @ManaByte said: Infinity Gauntlet, Endgame and Annihilation. They ended with Endgame.

— Daniel R (@DanielRPK) December 7, 2018
We're not sure that's how that works, exactly, but this mistake was later owned up to:
No one is 100% all the time. Yes, the title didn't end up being Annihilation. But despite what some big sites want, I and @MCUCosmic aren't going anywhere. If anything there will be even more content coming; more coverage, more reviews, more videos on YouTube. More of everything.

— Jeremy Conrad (@ManaByte) December 7, 2018
In fairness to him, The Russo Brothers did throw us all a curve-ball, and had everyone thinking the title was something else, when it was really right in front of us this whole time. It goes as far back as Avengers: Age of Ultron:
Correction: The #Avengers started with Iron Man, so of course "End Game" was first said by Tony Stark. In Age of Ultron…#AvengersEndGame pic.twitter.com/Maz1nMoERM

— Fandango (@Fandango) December 7, 2018
And, like we said, Doctor Strange said it in Infinity War:
Doctor Strange gave us the title #Avengers #EndGame pic.twitter.com/ibP9ragtCQ

— Cumberbuddy (@Cumberbuddy) December 7, 2018
Whatever the case may be, we now know the title of the movie is Avengers: Endgame and it'll be here April 26th, 2019.