Avengers: Endgame will be with us in April, but until then, expect nothing but endless speculation from Marvel Cinematic Universe fans on everything about the film. We were given a trailer for the film earlier this month, and despite it not showing us much of anything, fans are still picking apart every last detail in it, looking for more clues.
Many are also probably wondering who survived the "decimation" (or snap) from Thanos, and luckily, we have some info-graphics for you. We also have something interesting that a fan pointed out regarding the Russo Brothers' Twitter account. Specifically, their cover photo:
Did you'll see the cover photo of @Russo_Brothers Twitter account 😭❤😭❤ I'm mourning. #AvengersEndgame #Avengers4trailer #Avengers #Marvel #Avengers4TrailerOutNow pic.twitter.com/YYhX2CQYng

— Avani Shah (@avani_16) December 8, 2018
Many assumed that Shuri was likely dead thanks to a scene in the Avengers: Endgame trailer:
Shuri Is Also Missing
So She Bring Back Scott From Quantum Relaim pic.twitter.com/WfYadPPK14

— Avengers End Game Trailer Is Out Now 😍😍😍😍 (@LoveSandhuOO7) December 8, 2018
WHAT THE FAUCK SHURI GOT WIPED OUT TOO?????? pic.twitter.com/iqF7iHgBCY

— 🍓Paopu🍒:INTO THE SPIDER-VERSE (@DelusionalOnna) December 7, 2018
There's so much to process in the Endgame trailer but Shuri got decimated?!?! pic.twitter.com/vZndVAnPLa

— pierce ︽✵︽ (@avengwhres) December 7, 2018
But you have to remember – the Russo Brothers like to throw us curveballs and have even put fake footage in their trailers before. So this is likely the same thing, and nothing new.
Regardless, here's a nice little info-graphic to keep you caught up with the likely MCU survivors: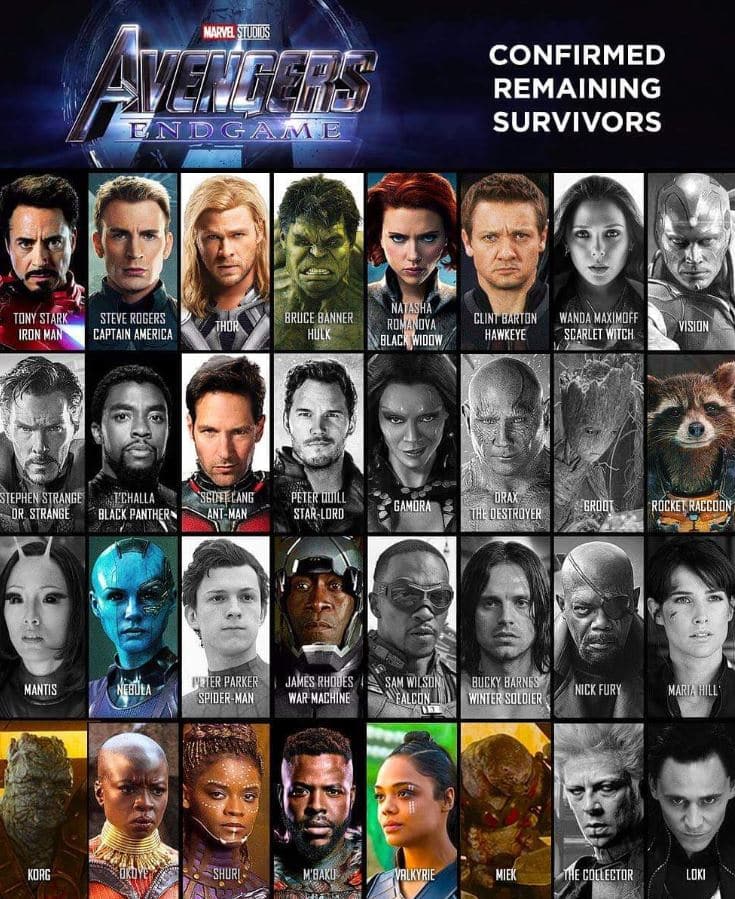 Though the graphic leaves out side characters such as Aunt May and Howard the Duck – both survived the snap, as well as a few others.
We'll know everything for sure when Avengers: Endgame hits theaters in April of next year.
What do you think of this? Do you think Shuri survived Thanos' snap? Be sure to tell us all of your thoughts in the comments section down below!