The release of Avengers: Endgame continues the trend of Marvel Studios sharing delightful Easter Eggs. Though many folks saw the film in theaters multiple times, there are a number of nods, mentions, or hints of other Marvel properties that were still unfound. Now that the movie is currently available for digital download and will soon be granted a physical copy release, it seems like more Easter Eggs are found throughout the film. Case in point, a nice nod to Gwen Stacy aka Spider-Gwen(Woman).
The character known as Gwen Stacy or Spider-Gwen was a great character voiced by actress Hailee Steinfeld in Spider-Man: Into the Spiderverse. The character is featured in an ongoing series through Marvel Comics and carries a strong fanbase. The popularity of the character only grew when she was featured as one of the main players of the animated Oscar-winning film. Since then, people have been hoping to see the character again in the proposed animated Spider-Man movies Sony is currently working on.
Fortunately for those fans, a nod to the character can be seen in Avengers: Endgame.
Check out the pic below.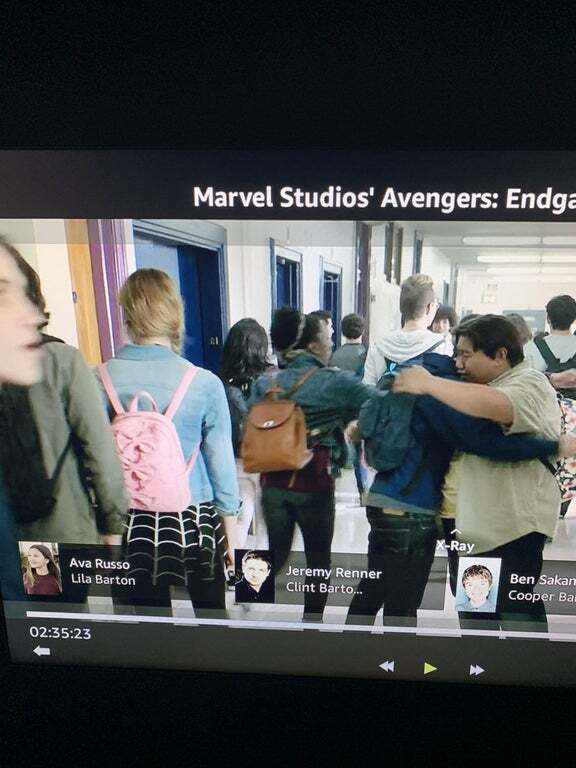 The picture, found on Reddit, shows that Spider-Woman or Spider-Gwen colors scheme matches to the same layout as the actress dawning a seamless innocent outfit. The webbing skirt is a strong telling that the nod is to the superhero. One would have to put some of it together themselves to figure out the rest but we'll help you out. The pink backpack and jean colored jacket is another set of key colors that are used in the design of Gwen Stacy's Spider-Woman. Let's not ignore the blonde hair—that is Gwen's hair color—and the fact that she is a student attending the same school as Peter Parker.
The nod to the character is a great touch in the movie and hopefully, this will lead to her debut in the MCU soon.