Say what you will about Rian Johnson and his take on the Star Wars franchise, the guy gets the craft of filmmaking. The director has been making a name for himself since his 2005's film Brick and people around Hollywood want to work with the man. Knives Out is Johnson's return to his routes of showcasing colorful characters and lively direction that is flashy and pushes the limit of compelling storytelling.
Some of those things that I mention can work at times during the movie, however, it seems like Johnson might have taken a few missteps when trying to emulate the almost forgotten genre of "whodunit" movies.
Knives Out could be considered the modern version of Clue. You know what I'm talking about. The whole it-was-Colonel-Mustard-with-the-candlestick-in-the-kitchen murder mystery board game. The film is filled with a wide cast of very talented actors and actress that have become heavy hitters in major and indie films. The two lead characters are renowned Detective Benoit Blanc (Daniel Craig) on the case to solve the murder of Harlan Thrombey (Christopher Plummer) while Marta Cabrera (Ana de Armas) is presented a target on her back with reasons I won't share.
The plot detail is vague because you're gonna want to avoid spoilers for the movie. Lucky for you, this review won't have any.
The performance in Knives Out is near perfection—I say "near perfection" to which I will get into later. With an impressive colorful cast of assholes played by Jamie Lee Curtis, Michael Shannon, Don Johnson, Christopher Plummer, Chris Evans, and Toni Collette as the Thrombey family, there's no shortage of entertainment from the bunch. Even LaKeith Stanfield and Kid Blue himself, Noah Segan, were fun to watch. I got a sense that Johnson's direction harkened a big part of the film on the skills of these actors and kept a decent forward momentum of the plot.
The only thing that prohibits the film from having a "perfected" performance all around is Daniel Craig. The man has proven himself plenty of times in his previous work, but his southern accent was the most off-putting aspect of Knives Out. Craig could've dialed it back just a tad but instead, I kept picturing Foghorn Leghorn from Looney Tunes, trying to solve this case.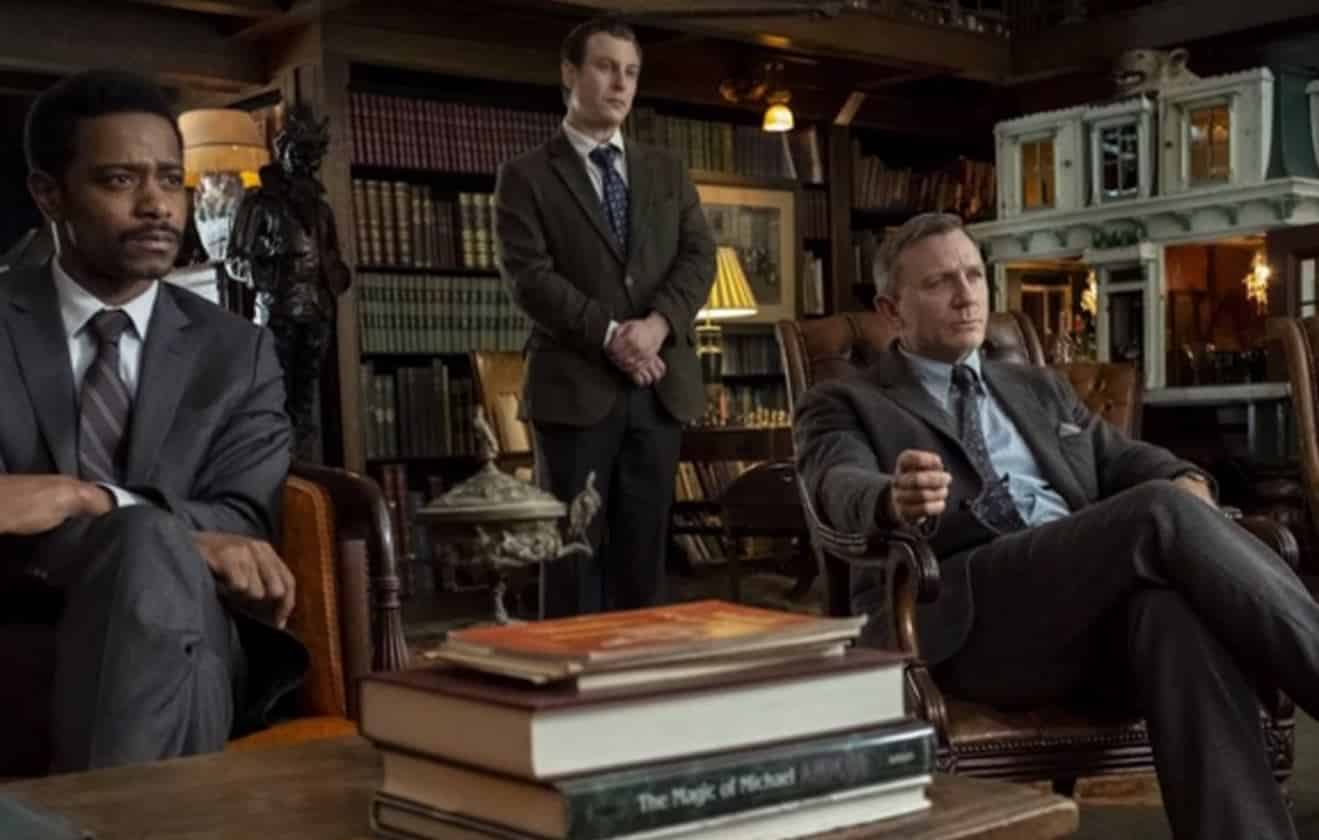 Johnson has established his signature style of direction so well that any person who's familiar with his work will see the director's DNA in the film. He was able to keep a lot of moving parts in Knives Out working in conjunction with one another, but I got a sense that the plot would've have fallen apart if the smallest hiccup occurred. The murderer's motive and plan to execute the perfect crime came off—at times—highly implausible. There was a moment that the clues sprinkled throughout the movie were too obvious and might have well been physically thrown at me to make sure I was paying attention.
One character, in particular, becomes a literal lie detector that was overused and would've been suited for 2, or at most 3 times, during the movie.
But don't worry, the writing isn't all bad.
Johnson's gift as a writer is still on point during most of the film. He was able to carefully weave current affairs into the movie and added the level of comedy without needlessly bashing on certain political views. Even Noah Segan—man, I love Kid Blue—has a fanboy moment in the film that had Johnson written all over it.
One of the shining moments of the movie is a simple camera trick that speaks volumes to the mindset of one of the characters. The MVS (Most Valuable Scene) takes place when one of the characters is on the receiving end of some shocking news. The moment goes from steady cam to handy in an instant and propelled me into the scene and the level of panic the focused character was in. This important time in the film has a huge reminder of Johnson's talent behind the camera.
I did enjoy Knives Out but sadly didn't love it. Johnson is still growing as a director and writer and this tiny little ding—in my mind—will not hold him back. I honestly can't wait to see what the man has in store next. After showcasing and pulling in these talented actors and actresses into the film, I wouldn't be surprised that his next movie will have another star-studded cast that will undoubtedly be entertaining.  The man just needs to make sure that all of his working parts are better fitted and well sharpened.
GRADE: B