Actor Ryan Reynolds has continued to grow in popularity as a major celebrity following his successful portrayal of Deadpool in the X-Men film spin off franchise. He proved everyone wrong that didn't believe he could pull off the role after his first appearance as the character failed to do the Deadpool comics justice, and now he gets to reap the benefits of his success. But he wasn't always the best at playing a superhero – and no, I'm not referring to his stint as the Green Lantern in DC's failed adaptation of that particular comic franchise. He actually played Hannibal King in Blade: Trinity years before playing Deadpool, and now an official Marvel comic has made fun of the connection!
Deadpool is well known for making pop culture references, especially those of which that break the fourth wall. He's known for doing this in both the comics and films, and as you can see down below, he made a rather amusing one at the fact Deadpool film actor Ryan Reynolds also played Hannibal King in Blade: Trinity.
The joke comes into play in Marvel's new comic issue Strikeforce #7, as shown by ScreenRant, in which Deadpool is cornered by a number of superheroes led by the half human half vampire Blade within a sewer. It's a meeting that prompts Deadpool to mention he hasn't actually seen Blade since he was in the film Blade: Trinity – again, the movie in which Ryan Reynolds co-starred alongside lead actor Wesley Snipes who played Blade.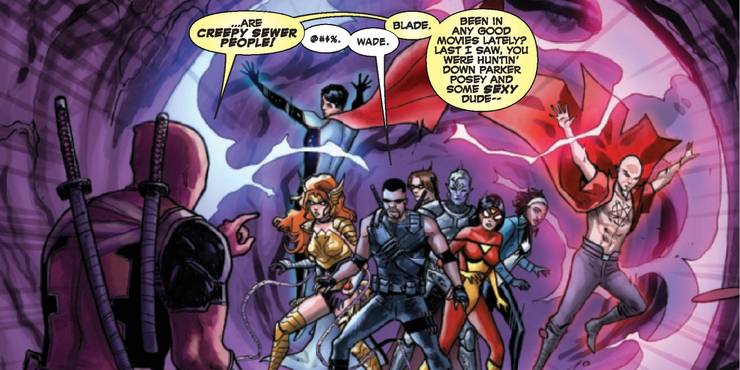 It's an interesting reference, especially when considering the newfound popularity Ryan Reynolds has had since playing Hannibal King years ago in what was a rather mixed received role. Of course, with a new Blade movie in the works, and Ryan Reynolds continually to find success in being the official live action performer for Deadpool, it's definitely a joke that's been perfectly timed after so many years.
Perhaps we'll see more jokes made by Deadpool in a similar fashion in the near future.
Marvel's new comic issue Strikeforce #7 will be made available for purchase by fans on March 4, 2020.