Tropic Thunder came out back in 2008, and was met with near universal acclaim. The film received wonderful reviews and was a hit at the box office. Robert Downey Jr. was even nominated for an Oscar for his performance in which he played the dude – playing a dude – disguised as another dude. Well, in 2020, the past is often brought back in attempts to "cancel" certain people for their past wrongdoings, and apparently some believe that the actor should be "cancelled" for playing this role nearly 12 years ago.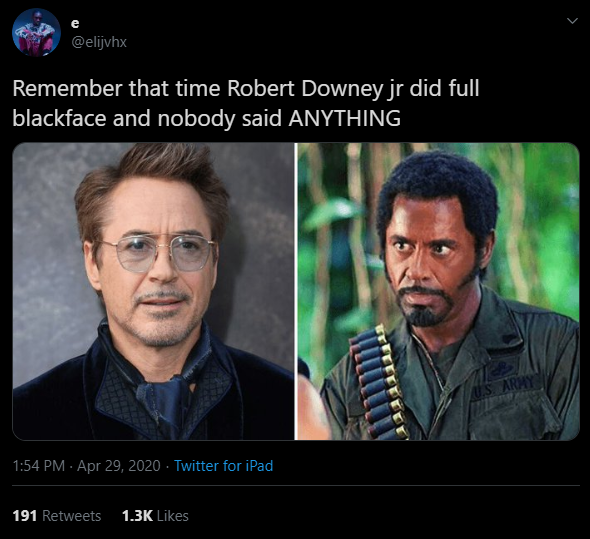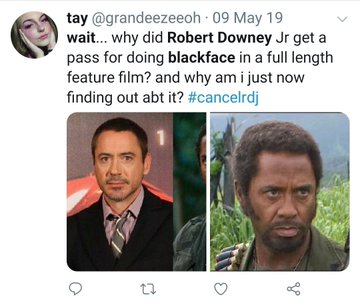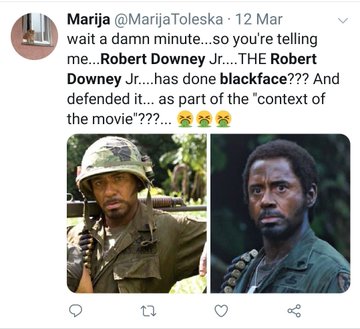 wtf robert downey jr did blackface????????????? >:((((

i cannot believe this wtffffff??????? #cancelrdj

— eddi (@edddyflowers) April 30, 2020
I can't believe rdj played blackface. Him acting as a black Male is racist and I dont see how you can defend him for it. We need to cancel him immediately #cancelrdj

— Z man (@LSauce11) May 1, 2020
— oni (@onitram52) April 30, 2020
#cancelrdj #NewProfilePic pic.twitter.com/58wH9BkVd2

— For the Culture (@NdichuStevie) May 1, 2020
@RobertDowneyJr why are you not addressing the fact you wore blackface? Are you not willing to admit you're a racist POS?

— Neo98 (@roman82161) April 30, 2020
That doesn't matter he still did black face

— Neo98 (@roman82161) May 1, 2020
That does NOT matter. At the end of the day, Robert Downey jr. Did blackface. Blackface isnt about intention, your confusing that with minstresly dumbass, blackface is all about the costuming.

— Painting Ivy (@TajmrK) May 1, 2020
Using "woke" like it's a slur is so typical of this genre of person (yes he meant it that way, look at his thread). And yes it's problematic that RDJr & co. thought it was acceptable to put him in blackface with a bad/fake blaccent. Just say you enjoy racist comedy w/your chest. https://t.co/3sonj829nn

— Matthew D. Morrison (@DrMaDMo) May 1, 2020
@RobertDowneyJr you did blackface??? Wow

— فاضِل (@fadilbawah) May 1, 2020
just a reminder that Robert Downey Jr's done blackface

— tony was (@robbbbbbbd) May 1, 2020
y'all canceling everybody but Robert Downey Jr. like he ain't get casted, accepted and get nominated for an Oscar playing a role in full blackface like WHOLE ASS blackface . pic.twitter.com/9wU2ZN2P0u

— THE DON (@therealmyalove) May 1, 2020
appreciate the 100000 people all tweeting the exact same thing about teenagers being offended that robert downey jr did blackface in tropic thunder so much so that i can't find any actual tweets of teenagers being offended at robert downey jr doing blackface in tropic thunder

— сιαγτ (@skylarkifvt) May 1, 2020
I don't understand why people actually believe that Robert Downey jr doing blackface in tropic thunder was funny and not problematic just bc they say in the movie that he's in blackface. They know it's wrong, that's the joke, so why/how does that not still apply???

— alicia (@alicia_shoe) May 1, 2020
level 1: liking robert downey jr
level 2: finding out he did blackface in tropic thunder
level ???: finding out his dad's most famous film involves him dubbing his voice over a black actor

— todd kometscher's disturbed wife (@weedasmr) May 1, 2020
Bi-weekly reminder that Robert Downey Jr. did blackface and everyone was okay with it… smdh. pic.twitter.com/LEU5JcOMnV

— M. S. Quaint (@quaint_ms) May 1, 2020
Wait until the people slamming Robert Downey Jr. for blackface find the "full r*tard" speech

— Kεnnзth (@yungscoobert22) April 30, 2020
#cancelrdj not for tropic thunder but cuz he suxxxx

— Riku (@souljahwitch15) April 30, 2020
The majority, however, seem to disagree with #CancelRDJ:
#cancelrdj Robert Downey jr u need to answer for your crimes

— Lead Farmerxx (@lead_farmerxx) April 30, 2020
People getting woke to the fact to Robert Downey Jr.'s Tropic Thunder character—which was amazing.

How about you get woke to Jimmy Kimmel's blackface making fun of Karl Malone all the time on The Man Show. pic.twitter.com/YFcS7z5MDa

— Jared E. Smith (@JaredSmithCNY) April 30, 2020
#cancelrdj notice how no black people are upset and only a couple white girls…

— Cayden von Garvey (@CaydenTheDawg) April 30, 2020
Robert Downey Junior did blackface in Tropic Thunder??? CANCEL HIM NOW!!!! i have never seen the film but that doesn't matter because context is irrelevant. i can say this because i am greater than all other humans and have never made a mistake. #cancelrdj

— Dan Collier (@danielxcollierr) May 1, 2020
#cancelrdj is the funniest and stupidest shit I've seen this month, and you know what kind of dumb shit went down this month

— Armored Blesta (@BlestamaX) April 30, 2020
For everyone tweeting to #cancelRDJ … pic.twitter.com/cMyBemcYTN

— matthew sturgill (@Matt_S56) April 30, 2020
Why has it taken you fuckers this long to see tropic thunder and what the fuck is this #cancelrdj shit I understand black face is fucked up but context is a thing and it's a fucking hilarious movie

— Terror Fuckin Billy (@FailureResident) April 30, 2020
I redownloaded twitter just to make a tweet on how stupid #cancelrdj is like my god this is stupid

— Crow (@PhoenixxTowers) May 1, 2020
I can't wait for all the Zoomers trying to #cancelrdj to find out that he got nominated for an Oscar for that role. pic.twitter.com/tzdzzSBF6a

— Aurora (@StuntNun) May 1, 2020
The only possible good thing about the #cancelrdj stupidity is it might get more people to check out the genius of #tropicthunder, the whole movie is comic genius. For the crazies Sgt Lincoln Osiris put it best: pic.twitter.com/UYVU70ENCv

— Rolf Hartmann (@Rolf_Hartmann) May 1, 2020
when all the 'woke' teenagers are like #cancelrdj and all the adults in the room collectively sigh

also still arguably one of tom cruise's best roles. tropic thunder is literal gold https://t.co/phYLFDedby pic.twitter.com/LgSafXCdQa

— : (@hexandmagick) April 30, 2020
The fact that tropic thunder is trending because people are shocked RDJ did blackface is funny bc I know none of these people have actually seen the movie. If they did they would be more offended by Ben Stillers character #tropicthunder pic.twitter.com/vcYMZzTFQF

— Nicole (@barrnicole44) April 30, 2020
Lot of simple jacks out there asking for #RobertDowneyJr to be canceled pic.twitter.com/LrC7ZDjRKf

— Queen TJV (@tjvramirez) May 1, 2020
asking robert downey jr to apologise for tropic thunder is like asking leonardo dicaprio to apologise for saying the n word in django https://t.co/EZM9nAKyMV

— mia (@miaxmon) April 30, 2020
Robert Downey Jr. actually discussed the role back in January of this year, saying:
"…so when Ben [Stiller] called and said "Hey, I'm doing this thing and you know, I think maybe Sean Pean had passed on it or something like that, possibly wisely, and I thought, 'Yeah I'll do that and I'll do that after Iron Man.'"
He continued:
"And then I started thinking this is a terrible idea. Wait a minute. And then I thought hold on dude get real here, 'Where is your heart?' And my heart is A. I get to be black for a summer, in my mind. So there's something in it for me."
He added:
"The other thing is I get to hold up to nature the insane self-involved hypocrisy of artists and what they think they are allowed to do on occasion. Just my opinion Also, Ben who is a masterful artist and director. Pry the closest thing to a Charlie Chaplain that I've experienced in my lifetime."
He spoke about it being impossible to not be an offensive movie:
"It was impossible to not have it be an offensive nightmare of a movie. And 90% of my black friends were like 'Dude that was great.'"
Rogan asked about the other 10 percent, to which RDJ said:
"You know, I can't disagree with them. But I know where my heart was. And I think that it's never an excuse to do something that is out of place and nut of its time. But to me, it was a blasting cap on… and by the way I think White Chicks came out pretty soon after that and I was like 'I love that,' I was like, 'That was great.'"
He then pointed out what some in the tweets above have referenced about the movie:
"Again, not in my defense, but Tropic Thunder was about how wrong that is. So, I take exception"
So there you have it. Will Robert Downey Jr. be cancelled for a role in a movie that came out back in 2008 that some are just now noticing? Probably not – but we'll keep you posted if anything actually comes of the Tropic Thunder related hashtag.