In a rather surprising development, it appears that actor, screenwriter, and former boxer Mickey Rourke recently rekindled an old feud with fellow actor Robert De Niro. Apparently the two have had issues going back around three decades, and even though it's been thirty years, Rourke seemingly hasn't mellowed out at all. In fact, his latest Instagram post (which has since been deleted) is rather nasty towards De Niro, and goes so far as to threaten him.
Here's the message that Mickey Rourke gave to Robert De Niro:
"Hey Robert De Niro, that's right i am talking to you, you big fucking crybaby. A friend of mine just recently told me that a few months back you're quoted as saying to newspapers "Mickey Rourke's a liar he talks all kind of shit". Listen Mr.Tough Guy in the movies, you're the 1st person that ever called me a liar and it was in a newspaper. Let me tell you something, you punk ass, when i see you i swear to God on my Grandmother, on my brother and all my dogs, i gonna embarrass you severely 100%. Mickey Rourke "as God is my witness".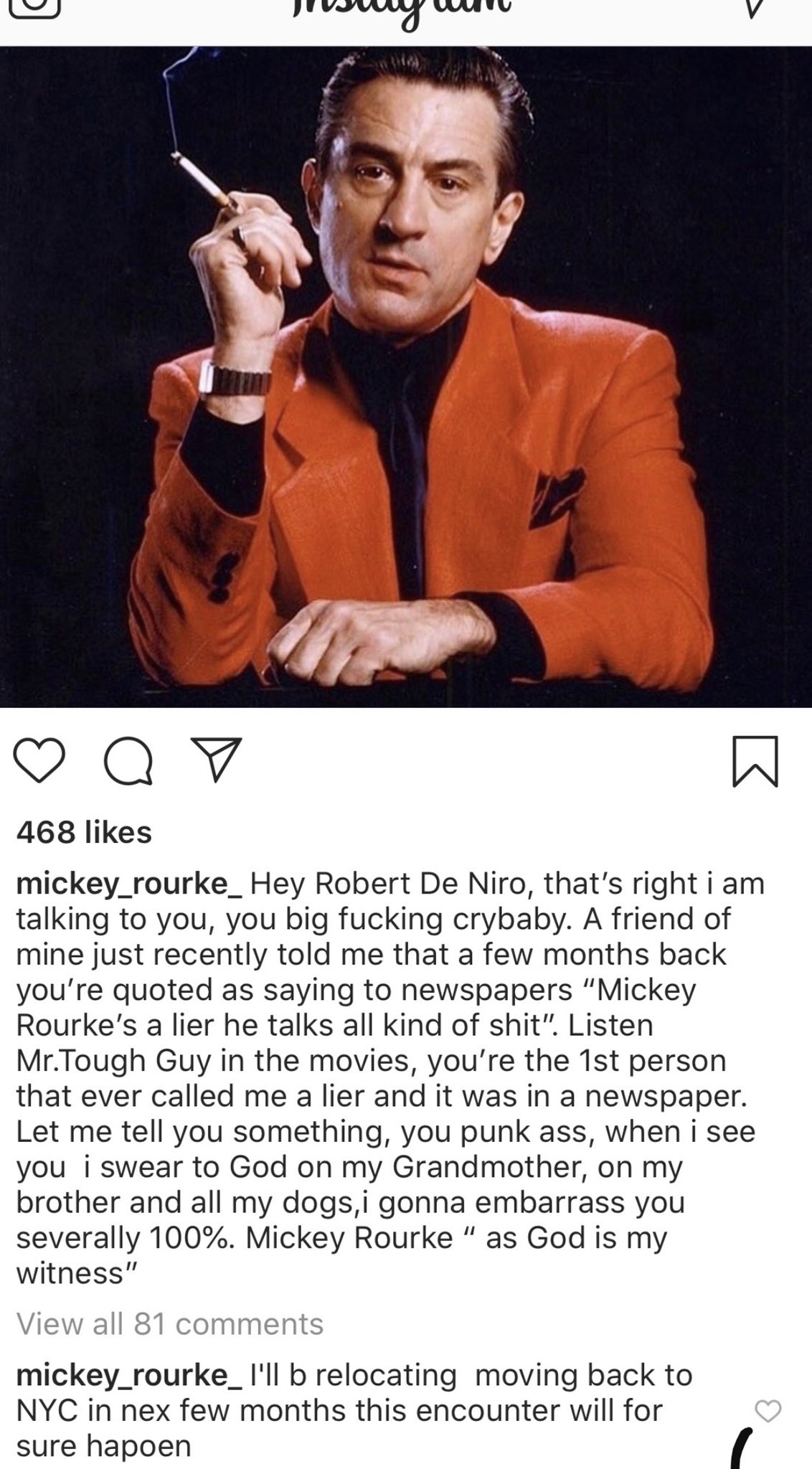 While it's unclear what exact interview it is that Rourke is referring to, this is the most recent issue between the two actors to pop up over the last few decades. Interestingly, it seems as though the upsetting interview had nothing to do with problems that the two actors have had with one another in the past – showing just how bitter at least Rourke can be.
Their feud apparently started way back in 1987, when the two were working on the film Angel Heart. It's been stated by Rourke that, during production, De Niro actually wouldn't allow Rourke to either touch or talk to him during filming of the movie. And for this reason, Rourke has continued to hold a grudge against De Niro, assuming that the actor wants nothing to do with him.
This goes so far as to also include The Irishman, in which Rourke says De Niro talked Scorsese out of giving him a part. In any case, it shows just how strong their particular feud has been over the decades.
As of this writing, De Niro has not made any kind of response to Rourke.