Ben Affleck and Matt Damon have repeatedly shown they're serious players in Hollywood since their award-winning script Good Will Hunting. Subsequently, the two have worked separately on several projects and returned to their collaboration routes with 2021's The Last Duel. Now with the two teaming up again with the biopic Air, Affleck and Damon are back on track to being a successful duo in the film industry.
Air is a biographical sports drama directed by Affleck and written by Alex Convery. It stars Damon (Sonny Vaccaro), Jason Bateman (Rob Strasser), Affleck (Phil Knight), Viola Davis (Deloris Jordan), and the triumphant return of Chris Tucker (Howard White). The story is about Sonny, a shoe salesman at Nike, trying to sign a rookie named Michael Jordan to their brand that will eventually make significant changes in basketball and sportswear.
I'm the first to admit I'm not much of a basketball or sports fan. Only a few sports film/television programs or those close to the genre have piqued my interest. Yet, the passion for the project is felt and is on par with the writing, acting, and direction.
Convery's script – featured on the acclaimed The Black List platform – takes an exciting look into behind the scene of brand awareness. There's a level of authentic enthusiasm for basketball and believing in a product in the script. Air attaches some of the tropes of an underdog story, i.e., laughingstock or "loser," with great comedic and emotional beats. The actors utilize this great script to tell a compelling story that could've failed but didn't.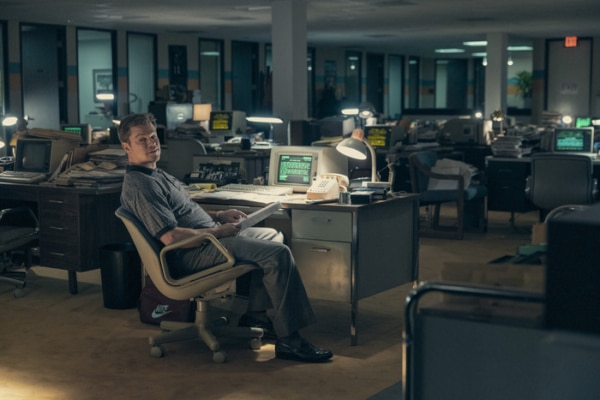 Air is filled to the brim with incredible talent; however, Damon, Davis, and Bateman are the great stars of the movie. Damon's most compelling scene is when he discusses the extraordinary talent of a young Michael Jordan to Bateman's character. Sonny goes over second by second of footage featuring Jordan shooting a three-pointer. Anybody else would've shrugged off this display of athleticism, but Sonny pushes the idea like it's the greatest thing in the world. I felt what Sonny was selling then, and a wave of inspiration washed over it.
Sonny even displays that level of passion again later in Air by sharing another example of his admiration for basketball.
Davis comes into a close second in the third act during a pivotal phone call in the movie. It's a simple setup of two people conversing, but the actor reminded me why she won multiple awards. Deloris brings a hard truth to Sonny about the importance of Jordan signing with Nike and how it will be the most critical and influential deal in sports history. In addition, she brings a level of motherly love for her son and an intelligent businesswoman mentality in a relaxed and calming way, bringing the acting to a higher level of fineness.
Like Sonny and Davis are integral to the movie, Bateman is the heart. Bateman's character, Rob, plays a crucial role in the film because he becomes the reality check that Sonny needs. There's a heartfelt scene in Air where Rob tells how essential this deal is to save the company. In addition, the character shared his story about being a dad and summed up what it feels like to stay relevant to your child as they age.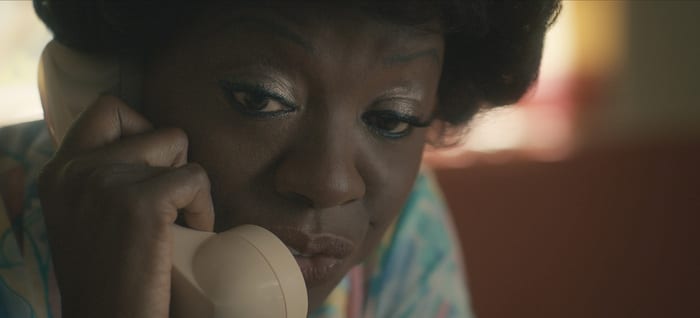 These significant moments in the movie mesh well with the comedic timing. Nevertheless, the leads and side characters fire off these precise, funny lines and dialogues that never misfire. It's not hokey and slapsticky but intelligent in a playful way and deserving of a good laugh.
The direction from Affleck goes from satisfying to great. The art direction takes these routes of intercutting historical footage of basketball to bring me into the mindset of the characters. Even several critical montages view the impact Michael Jordan will have on the sport. My main issue with Affleck's directing is that he ping-pongs between characters when the dialogue gets heated. It's like the director was trying to keep the conversation interesting through this method when the scene didn't need it.
Another issue I had was the soundtrack. Air takes place during the 80s, and the movie habitually overdoes it with needle-dropping songs. Unfortunately, that action caused the film's music to clash with the original score, which would've been a better choice. Also, the constant use of product placement to remind me that the story takes place in that era became annoying over time.
The direction from Affleck, Convery's writing, and acting from all talents was a perfect mix of great storytelling from a place of respect. The connective tissue circling the sport of basketball and how it can affect many lives had me admire the swings Air made. It's a great film, even for those who are not sports fans but want to watch something entertaining.
Grade: A