For several weeks, small leaked clues have led us to speculate that huge changes lay ahead for Clint Barton, aka Hawkeye, in future Avengers films.
Now, we have the biggest piece of evidence yet. Set photos from Avengers 4, published on Weibo, show actor Jeremy Renner in a costume very different from the one we're used to seeing on the master archer.
すごい遠景だけどアベンジャーズ4(仮)のホークアイの写真出てた。今回の衣装は(も?)黒ベースで差し色が金になるのかな?https://t.co/nvi7x4zqGP pic.twitter.com/ageg2z3MQ1

— Weeping angel (@weepingangel013) October 25, 2017
While the majority of the outfit is hidden under a strategically placed trenchcoat, the wind has done us a favor and uncovered the telltale shinguards. That might not sound like a huge piece of evidence, but just check out the photos. Then, compare them to these comic images: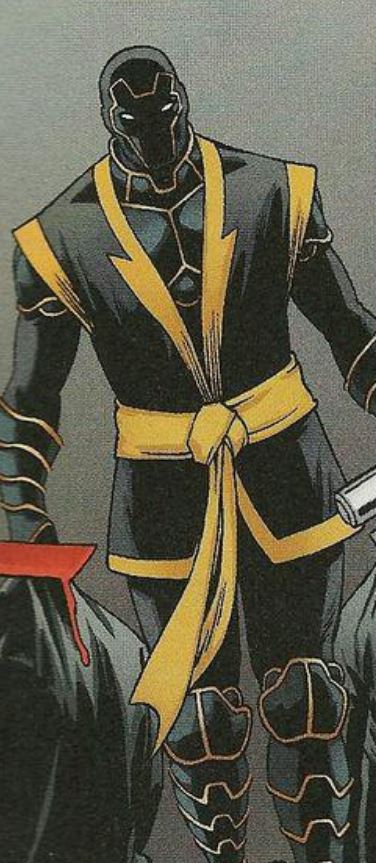 Pretty spot-on match, right? The comic art shows a character named Ronin. So, what does this have to do with Hawkeye, you ask? Well, in the comics, Clint Barton suffers a horrific tragedy. This loss leads him to abandon his identity as Hawkeye, only to re-emerge as Ronin. (The word is Japanese for a samurai with no master or clan.)
In Japan, ronin would roam aimlessly, doing the honorable thing when the opportunity presented itself, before moving on alone. It's a very solitary path for Barton. He's still a hero, but no longer the sarcastic wisecracker we all know and love. Instead, he's filled with pain and sorrow, hatred and vengeance.
What sort of tragedy could be the catalyst for such a massive transformation? The only thing we can think of is the loss of his beloved family. In Age of Ultron, we learned that Barton has a wife and two kids (three by the end of the movie) stashed away in a remote farmhouse. He kept them a secret to ensure their safety.
But nothing stays hidden forever, especially against an enemy as formidable as Thanos. We can only speculate at this point, but it seems likely that the Mad Titan learns of the existence of Barton's family. Either for strategic purposes or for his own twisted enjoyment, he takes them out. At that point, he likely thinks he has neutralized an Avenger, getting Hawkeye out of his way for good. Instead, he has created an even more powerful adversary.
What do you think of these developments? Are you looking forward to seeing Clint Barton's character progression through the next two Avengers films? Tell us what you think in the comments!