The Avengers: Infinity War trailer has sent fans into a frenzy ever since it hit the web, with endless theories and questions popping up by the day. Questions were raised about Thanos' helmet, or lack thereof.
But now, it appears, that a new leaked image may have revealed that the big bad guy may have a helmet after all! In a new video from Omelete, an image from the Comic Con Experience floor has been spotted – showing Thanos with a helmet!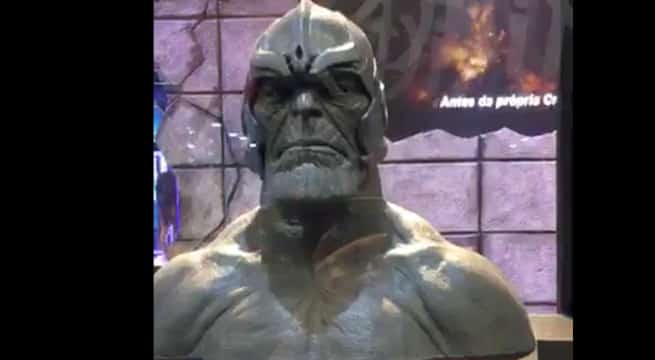 Avengers: Infinity War co-director Joe Russo was asked about Thanos not wearing the helmet back in July, and said:
"[Thanos] has a more casual approach in this film, and it's very philosophical for him. It's part of his character definition. It's a spiritual journey for him to collect the Stones and one with which he doesn't need armor. Once he starts acquiring the Stones, he doesn't need armor in the same way he did when he was a warlord. It's a very symbolic costume."
It'll certainly be interesting to see if Thanos does end up wearing the helmet in the film, which after this reveal, I think it'd be more likely than not that he does.
In the film…
An unprecedented cinematic journey ten years in the making and spanning the entire Marvel Cinematic Universe, Marvel Studios' "Avengers: Infinity War" brings to the screen the ultimate, deadliest showdown of all time. The Avengers and their Super Hero allies must be willing to sacrifice all in an attempt to defeat the powerful Thanos before his blitz of devastation and ruin puts an end to the universe.
Avengers: Infinity War hits theaters May 4, 2018.
What do you think? Would you like to see Thanos wearing the helmet in Avengers: Infinity War? Be sure to tell us all of your thoughts in the comment section!